Connect to departmental file storage: Mac OS X
Departmental file storage is hosted by the University of Victoria. To access your departmental shared drive you will need to connect to [smb://[share].storage.uvic.ca/[share]. Note: you will need to replace [share] with the name of your department's shared drive.
For departments supported by Desktop Support Services (DSS), your departmental shared drive should already be mapped for you. If you do not have access or you don't know the path to the drive, please contact your DSS person for assistance. For departments that are not currently supported by DSS, staff should contact their technical support person, or contact the Computer Help Desk for assistance.
1. Before connecting to your departmental shared drive on your personal computer, ensure you:
2. From the Finder menu, click the Go menu and select Connect to Server....Type smb://[share].storage.uvic.ca/[share], then click Connect.  Reminder: You can save the share as a "Favourite Server" by clicking on the plus icon before clicking on Connect.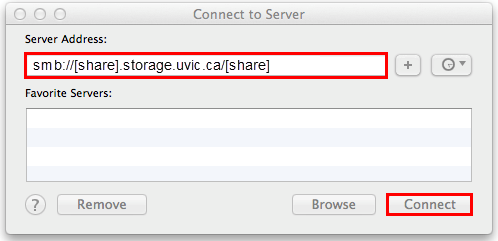 3. Select Registered User. Enter UVIC\ followed by your NetLinkID. Enter your password and click Connect.
4.  The shared drive will now be mounted in your Finder as a drive and will automatically open.