SurveyMonkey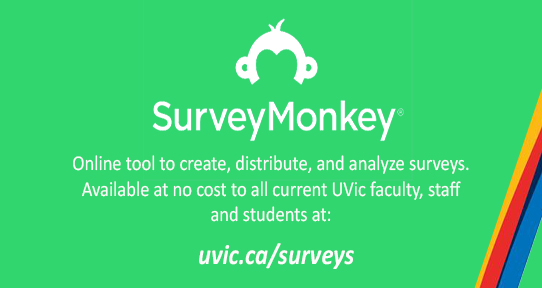 The SurveyMonkey service provides enterprise level features at no additional cost.  It includes several key features:
Building powerful surveys, forms, questionnaires, and polls
Friendly drag and drop interface
Sharing and collaboration between groups
All-in-one solution to collect data online, offline, and via mobile devices
Ability to generate reports, analyze and backup survey data
Terms of Service
Please read and agree to the current Terms of Service prior to using SurveyMonkey.
The SurveyMonkey Service is provided by SurveyMonkey Inc. and use of the SurveyMonkey Service at the University of Victoria is subject to the Services Agreement, Terms of Service, and Privacy Policy of SurveyMonkey. These documents may change without notice from the University of Victoria or SurveyMonkey Inc.
Survey questions and responses will be stored only in Canada. SurveyMonkey (the FluidSurveys Service is provided by SurveyMonkey) employees and subcontractors will not access the Survey Data from outside Canada, except (a) when authorized by the Customer for the purpose of implementing, maintaining, repairing, troubleshooting or upgrading the customer's account or the Services ("Customer Support Services"), or (b) for data recovery purposes in the event of a system failure.
Frequently asked questions
SurveyMonkey has multiple options for tracking respondents or making survey respondents anonymous. If you are using the built in emailing capability of the platform, remember to select appropriate options if you wish to anonymize your survey responses. The SurveyMonkey support page explains different options available.
If you have a survey that you would like to transfer from your account to another UVic SurveyMonkey user, please follow the steps in this article: https://help.surveymonkey.com/articles/en_US/kb/How-do-I-transfer-export-surveys-between-accounts.
If you have a SurveyMonkey account outside of the group, you will not be able to transfer surveys to a UVic account within the group, as the data lives in a different location. You can, however, transfer a copy of a survey. Please note, responses will not copy over.
If you have an existing SurveyMonkey account under the UVic domain, you will need to create a new account under the Enterprise group. We will require you to change the email address associated with your existing SurveyMonkey account to a personal address in order to have your UVic email address connected to our Enterprise group. Please follow the steps below:
Change the address on your existing SurveyMonkey account to a personal email address.
Create a new SurveyMonkey account with your UVic credentials under the Enterprise group through the link below:

https://www.surveymonkey.com/user/sso/uvic 
After clicking on the link above and inputing your user information, be sure to select the Create a New Account tab as shown below:


All of your existing surveys will remain intact in your old SurveyMonkey account and you can copy the surveys over to your new account if you'd like. Please note, responses will not copy to your new account.
Email verification is necessary if you want to use the email collector to send surveys.
An email will be sent to your inbox. You must be signed in to SurveyMonkey via Single Sign On at the time you click the link to verify your email.
If you are not signed in and try to login with your Username and Password, you will see a message at the top of the page that redirects you to log in via Single Sign On
The SurveyMonkey contract is in effect until February 29, 2020.