New Student Checklist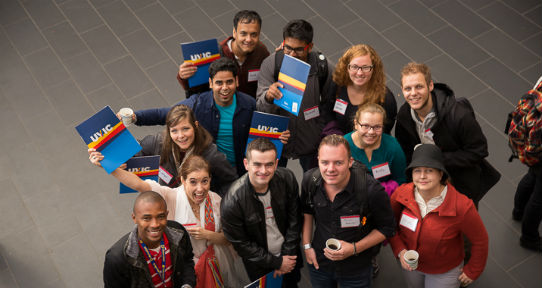 Starting at UVic isn't quite as easy as just showing up in September. There are a number of tasks you need to complete before arriving and a number of tasks we recommend that you complete in order to enhance your success. We've compiled these tasks below for your convenience. 
This checklist is intended for undergraduate students starting their UVic studies in September 2019. The checklist was revised and updated in May 2019.
---
Early Summer (May - June)
Change your spam/junk filters to accept all mail from uvic.ca: Email is often the main method of communication between you and the University. To ensure you're not missing important messages, set your spam/junk filters to accept all mail from uvic.ca. >> Change your filters
Apply for a study permit: If you are an international student, you probably need to obtain a study permit before beginning your studies in Canada. The application process for a study permit can take weeks or even months, so we recommend starting the process as soon as possible. >> Apply for a study permit
Apply for student loans and grants from the government, if required: If you need money to help pay for university, government loans and grants may be an option. >> Learn more
Submit your student ID photo: The UVic ONECard is your official identification card as a UVic student and also acts as a campus debit card, meal plan, library card, bus pass and gym membership. Submit a photo for your ONECard online during the summer and your printed ONECard will be waiting for you when you arrive. >> Submit your photo
Register for courses: Course registration for both the fall and spring terms will open in late June and you will receive an email earlier in the month letting you know the specific date and time. In advance of course registration, you are encouraged to decide which courses you would like to take and plan your course schedule. >> Learn more
---
Late Summer (July - August)
Complete the online pre-arrival program: Start the school year knowing what to expect and with a plan for success. Our online pre-arrival program will provide you with the key information and strategies you need to thrive at UVic. >> Complete the program
Register with the Centre for Accessible Learning (CAL): If you are a student with a documented disability, you should register with CAL in order to make arrangements for any required academic accommodations. Registering early increases the odds that accommodations will be in place when your classes begin. >> Register with CAL
Sign up for New Student Welcome and other orientation programs: Every new UVic student is invited to participate in New Student Welcome, which takes place the day before classes start. Additional orientation programs are available for international, transfer, mature and Indigenous students. Registration will open in mid-June. >> Sign up
Buy your textbooks: The UVic Bookstore carries all of the course materials you will need for your classes with the option to purchase new, used or digital texts when available. Course-specific textbook listings are available online approximately three weeks prior to the beginning of each term. >> Visit the bookstore
Complete UVic's online bystander training: Get an introduction to bystander intervention by completing Step In, Speak Up, a 45-minute online training program. Completion of the program is encouraged for all incoming students and mandatory for all students living in residence. >> Complete the course
Upgrade your gym membership: Work on your fitness goals and live active by upgrading your gym membership to include access to the CARSA Fitness Weight Centre or Peninsula Co-op Climbing Centre. >> View membership options
Learn about your health insurance coverage: For international students, the cost of health care in Canada is very high if you do not have health insurance. Having both primary and extended health insurance provides you with comprehensive coverage and ensures that medical issues will not cause financial difficulties or compromise your academic progress. While most domestic students and returning international students have access to primary insurance through a provincial health plan, all NEW international students will be enrolled in a mandatory temporary medical plan to ensure they have coverage at the start of the term.  >> Learn more
---
Upon Arrival
Move in and get settled: For students living in residence, Move-In Day is Sunday, September 1st. Found your own place off-campus? We encourage you to move-in as soon as you can, in order to allow as much time as possible to settle in before classes start. >> Learn more
Pick up your ONECard: Whether you've submitted your photo ahead of time or not, you'll need to stop by the ONECard Office in the University Centre when you arrive on campus to pick up your ONECard. >> Learn more
Attend New Student Welcome and other orientation programs: There's no better way to start off your UVic experience than by attending New Student Welcome and other orientation programs. Our suite of programs will introduce you campus and to your classmates and help you get started on the right foot. >> Learn more
Enrol in the BC Medical Services Plan: If you are an international student who will study in British Columbia (BC) for more than six months, you must enrol in the Medical Services Plan upon arrival. >> Apply for BC MSP
Connect to the UVic wifi network: Make sure you can access the UVic wifi network on all your electronic devices using your NetLink ID and passowrd. If you encounter any problems, visit the Computer Help Desk for support. >> Get connected
---
After Arrival
Pay your tuition and student fees: Fees can be paid via online banking, Interac® Online, cheque, money order, cash or debit card. Credit cards are not accepted. International payments may be made via wire transfer or Western Union GlobalPay. The deadline for paying fall semester fees is September 30th. >> Learn more
Opt-out of the health and dental plan, if required: All UVic undergraduate students are automatically enrolled in the UVSS Enhanced Health & Dental Plan. You may choose to opt down to a Basic Health and/or Dental Plan with less coverage or, if you have equivalent coverage through a different provider, you may opt out of the entire UVSS plan or either of the health or dental components. Changes must be made by completing the opt-out process within the change-of-coverage period. >> Opt-out
Opt-out of the Mandatory Temporary Medical Insurance (MTMI) Plan: Most international students are automatically enrolled in the Mandatory Temporary Medical Insurance (MTMI) Plan when they begin a program of study at UVic. Students who are eligible to opt out of the MTMI Plan must complete the opt-out process during the change-of-coverage period. >> Opt-out of MTMI
Attend the Week of Welcome for Indigenous Students: Self-identified Indigenous students are encouraged to take part in a week-long series of events and activities hosted by the Office of Indigenous Academic & Community Engagement (IACE).
Apply for a work-study position: The UVic Work Study Program provides part-time, paid on-campus work experience for full-time students with demonstrated financial need. Positions are typically posted in early September. >> Learn more
Solidify your course schedule: While course selection opens in June, you are able to make changes to your schedule into the second full week of classes. If you have questions or concerns about any courses, you are encouraged to meet with an academic advisor. >> View add/drop deadlines