Future residents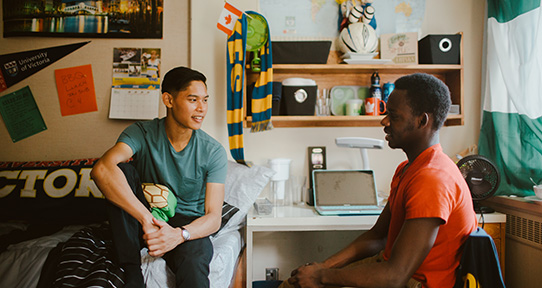 COVID-19: Housing for 2021-22
Our portal to apply for residence in Fall 2021 is now open. Although we are hopeful that we will be able to fill our residences in the Fall, we are currently unable to predict how many spaces we will be able to offer. Residence Services will continue to work with the provincial health authority to maintain safe and healthy communities. We will update our website as information becomes available.
Explore UVic's on-campus residence options for first year, undergraduate students, graduate students and students with young families.
Review our Wellness during COVID-19 brochure here.
Living in residence at UVic will be an important and exciting part of your university experience. More than just a place to live, UVic residences offer a supportive community where you can thrive.
Construction notice
UVic is planning for new student housing that will provide much needed on-campus housing for approximately 600 students currently living off-campus. Please be aware that preparation work has started in the Residence Services precinct bringing some unavoidable disruption, noise and dust. 
Learn more about UVic's new student housing project.