Future residents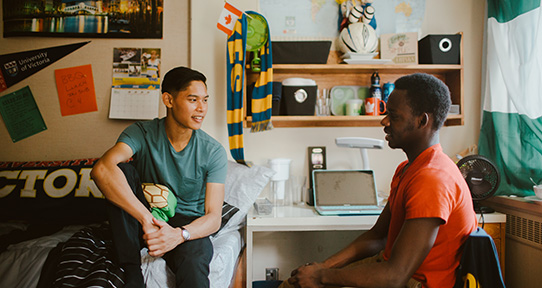 Why live in residence at UVic?
Living in residence at UVic will be an important and exciting part of your university experience. More than just a place to live, UVic residences offer a supportive community where you can thrive.
From your first day on campus, Residence Services staff are here to help you settle in, find your way around, and cope with all the changes in your first year. Relax. We're here to support you, even through the challenges of online learning!
The friends you make while living in residence will be your new family, the heart and soul of your university experience. With fellow students from across Canada (and possibly around the world) living in UVic residences, it's easy to meet new people and develop friendships that will last a lifetime.
Your residence room is really close to classes, libraries and designated study spaces so getting anywhere on campus is easy. What's more, you're surrounded by others like you who are motivated to succeed: this is a great environment to thrive as a student.
Wherever you are on campus, you're close to someplace to refuel. If you have a meal plan, you won't need to worry about cooking or washing dishes: the Residence Dining facility has got you covered. In addition, we offer nine other distinct food outlets on campus committed to sustainability and serving you healthy, delicious meals. If you choose to live in one of our Cluster residences, you'll have a fully equipped kitchen in your house.  
Living in residence means you're at the centre of student life. Look forward to events and activities on your floor, in your building and across residence throughout the year. You'll find events and activities for wellness, academics, leadership as well as social activities, so there's never a dull moment.
Construction notice
UVic is building new student housing that will provide much needed on-campus housing for approximately 600 students. Please be aware that construction work is ongoing in the Residence Services precinct bringing some unavoidable disruption, noise and dust. 
Learn more about UVic's new student housing project.