Living
As a first-year student, you may be living with your parents and family or you may be venturing out on your own for the first time, either living in residence or off-campus accommodations. Wherever you're living, we hope you make it feel like home.
Residence | Food Services | Off-Campus Living | Transportation
---
Residence
Living in residence provides you with more than just a roof over your head. With neighbours from across Canada and around the world, you'll meet new people and develop friendships that last a lifetime. Your proximity to classes, libraries and other study spaces makes it easy to thrive as a student and you'll always have something to do, with many events and activities readily available.
Here are a few more benefits of living in residence:
Community Leaders, upper-year students who live in residence with you, are available to provide guidance and support
Regular events and programs to keep you connected with your friends and the UVic community
Central front desk for when you need to pick up a package, you've locked yourself out or just have a question about residence
---
Food Services
Hungry? Food Services is here to help you out.  
Fun Stuff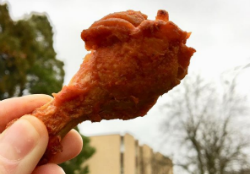 Like free food and fun swag? Keep your eyes peeled for  the UVic Foodie Trike, monthly pop-up shops around campus and frequent giveaways on Instagram. Visit @uvicfood
If you're living in a dormitory-style residence (excludes apartments and cluster rooms), you will be placed on a mandatory residence meal plan. The meal plan is automatically added to your ONECard and has a non-refundable allotment of money for purchasing food in applicable dining outlets.
If you are living off-campus or in cluster housing, you can choose to purchase a tax-exempt meal plan that can be used at applicable on-campus dining outlets.
Get the most out of your campus meals:
---
Off-campus living
While many students choose to live in residence in their first-year, many others choose to live off-campus. If you're looking for an off-campus home, Places4Students.com works in partnership with UVic to provide off-campus listings for renters and landlords. Before signing a lease, we encourage you to review the BC Tenancy Act to learn your rights and responsibilities as a tenant.
If you're living off-campus, we encourage you to foster positive relationships with the residents in your neighbourhood and to understand your rights and responsibilities as a community member.
Get to know your neighbours. Knowing your neighbours will help you to better understand each other in case any issues arise. Introduce yourself when you move in and say hello when you see them coming and going.
Know your neighbourhood rules. Your rights and responsibilities as a resident may differ depending on what community you've chosen to live in. Make sure you know the rules about garbage disposal, property maintenance, noise levels and more.
Maintain your rental unit. Create a regular schedule for cleaning and maintenance. Completing these tasks on a regular basis creates a healthy living environment and also helps to ensure there are no lasting damages.
Get involved in your community. Many Victoria neighbourhoods have neighbourhood associations that plan events and activities for their residents, as well as discuss issues that may have arisen. Participating is a great way to be an active community member. 
---
Transportation
Whether you're living off-campus or just looking to explore Victoria, BC transit is a great option. All students enrolled in at least one on-campus course have automatic access to a U-Pass, which provides free unlimited travel on all BC Transit Buses.
UVic is home to a central transit exchange, located between the bookstore and Student Union Building, and many bus routes begin or end at the university. 
| | |
| --- | --- |
| Bus Route | Travels via... |
| 4 UVic/Downtown | Douglas, Hillside and Henderson |
| 7 UVic/Downtown | Fairfield, Foul Bay and Henderson |
| 11 UVic/Tillicum Mall | Gorge, Douglas, Fort, Cadboro Bay and Uplands |
| 12 University Heights | Cedar Hill, Kenmore, San Juan, Arbutus, Finnerty |
| 13 UVic/Ten Mile Point | Sinclair, Cadboro Bay, Arbutus |
| 14 UVic/Vic General | Helmcken, Craigflower, Douglas, Fort, Yates, Richmond and Cedar Hill X Road |
| 15 UVic/Downtown/Esquimalt Express | Esquimalt, Fort and Foul Bay |
| 16 UVic/Uptown Express | McKenzie |
| 17 UVic/Cedar Hill (September to June, AM only) | Quadra and McKenzie |
| 26 UVic/Dockyard | Esquimalt, Lampson, Tillicum, Saanich and McKenzie |
| 39 UVic/Royal Roads | McKenzie, Shelbourne, Royal Oak to Western Exchange and Royal Roads University |
| 51 UVic/Langford  | McKenzie, Trans Canada Hwy and Island Hwy |
Buses run 365 days a year, typically from 6 a.m. to midnight. Up-to-date information on all bus routes can be found at bctransit.com, the Transit App or using Google Maps.
BC Transit also offers special trips to Swartz Bay for students travelling to Vancouver for the weekend. The 76 UVic/Swartz Bay operates Friday service to Swartz Bay only and Sunday service to UVic only, from September to April.