Alternative driving options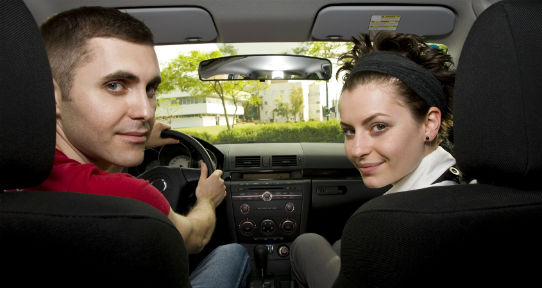 Sometimes it's not possible to walk, cycle or take public transit to campus, so here are some great options to make driving to UVic more sustainable.
Carsharing
Modo
Do you normally cycle, walk or take the bus to campus but sometimes need access to a car? A membership with Modo might be right for you. UVic has a Partnership Membership with Modo. There are three Modo car share vehicles on the UVic campus - two are conveniently located next to the bus loop and Campus Security and the other at the Family Student Housing (FSH) complex.
As a member through the UVic carshare program, you also have access to all the cars in Modo fleet around Greater Victoria and Metro Vancouver. Modo also has roaming agreements with other carsharing organizations from cities across Canada and around the world.
As a Member-Owner (Modo Plus rates) in the carshare program, you can use Modo's 24-hour online booking system and then pick up your reserved vehicle from its reserved spot. When finished, just return the car to the same location. Member-Owners are billed by Modo for their usage by the hour and on a per kilometre basis automatically each month. There is a maximum of $10 overnight charge (7 pm to 9 am).
The carshare program is available for individuals who do not have a parking permit, and are:
Employees with full-time and continuing staff or faculty positions AND who normally work at the Gordon Head Campus, OR
Students living in Family Student Housing (FSH)
UVic will pay the membership fee (a value of $500) for qualifying employees and FSH students, and you pay the regular usage fees (Modo Plus rates).
Note: This program offers one free Member-Owners membership to each unit within FSH. Although an extra person(s) cannot be added to your FSH account, there are two options available for eligible family members living in your unit: 1) associate membership (requires completion of a separate UVic FSH application form); and, 2) drive sharing.
See the application forms below and the Modo website for more details and driving eligibility requirements.
Employee carshare application form
FSH student resident carshare application form
zipcar

Find freedom with cars on campus by the hour or by the day. Choose from a variety of types and sizes, gas and insurance included.
Check out the 3 locations where zipcars live on campus:
Lot 1 - opposite Ring Road residence in the NW corner of the lot
Lot 2 - beside the bookstore / Finerty Express cafe (near Campus Security and bus loop off Gabriola Road)
Lot 5 - near the Tower student residences (in front of Craigdorrach office off Sinclair Road)
zipcar offers exclusive rates for students, staff, and faculty.
Get set now on the student rate $20 / year
Staff can join now for $35 / year
Ridesharing
Jack Bell RideShare
UVic is a partner in the Jack Bell RideShare program and can help you find a casual or formal group of people to commute with. Sign up on the website and start matching your commute with other staff, faculty and students.
Registered UVic carpools get the benefit of the best parking stalls on campus, 24 hours a day 7 days per week and even get to choose which parking lot their stall is going to be located in. Carpool permits require three or more vehicle owners who live at different addresses, and are available through Campus parking & transportation services.
The most popular and flexible choice for students! A rideshare permit allows the user to easily find a great parking stall on campus. Those who have a permit and have three or more people in the vehicle get priority parking in designated rideshare stalls between 7 a.m. and 10 a.m. After 10 a.m., any available rideshare stalls revert back to general parking.
Rideshare stalls are available in parking lots #1, 2, 4 and 6.
The beauty of rideshare is the fact that you can change the people you give a ride to, the participants do not need to own vehicles or live at different addresses, and if you don't have enough people that day, you simply park in the general spaces. Obtain your rideshare permit from Campus parking and transportation services.
Electric vehicle charging stations
UVic has three Level 2 (240 v), 60 amp electric vehicle charging stations. These EV chargers are available for the campus community and guests to top up their electric car batteries 24/7 in meter parking spaces at $1.50 per hour for a 2 hour maximum.
Two EV stations are beside the Campus Security Building in parking lot #2
One station is at University House One (UH1)
For a map of electric vehicle charging stations locally and across North America, go to www.plugshare.com/.
More sustainable driving options
The annual flexible parking permit allows a driver to park up to 12 days per calendar month on campus at greatly reduced rates.  This special permit is available to full-time continuing employees only.
UVic also offers a 4-month parking pass in the winter months, November to March, for those who normally commute by alternative methods in the warmer months.
Contact Parking & Transportation Services for more information.
Do you need a vehicle occasionally for university business? Campus Security maintains a Motor Pool Fleet available for rental by UVic staff and faculty. Vehicle options include mini vans (seating up to 8 including driver) as well as a hybrid car -- and are available for short or long term rentals. Charges are based on length of rental plus mileage driven. Insurance and gas are provided. To reserve a vehicle, a "Request for Rental Vehicle" form, which may be obtained from the Campus Secuirity office, must be filled out and submitted in advance of your travel. All requests are on a first come first serve basis. For more information call 250-721-6557 and see Campus Security website.
Motorcycle parking — including several covered areas —is located in numerous lots around campus. See the parking map for details, including in the parking area in Parking Lot 2 that accommodates up to 20 scooters and motorcycles. Limited speed motorcycles (without pedals, and requiring a license, registration and insurance) require a motorcycle permit and must be parked in motorcycle parking areas.
Obtain your parking and motorcycle/scooter permits from Campus Security and Parking Services.