Water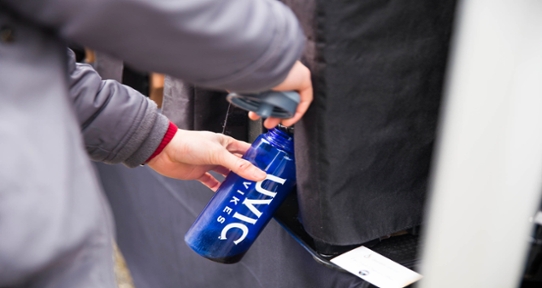 Water stewardship
We envision the university being an innovator in water use reduction, recovery, reuse and stewardship practices. We are working on a number of innovative and creative initiatives and projects that help the campus community reach a goal of reducing water consumption by 25% by 2019.
Waterfillz!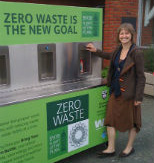 Waterfillz is UVic's own portable water bottle filling station on campus.
The Waterfillz dramatically reduces demand for bottled water purchase at many UVic sporting events, functions and conferences. Contact action@uvic.ca if you would like to use it at your next UVic campus outdoor event and save the plastic bottles! 
Water refill taps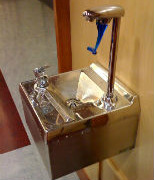 UVic is upgrading water fountains across campus classroom buildings and in food service areas for easy refilling of cups or personal water bottles. 
About 75 fountain upgrades have been completed to date, with new fountains installed in high traffic areas like Biblio Cafe and Finnerty's Cafe.
Check out this handy map of upgraded fountains.
Water use reduction initiatives include:
Sensor faucets and low-flow toilets in many buildings (including recent upgrades to the BEC and DSB buildings).
Computer controlled state-of-the art irrigation system and reduced use of irrigation in summer months.
Treated waste water system that recycles water from the Outdoor Aquatic Facility through toilets and urinals in six campus buildings (this saves 4.5M litres of potable water each year!).
Implementing an Integrated stormwater management plan on campus.
Condensing were installed to run the walk-in freezers and coolers in the Student Union Building replacing the old once through cooling units (this saves 20K m3 of water each year - equivalent to 9 Olympic swimming pools!).
Portable electric vacuum pumps replaced old water aspirators in the chemistry labs (this saves $5,000 annually on our water bills!)