Water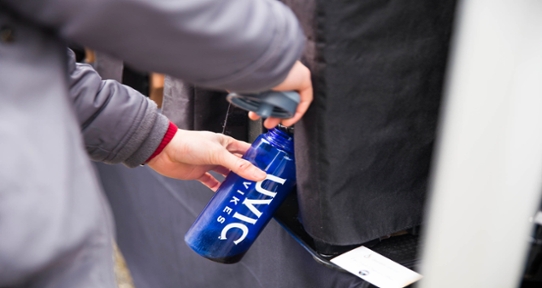 UVic continues to work towards water use reduction, recovery, and stewardship practices. Our 2020-2021 Sustainability Action Plan goals are:
Goal 1: Determine the causes of increased water usage in 2018 and 2019.
Goal 2: Retrofit 25 water fountains in campus buildings for easy refilling of personal water bottles.
Adjustments to UVic's campus to reduce water consumption include water recovery and reuse initiatives, upgrades to plumbing fixtures, fittings, appliances, equipment and systems with water-efficient alternatives.
Waterfillz
The Waterfillz is UVic's portable water bottle filling station. It provides an accessible alternative to purchasing bottled water during the semester and at sporting events, conferences, and campus functions.
During the year, the Waterfillz is located in the Quad. If you would like to use the Waterfillz station at your next UVic campus outdoor event, contact us at action@uvic.ca.  
Water refill taps 
UVic is upgrading water fountains across campus classroom buildings, and in food service areas for easy refilling of cups or personal water bottles. So far, we've retrofitted or installed  over 80 water fountains with refill taps and have targeted an additional 25 retrofits for the 2020-2021. 
Water refill taps are located in high traffic areas, often near washrooms. 
Previous water reduction initiatives
We've completed several water reduction initiatives, some of the highlights include: 
Installing sensor faucets and low-flow toilets; 
Reducing irrigation during summer months; 
Development of an Integrated Stormwater Management Plan; 
A treated waste water system to recycle water from the Outdoor Aquatic Facility through toilets and urinals in six campus buildings; and, 
Replacement of water aspirators with portable electric vacuum pumps in the chemistry labs.