Sort It Out stations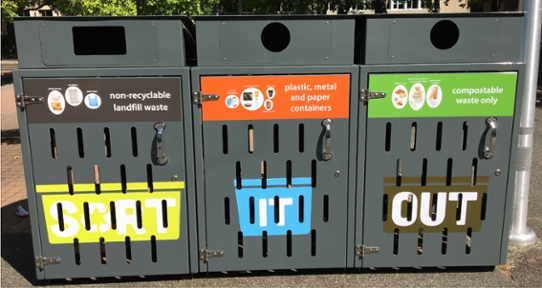 Facilities Management has expanded the campus recycling and composting program in 2019 by installing new outdoor sort it out stations. The sort it out stations make it more convenient to recycle and compost no matter where you are on campus, and help the university meet its overall waste diversion target of 75 per cent.
Previously, there were more than 200 outdoor litter containers on campus.The litter containers produced approximately 20 tonnes of landfill waste per year (3.5 per cent of UVic's total landfill waste). A 2018 waste audit showed that more than 72 per cent of the materials deposited in these containers could be composted or recycled. (Click on the graph to enlarge)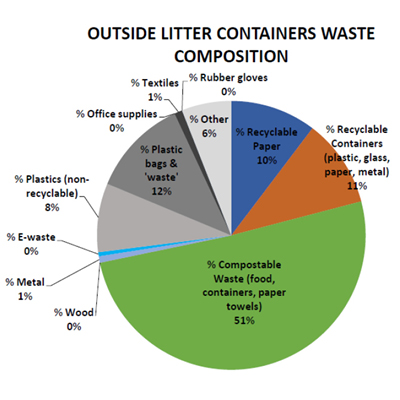 Facilities Management has replaced the litter containers with eight large sort it out stations. The stations are located in central high-traffic pedestrian areas across campus. Please see the map below for details.(Click on the image to enlarge)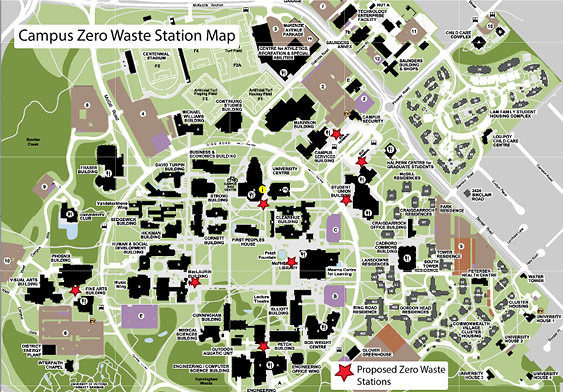 Frequently asked questions
The university's surplus asset coordinator extraordinaire is making every effort to sell or give away the aggregate bins. The university would prefer if they were reused in some application. However, if a buyer cannot be found for some or all of the bins, then they will be recycled (or disposed of if absolutely necessary.)
If garbage is seen accumulating on campus, we encourage you to notify facilities management at facman@uvic.ca
Every building on campus is equipped with several waste stations. These stations include more options for recycling than the sort it out stations, which are being made available in central high-traffic pedestrian areas across campus. The outdoor sort it out stations will enable effective recycling in the high-traffic pedestrian areas, and the indoor stations will continue to enable recycling for other areas. If you believe that there is another central high-traffic pedestrian area, you can email this information to wastenot@uvic.ca.
Facilities management will monitor and empty the outdoor stations on a schedule that meets their objective of providing support services necessary to promote excellence in the teaching, research and community service activities at the University of Victoria.
There are over 400 indoor waste stations, which have up to 5 recycling containers each. You do the math… that is a lot of containers! The containers are littered through UVic buildings.
The new sort it out stations are the next addition to the recycling infrastructure on campus and act as an extension of our existing indoor stations. 
Our Campus Plan identified these locations as high-traffic pedestrian areas.
As of 2018, our recycling rate was approximately 74%, which means that only 26% of our waste ends up in the Hartland landfill. We are very close to meeting our waste diversion goal of 75% by 2019!
Our recycling ends up in a number of markets.
Our mixed paper ends up in the IP Norpac plant in Washington, the Harmon plants across North America and the CKF Fibre plants here in Canada among others. Recycling products produced include Gyproc paper, cardboard liners and boxboard products.
Our plastic containers end up at Merlin Plastics and West Coast Plastics in the lower mainland as well as some Asian markets (including China).  The recycled products produced include detergent bottles, shipping pallets and plastic lumber.
Our aluminum cans end up at Schnitzer Steel Pacific here in BC. The recycled products produced include new drink cans, foil wrapping and foil containers.