Get Involved with Sustainability in Action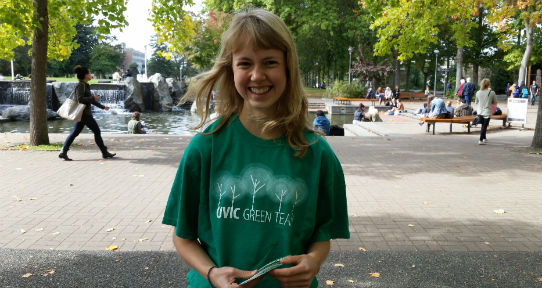 Collaboration is at the core of sustainability - working together on new opportunities is what will continue to make UVic a leader in sustainability on the ground, in the office and in the classroom. This can only be accomplished through inter-campus partnerships, student participation, and the passion of dedicated faculty and staff working to green their workplace. Find out more about how you can be part of the solution by exploring this site.
Sign up to receive our weekly emails summarizing sustainability news and events by emailing action@uvic.ca.
Also follow us on Facebook and Twitter for the latest news and events.
Residence Move-In Day - Volunteers Wanted!
Do you want to meet and greet incoming students as they make the leap to independence? Do you love recycling and have a passion for reducing waste on campus? Do you like free food and swag? We are seeking volunteers to help out at Residence Move-In Day on Sunday, September 2, and we would love your help!
Residence move-in and move-out days are notorious for producing a massive amount of landfill waste due largely to a lack of information and assistance available for students and families who are in the middle of a stressful and important day in their lives!
The Job:
Direct new students and their families to recycling complexes
Teach new students and their families how to sort their waste properly
Hand out pamphlets at our table
Enjoy a FREE BBQ lunch!
To get involved, or for more information, contact Lauren Frost at sustcoop@uvic.ca