Holiday Shutdown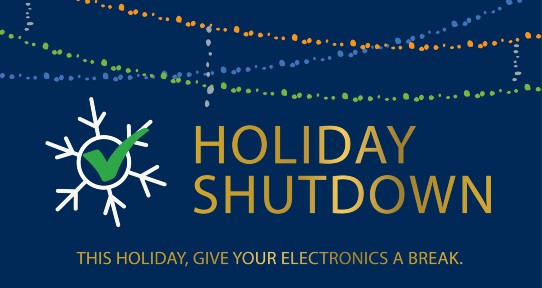 Switch it off! Did you know leaving electronics plugged in can still use power? Turn off and unplug your  electronics to help save more energy and reduce greenhouse gas emissions as part of UVic's Holiday Closure, when temperatures in major buildings are typically lowered to 16 degrees on campus from December 24th to January 2nd, 2023. 
Campaign update:
Gear up for the 2022-2023 Holiday Shutdown!
Thank you to everyone who participated in our Holiday Shutdown campaign in 2021! We had 55 UVic employees participate, and we were able to save 2569 kwh of energy through this campaign. This is equivalent to the energy needed to make 12,065 12oz cups of coffee! Let's do even better this year!
Overview
Turning off, unplugging, and powering down electronics are simple actions that help reduce energy consumption, while saving money. 
Whether you're working on campus or at home, before and during the holiday break don't forget to: 
Shut down
Monitors, lights, and all electronic devices. Leave your computer(s) in sleep mode for security updates.
Unplug
Cell phone chargers, radios, speakers, clocks, printers/copiers, coffee makers, tea kettles, microwaves, mini fridges, and other kitchen appliances. Don't forget to "unplug" mentally, too!
Close
All windows and doors and shut the blinds.
How else can I participate? 
Let your colleagues know about the Holiday Shutdown and encourage others to turn off their office and home electronics! Discuss any shared equipment that can be turned off or unplugged. Here is a list you can use: Unplug Together                                                                                                                                                 
Identify a champion(s) to do a final review before the holidays and submit the form on behalf of your office to be entered to win one of two team prizes!                                                                                                                                 
Help us keep track of energy savings this year by filling out the Holiday Shutdown Form before you go!                                                                                                                          
Frequently Asked Questions 
Take a look at our Unplug List to see what needs to be shut down for the holidays - and what needs to be unplugged vs turned off vs put to sleep. 
Designate an office champion to lead your department through the Holiday Shutdown. They will be responsible for ensuring the shut down is completed for the team, and fills out the Holiday Shutdown Form.
Completed entries will be eligible for the prize draw to win one of two team prizes for your office.
Details on the prize winners will be announced by the end of January 2023.
The Holiday Shutdown campaign is organized by the Office of Campus Planning and Sustainability. It complements the annual holiday temperature reduction program run by UVic Facilities Management, where temperatures in major buildings are lowered to 16 degrees from December 24th to January 2
nd
.
Please visit our
CSAP
webpage to learn about the release of our Climate and Sustainability Action Plan!
If you have other questions about the Holiday Shutdown, or other sustainability campaigns, contact action@uvic.ca