Application process
No formal applications will be accepted without prior contact between an individual applicant or group and the Office of Campus Planning and Sustainability (OCPS).
Project ideas will be initially outlined to UVic Sustainability Coordinators prior to a formal submissions by one of the following means:
In person meeting
Pre-screen
Prior to contacting the Office of Campus Planning and Sustainability, as the applicant you should be able to answer the following questions:
What area of the Action Plan does your project address?
What impacts do you expect your project will have?
Who are the key individuals you are planning to work with on your project and how will their skills contribute to the project's success?
Developing your idea
The UVic Sustainability Coordinators are here to assist you in developing your project ideas. Once you are able to answer the pre-screening questions it is recommended that you contact OCPS. The OCPS staff will work with Facilities Management to determine the feasibility of projects that propose alterations to physical spaces on campus or operational procedures.
Applications for the Campus Sustainability Fund will be invited once the Sustainability Coordinators and UVic Facilities Management have provided feedback to you on your project.
Differentiating Projects
Some sustainability projects will produce a quantifiable energy and/or water savings, and therefore provide a direct financial return to the University. The Campus Sustainability Fund has established one process for projects that provide a direct financial return to the university, and another process for projects that do not. Please see the flow charts below for the details associated with those separate processes (see flow charts below) and applications.
Sustainability Projects: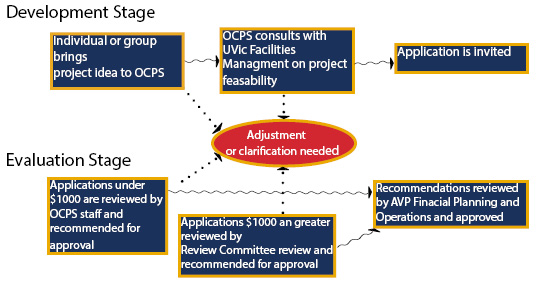 Energy and Water Projects: