Campaigns
Looking to get involved with a campaign on campus? Contact us at action@uvic.ca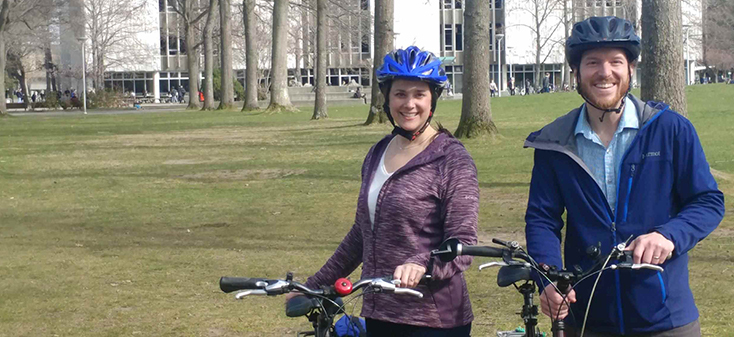 For Bike to Work Week (BTWW), UVic joins communities across the province in a week-long commuter cycling celebration filled with daily activities. BTWW hosts a series of events across the region to celebrate cycling as a safe, healthy, fun and convenient way to get to work or school. It is an excellent excuse to enjoy good exercise and fresh air, and sample the benefits of commuting by bicycle every day. To read more about BTWW 2018 at UVic, see this article by The Martlet.
Bike to Work (or Campus) Day at UVic is to encourage and support riders to continue riding throughout the fall and winter months. Look out for Celebration Stations on campus where riders can hang out, have a coffee and treat, and mingle amongst new and seasoned all-weather cyclists.
When? BTWW takes place over the last week of May: May 27-31. Bike to Work (or Campus) Day takes place the second week of October. See Greater Victoria Bike to Work Society for more info.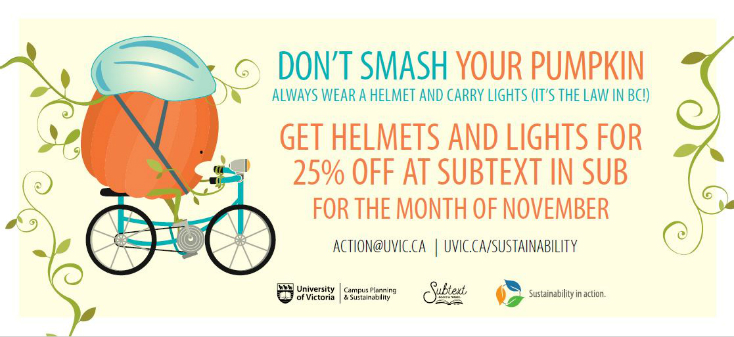 We want you to be safe out there on your bike – so much so that if you buy a helmet or lights at SUBtext (in the SUB), you will get a 25% discount! Protect your brain and be seen.
When? The month of November. Nov 1 - 30, 2019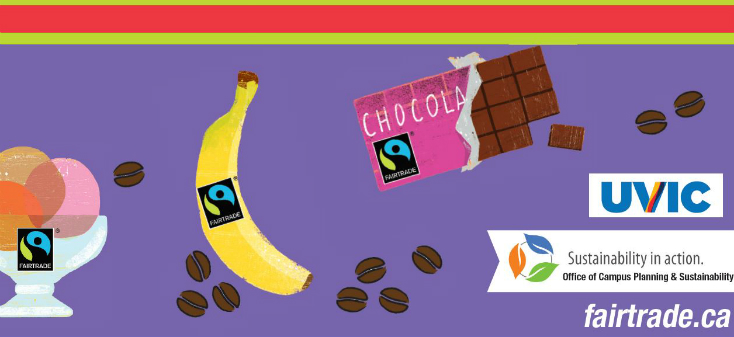 Fair Trade Campus Week is an opportunity for all Canadian Campuses and friends to celebrate fair trade and learn about Fairtrade certified products. Students, volunteers, administration and food service staff come together and plan all sorts of activities and initiatives to raise awareness about the positive impact of Fairtrade.
When? 2019 dates are TBD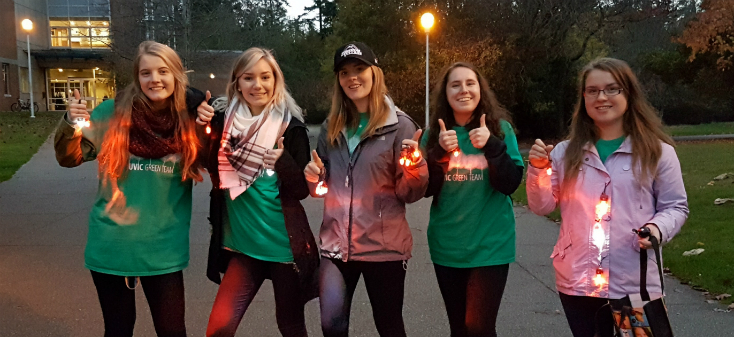 The end of Daylight Savings Time (DST) can sneak up on us, so each year on the Monday after the clocks "fall back", we give out free bike lights to cyclists who are riding without lights. We want you to get home safely. At the end of the school day we'll be out on campus to help you Lighten Up!
When? The first Monday after the fall time change. Mon Nov 4, 2019 4:30 - 5:15 pm-ish (or until we run out of lights!)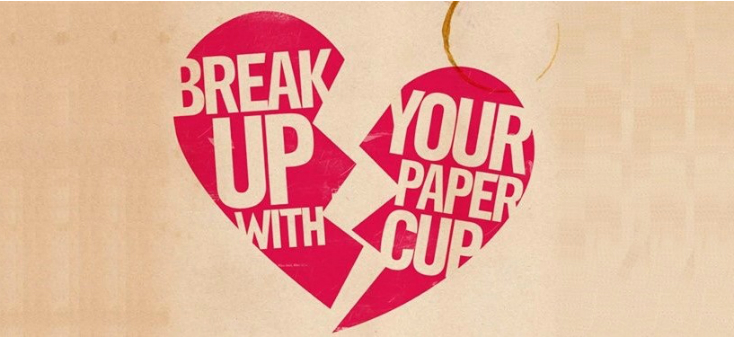 During UVic's Love-A-Mug week, the Office of Campus Planning and Sustainability asks that you help reduce waste and break up with your paper cup and love your mug. Watch for the UVic Green Team and Muggo, our awkward yet mildly loveable coffee mug mascot, wandering around campus. If they see you carrying a reusable mug they will give you a coupon for a free coffee or tea! 
When? In October and February. Feb 11-15, 2019 and Oct 14 - 18, 2019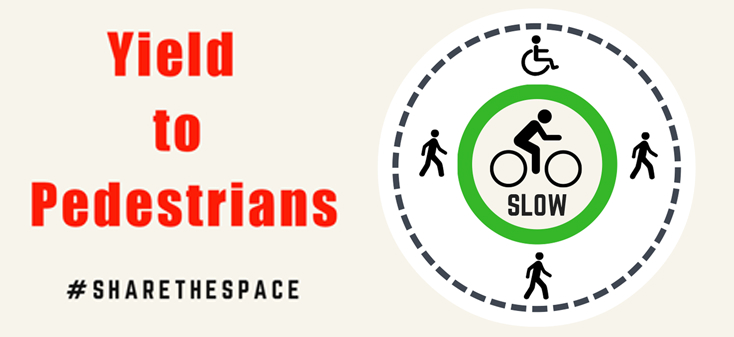 Our campus is a busy place. Throughout the day, there are thousands of people trying to get from building to building on bike or on foot. Sometimes it can be a bit crowded, which can make it both difficult and unsafe for pedestrians and cyclists. To help make sure UVic stays both pedestrian and bicycle-friendly, please #sharethespace!
Tips for Cyclists:
Yield to pedestrians. Be alert and prepare for unpredictable moves by others.
Slow down. Going too fast on campus is unsafe to both yourself and the people around you.
Leave room when passing. Cycling too close to pedestrians on multi-use paths increases chances of collision. If you want to cycle more quickly, use Ring Road.
Use a bike bell. Give the person in front of you warning that you are about to pass. They will appreciate it!
Use hand signals. Unpredictable cycling can lead to unsafe reactions by others and cause accidents. 
Dismount in congested areas. It's easier and safer. Don't treat pedestrian traffic like an obstacle course!
When? This is an ongoing campaign #sharethespace year round!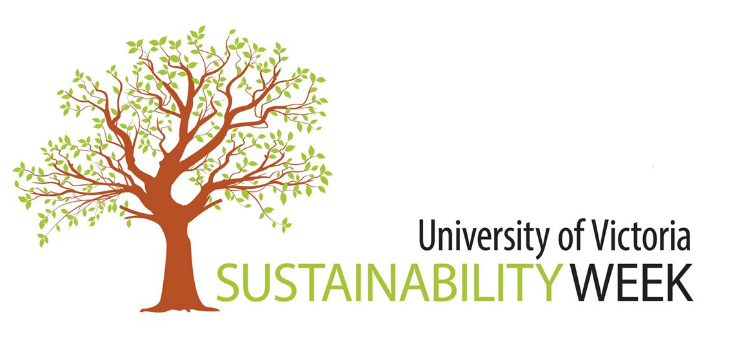 During Sustainability Week, cross campus initiatives take place in order to promote sustainability and environmental consciousness at UVic.
When? During the month of October or TBA - stay tuned...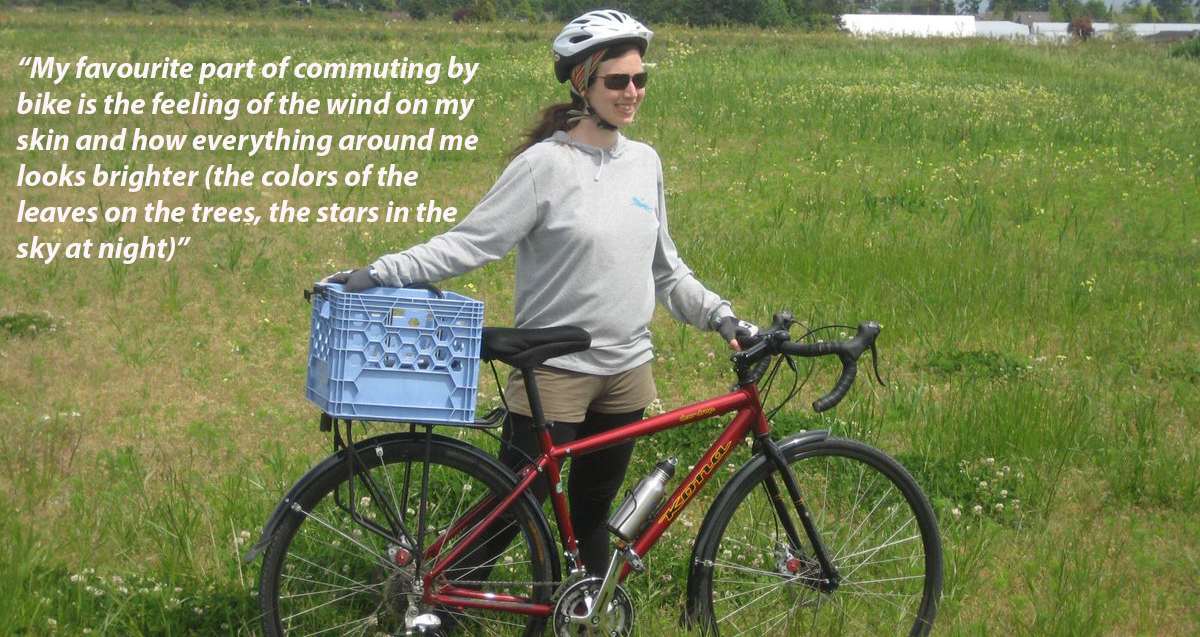 During Bike to Work Week 2018, we held a social media contest to find out why #UVicBikes! Contestants posted cycling pictures to Instagram and Twitter and captioned them with their favourite part of commuting to campus by bike. Featured above is the winning entry.
To keep up with our latest social media campaigns, be sure to follow us on Facebook, Twitter, and Instagram!