Sustainable transportation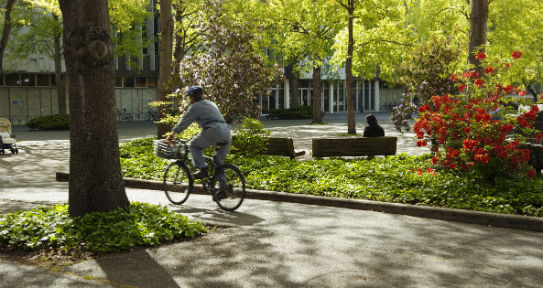 UVic makes sustainable transportation choices over single occupant vehicles (SOVs)
Over 60% of the UVic campus community chooses sustainable transportation methods, like transit, cycling, walking and carpooling, over the use of SOVs. Such personal choices are known to benefit individual health and well-being while contributing to a more sustainable campus environment for all to enjoy.
UVic works to demonstrate their commitment to sustainable transportation through improving access to and from campus via dedicated bike paths, implementing the student UPASS transit program, offering a subsidized employee  bus pass option, and providing ammenities and infrastructure for cyclists:
Campus Bike Centre
Bike Kitchen
SPOKES bike loan program
Bike racks (covered and uncovered) conveniently located across campus
Shower facilities in many buildings
Check out all the ways to 'green' your UVic commute below!

With expanded schedules and subsidized fares for the UVic campus community, transit is a great option. Find out about schedules and transit initiatives that can help you bus with ease.

UVic is home to fantastic cycling ammenities including a bike rental program, bike lockers, showers and a 'bike kitchen' for quick tune-ups.

SPOKES is UVic's unique bicycle recycling program that gives new life to old bikes.

UVic provides a number of sustainable driving options including carpool programs, electric vehicle charging stations, and subsidized memberships with the Car Share Co-op program.