UVic's built and natural environments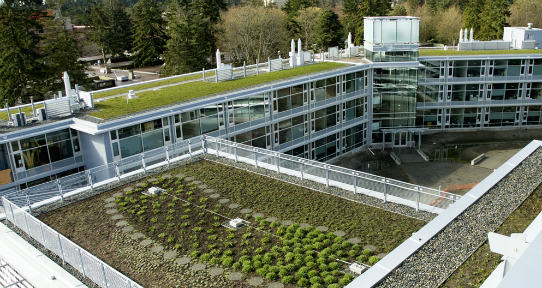 UVic operates and maintains its built environment according to principals of sustainability that increase energy and water efficiency, reduce utility expenses in the long run, and increase the comfort of our building occupants. UVic is also committed to supporting sustainability through its grounds services; the use of sustainable practices such as integrated pest management allows UVic to reduce it environmental impact and help to sustain its natural landscapes.
LEED
UVic employs the LEED, or Leadership in Energy & Environmental Design, rating system, to certify its buildings and since 2007, all of our new buildings on campus have been constructed to a LEED Gold green building standard. According to the Canadian Green Building Council, LEED certification "is recognized as the international mark of excellence for green building in 150 countries." LEED has helped UVic reduce energy use in new buildings, reduce waste and carbon emission from construction, and reduce storm water flows via the installation of green roofs.
UVic has eight certified LEED Gold rated buildings:
Facilities Management Service building (2019)
CARSA (2017)
South Tower Residence (2011)
First Peoples House (2009)

Michael Williams Building

(2008)
David Turpin (formerly Social Sciences and Math) (2008)
Engineering and Computer Science (2006)
Medical Sciences (2004)
There is one more building targeting LEED Gold with the certification status pending: 
District Energy Plant (project completed in winter 2019)
Green cleaning
UVic cleaning services uses green cleaning products in all buildings. Green cleaning products are defined by our supplier's "Green Gauge," which, at a glance, provides a proportion of the green products approved for use by LEED for Existing Buildings that each department is purchasing. UVic typically measures over 85% on the Green Gauge, which is exemplary. 
Other maintainence
When paint needs to be updated or touched up at UVic, low VOC paints are standard. These are the only products available for use.

Finnerty Gardens
One of Canada's best collections of rhododendrons is on display at Finnerty Gardens on the University of Victoria grounds. The gardens have been carefully planned and developed to provide a rich and changing array of colour, scent, form and texture all year round. In April and May, you will see the rhododendrons at their best. For more information visit the Finnerty Gardens website.
Bowker Creek
Bowker Creek is an important but degraded urban creek which flows through Victoria, Oak Bay and Saanich.  The University of Victoria is the Headwaters of Bowker Creek, and as such participated in the creek's renewal planning Bowker Creek Initiative. The result was the Bowker Creek Blueprint: A 100-year action plan to restore the Bowker Creek watershed.
Mystic Vale
Mystic Vale is a forested natural area on the campus of the University of Victoria. The 4.4 hectares (11.6 acres) area contains trees ranging in age up to an estimated 350-500 years, and the headwaters of Hobbs Creek.  Public access paths throughout the Vale make it a very popular and well used location. The portion located in the District of Saanich is protected in perpetuity and the portion in the District of Oak Bay is under a ten year development moratorium (2003). Work in Mystic Vale includes invasive species removal, stream bank restoration, native species planting, and trail upgrades.
Naturalized areas
In the summer months, watering and grass cutting is eliminated in parts of campus determined to be "naturalized areas". The program to naturalize areas of campus was started in the spring of 2011.  The naturalized areas include: Alumni Garry Oak meadow, areas near the Alumni Chip Trail and student residence buildings, and part of the Cedar Hill Corner property.