Cycling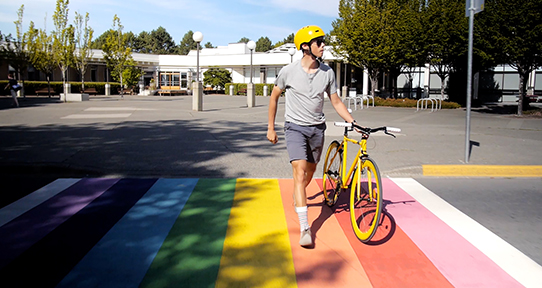 UVic is a bike friendly campus
The university is committed to creating a campus environment that is convenient and safe for cyclists. With our award winning Campus Cycling Plan, UVic is dedicated to being a leader in cycling infrastructure and active transportation. Adding to our already available facilities and amenities like the Campus Bike Centre, bike sharing programs and bike loan programs, showers and change rooms, lockers, route maps, and much more! All of this and more can be found below.
The university has developed its first Campus Cycling Plan, and is committed to a campus where everyone can safely ride their bikes and walk no matter where they are headed. The plan has been awarded the Canadian Institute of Planners' annual Award for Planning Excellence in the New and Emerging Planning Initiatives category.
This plan will guide future campus cycling infrastructure, including bicycle parking, cycling networks and end-of-trip facilities.
Learn more on our Campus Cycling Plan website.
Keep your bike warm and dry in the brightly lit and video recorded Campus Bike Centre (CBC).
The CBC is the HUB for all things cycling on campus. The centre is located beneath the University Centre (UVC), the entrance is at ground level facing the Business and Economics Centre (BEC). 
For increased security purposes, the CBC now closes between 11 p.m. and 7 a.m. daily. Any questions can be directed to Campus Security at 250-721-6683 (non-emergency number) or parkingmgr@uvic.ca .
Check out the CBC amenities below.
236 indoor bike parking spots
Bike racks (horizontal and vertical)
Bike lockers
Gear lockers
Benches
Self-service bike kitchen (DIY fix-it station)
Hand bike pump (air)
Electric bike charger (near the horizontal bike racks)
Murals (experiential learning opportunities for UVic Fine Arts students)
Notice board for campus cycling activities, items of interest, and events
The SPOKES Bike loan program is a unique bicycle upcycling and loan program where volunteers give new life to and use of old bikes. Since 2003, SPOKES has been innovatively diverting waste, improving community health and taking action on climate change.
Visit the SPOKES websites for more information, hours of operation and volunteer opportunities.
UVic wants you to have the best cycling experience possible. Don't have a lock? Locks are available for purchase and loan in several spots on campus. Want to register your bike? Campus security offers a free bike engraving and registration service.
Lock loan program
Forgot your bike lock? No worries! Visit the Loans Desk at either the McPherson Library or the Fraser Law Library and they will loan you a lock (free of charge!) for three days. Borrow a bike lock the same as you borrow a book.
Buy a lock
New locks for sale at SubText in the SUB building and at the UVic Bookstore.
Tip! Use a U-lock instead of a cable lock - protect your bike from thieves. 
To help in finding your bike if it's stolen or lost, have your bike engraved and/or registered at Campus Security. This service is free of charge. Your bike will be identified with your Driver's License number or your UVic student/employee number. Campus Security will then register your information in their secure computer system.
Bring your bike and ID to Campus Security - it only takes minutes!
More info or contact Personal Safety Coordinator psc@uvic.ca.
Check out our UVic cycling amenities map to find all things bike at UVic.
UVic boasts over 4,000 bike parking spots at our Gordon Head campus!
Indoor bike parking is located in the Campus Bike Centre (under the UVC) and at the Bike Parkade (corner of McKenzie & Gabriola near CARSA) - both are open 24 hours per day, brightly lit and video recorded.
There are also many covered and sheltered spots around the academic and administrative buildings. Students living on campus have access to student housing bike storage rooms as well. 
Showers and change rooms are located in the following buildings and facilities:
Centre for Athletics, Recreation, and Special Abilities (CARSA)
McKinnon Gym (MCK)
Continuing Studies Building (CST)
David Turpin Building (DTB) 
Engineering/Computer Science Building (ECS)
First Peoples House (FPH)
Medical Sciences Building (MSB)
Technology Enterprise Facility (TEF)
Facilities Management Service Building - staff only
Michael Williams Building (MWB) - staff only
There are nearly 150 bicycle lockers at UVic, including in the Campus Bike Centre (indoor) and across campus (outdoor). Bike lockers are available for students, faculty and staff who are living off campus. Click here for the Campus bike locker map.
Rental costs:
$40 per semester OR $120 per year
$50 key deposit
Room to store your bike and gear
To rent a bike locker, visit Campus Security or contact sdancer@uvic.ca
Residence Services rents lockers to people living in Student Housing. Contact housing@uvic.ca for more info.
Indoor clothing and gear lockers are large enough to hold bike bags, helmets, clothing, books, etc.. These are located in many academic buildings, the Campus Bike Centre, and at our two campus recreational facilities.
Academic buildings
Lockers in academic buildings and CBC can be rented through Campus Security or contact sdancer@uvic.ca. The rental costs are $10/semester OR $30/year with a $10 lock deposit.
Locker locations:
Clearihue (CLE)
Cornett (COR)
David Turpin Building (DTB)
Engineering Computer Science (ECS)
Elliot (ELL)
Hickman (HBB)
Human & Social Development (HSD)
MacLaurin (MAC)
Petch (PCH)
Campus Bike Centre, University Centre (UVC)
To rent an equipment locker, visit Campus Security or contact sdancer@uvic.ca
Recreation buildings
Lockers at the gyms are rented through Athletics and Recreation for $40 per semester. Visit the front desk at either building.
Locker locations:
Centre for Athletics Recreation & Special Abilities (CARSA)
McKinnon gym and pool (MKN)
There are four free designated electric bike charging stations on campus. All stations are on a first come first serve basis.
Look for the small green sign:

Inside location:
Campus Bike Centre (near the vertical rack stands)
Outside locations:
David Strong Building (DSB)
Human and Social Development Building (HSD)
Visual Arts Building (VIA)
There are so many great ways to get to campus by bike. Check out suggested routes on the CRD's community route map, with highlighted protected bike lanes and paths. Also check out the CRD's 2019 updated map of the entire cycling network.
You can also bring your bike on the bus as almost all of BC Transit fleet is equipped with bike racks. Check out this instructional video from BC Transit on how to load you bike, and test the racks on a parked bus at the bus loop on campus.
Get involved