Campus Cycling Plan Implementation
Campus Cycling Plan 
The University of Victoria has developed its first Campus Cycling Plan and is committed to a campus where everyone can safely ride their bikes and walk no matter where they are headed. 
This plan guides future campus cycling infrastructure, including bicycle parking, cycling paths, and change rooms and showers. If you'd like to learn more about the Campus Cycling Plan and how it was created, visit the Campus Cycling Plan webpage. 
Implementation
The Plan outlines a 10-year approach for improving cycling on the UVic campus. Implementation of the plan's policy recommendations and cycling network improvements are based on four key strategies: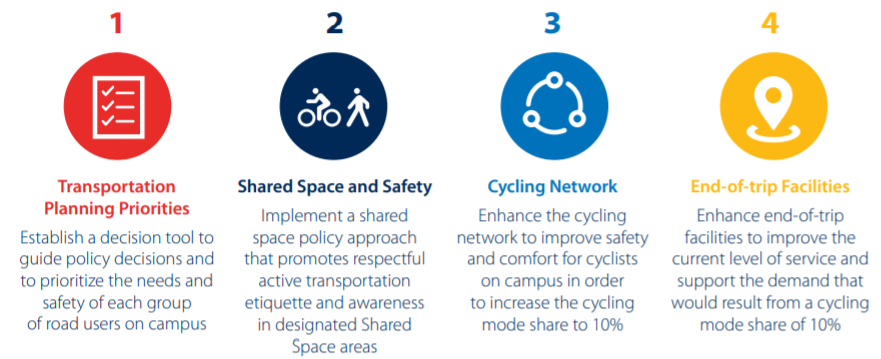 What's happening? 
Check here to see major project updates, contruction notices, and what to expect when on campus in terms of implementing the Cycling Plan. 
A new two-way cycling path and separated pedestrian sidewalk will be built in stages along Ring Road to connect University Drive to the new Engineering and Computer Science facilities.  
The Cycling Plan promotes active transportation and provides a vision for creating All Ages and Abilities (AAA) cycling networks on campus. The Cycling Plan was developed with extensive engagement and support from students faculty, staff and visitors.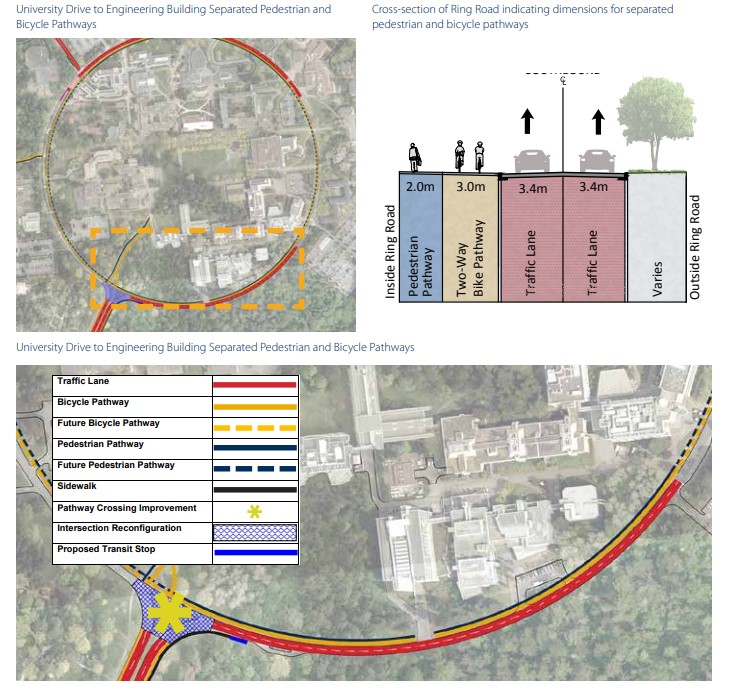 Phase one:
construction is scheduled to begin in the spring of 2021 and be completed in spring/summer of 2021.
Connects University Drive with the Engineering and Computer Science facilities along Ring Road.

includes pathway lighting, landscape improvements, new trees and indigenous plantings.
Phase two: construction on phase two, the final phase, will proceed simultaneously with the new Engineering and Computer Science facilities being planned along Ring Road. 
For all new projects on campus, UVic maximizes tree retention on site and when possible we reuse or gift harvested timber. Any trees removed are replaced by 2 or more new trees on campus.
For phase one of this project, the project team has carefully considered the Campus Cycling Plan and Campus Plan directions for this area. Active transportation safety was considered, and environmental professionals were engaged in the design for this new pathway. The project will be planting replacement trees and sensitively adding indigenous plantings to support the area's natural ecology.
Open for use: Mid-December 2021!
Construction is well under way on the Midgard Avenue Connection Pathway. This pathway also makes up the western most segment of the Campus Greenway from Gordon Head Road and Midgard to Ring Road near Fine Arts.
This section will be opening mid-December and coincides with the completion of the District of Saanich's upgrades to the cycling/pedestrian crossing at Midgard Avenue and Gordon Head Road that connect to the West Campus Greenway.
Features:
Weaving paving pattern inspired by the metaphor of weaving cedar in UVic's Indigenous Plan. 
New pedestrian and cyclist separated pathways to ensure safety and comfort 
The functional pieces of the pathway will be completed and ready for use mid-December and new features will be installed in Spring 2022 while the pathway remains open to cyclists and pedestrians: 
Banners
Benches
Upgraded lighting
Wayfinding 
Interpretive signage 
support for learning opportunities
For more information, visit the Campus Greenway Implementation page.
Progress and Achievements
Check here to see the progress that has been made on implementing the Campus Cycling Plan and what has been completed so far.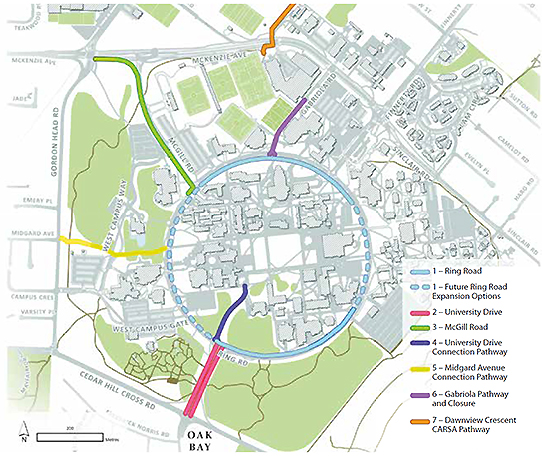 Phase one: Complete! 

Remaining will be developed as part of Engineering and Computer Sciences expansion project 2022/2023

 TBD
Anticipated Summer 2023
Complete! 

 The first major cycling network improvement project on campus!

Now open!
 TBD

 Designed

Anticipated construction Summer 2022
Completed
University Drive Connection Pathway - Henderson at Ring Road to the heart of campus
The University Drive Connection Pathway was the first major cycling network improvement project on campus, and the first step in developing an All Ages and Abilities (AAA) cycling network at UVic. Development of an AAA network is outlined as one of the five bicycle planning priorities in the 2019 UVic Campus Cycling Plan.  
The Connection Pathway links University Drive and Ring Road with the heart of the campus, and with Oak Bay's Henderson Road bike corridor to the south. On an average day, the route sees approximately 1,370 bike trips to or from campus (26% of all cycling trips) and 700 pedestrians (6.8% of all trips by foot).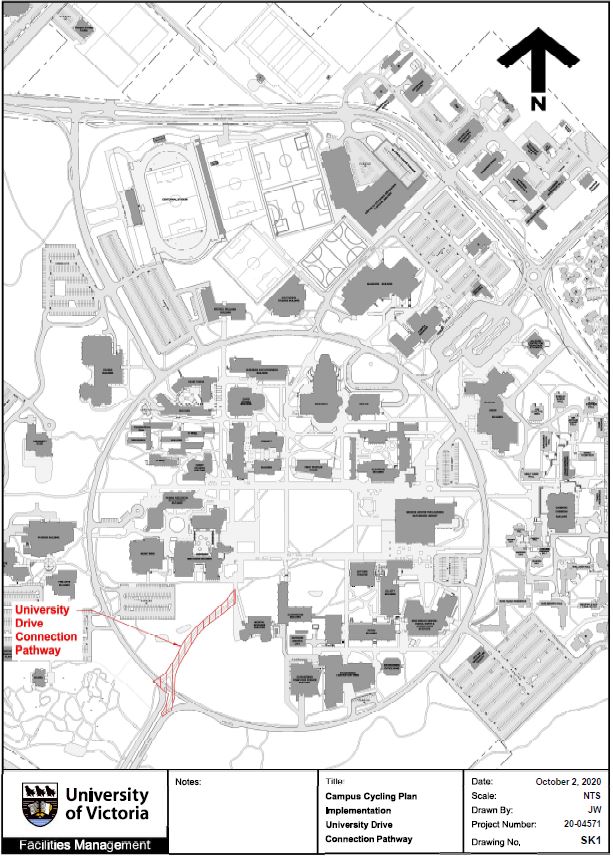 The pathway improvements include:
Separated cycling and pedestrian pathways
Intersection crossing improvements
Bicycle and pedestrian pathway counters
New lighting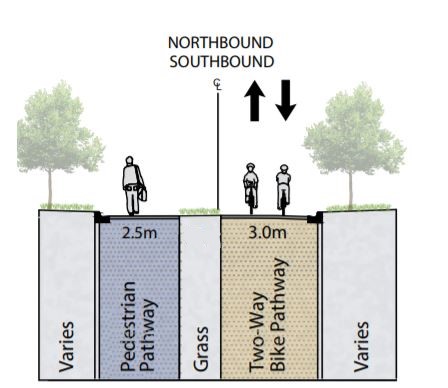 For all new projects on campus, UVic maximizes tree retention on site and when possible we reuse or gift removed trees. The trees that we do remove are replaced at least a 2:1 ratio on campus. For this project, 6 new trees were planted.
Ocean-Climate building (Queenswood) bike racks and shelters
Centennial Stadium bike racks and shelters
Student Health and Wellness end-of-trip facilities (changeroom and shower)
new bike racks outside of the CARSA and McKinnon buildings along Gabriola Rd.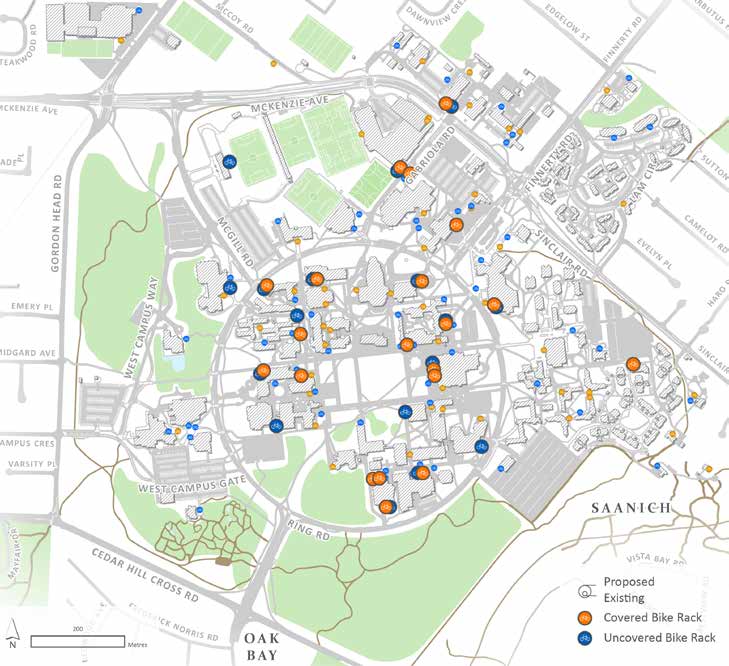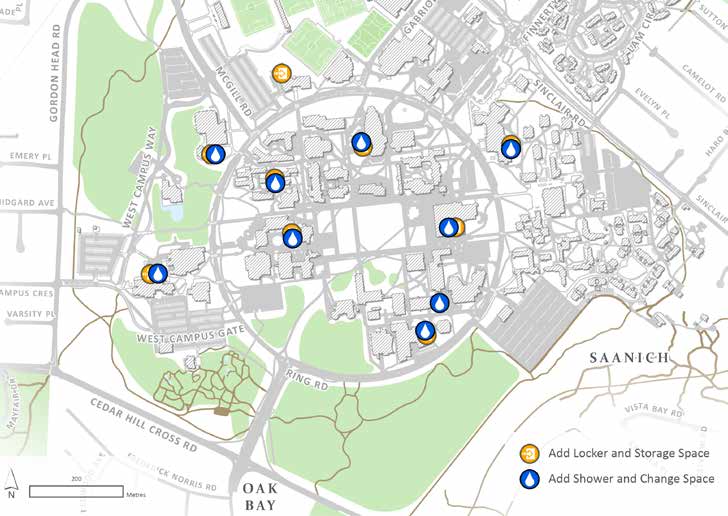 CARSA corridor Slow signage
Other Project Updates
Network Improvements
Ring Road South - University Drive to Engineering and Computer Science facilities
Dawnview Crescent - Vikes Pathway 
Campus Greenway - west
End-of-Trip Facilities
End of trip facilities in all new buildings planned on campus
Shared Space and Safety
CARSA Pathway "Slow Zone"
Central Campus "Slow Zone" at University Drive
For inquiries, please contact Mike Wilson, Director of Campus Planning and Sustainability at planning@uvic.ca or 250-472-5433