STARS Gold hat trick for UVic sustainability
- University of Victoria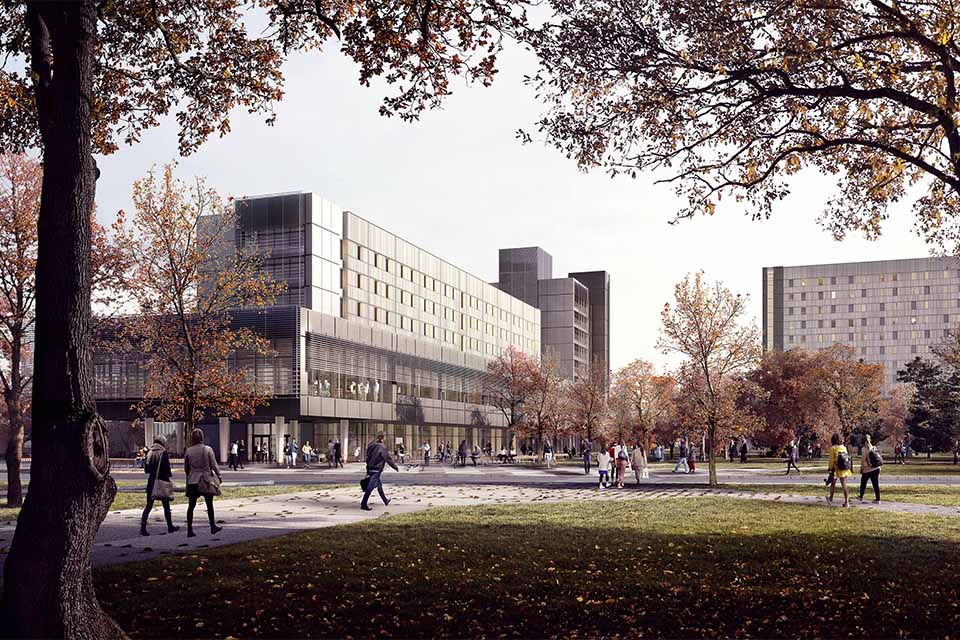 UVic has earned a Gold rating for the third time since 2014 with the Sustainability Tracking, Assessment and Rating System (STARS), a self-reporting framework for colleges and universities administered by the Association for the Advancement of Sustainability in Higher Education. 
UVic's 2020 score of 80.17 improved almost five points on the 2017 score (76.79) and is valid for up to three years. A contributing factor to UVic's most recent rating was a focus on sustainable building design and construction for new buildings.
Since 2007, all nine new campus buildings have been constructed to the LEED Gold sustainability standard, which results in reduced energy use, less waste and carbon emissions during construction, and lower storm water flows. Eight of the buildings have already received LEED Gold certification, while the District Energy Plant–completed in winter 2019–is expected to be certified later this year.
Sustainability highlights of UVic's newest buildings
District Energy Plant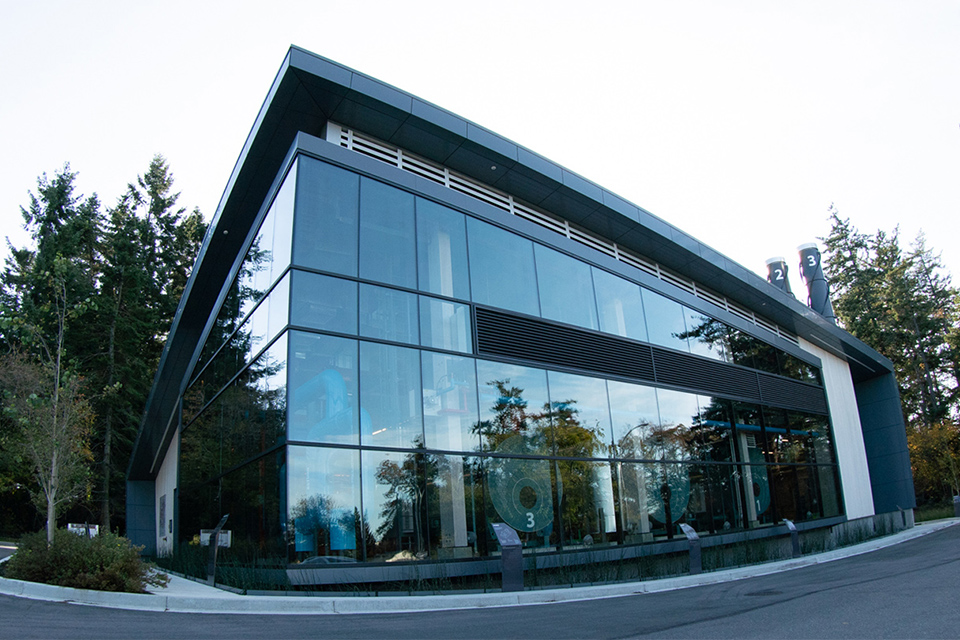 In 2019, UVic replaced its aging heating infrastructure with the District Energy Plant. "The new plant will ensure the university is able to accommodate future load growth and provide long-term reliable and cost-effective operations," says Ron Proulx, executive director of Facilities Management. "It provides flexibility for future expansion and connections to buildings that are not currently part of the loop, as well as options for integrating renewable energy systems."
Sustainability features of the District Energy Plant include:
Efficient use of water in the building and surrounding landscaping
Improved storm water runoff
Reduced light pollution by reducing the output of exterior building lights
Building energy efficiency
Use of recycled content in building materials
The plant features bike storage and end-of-trip facilities to promote active transportation, as well as an EV charging station for fleet vehicles.
With efficient boilers fitted with new control systems and ultra-efficient energy transfer stations across campus, the plant is expected to achieve an annual reduction of 10% in energy savings and 6,500 tonnes of greenhouse gases (GHGs).
Facilities Management Building (Saunders 3)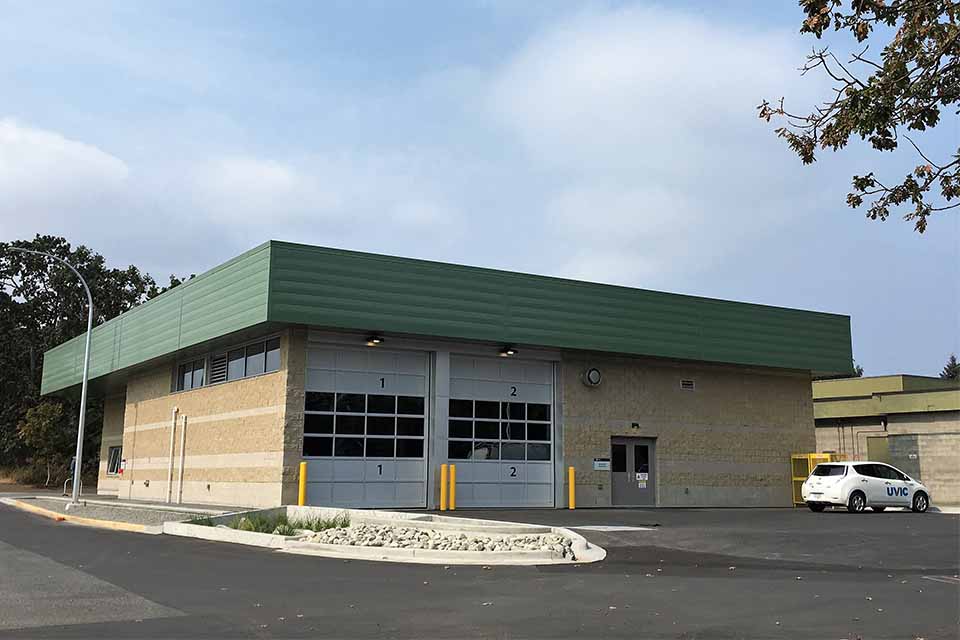 The Facilities Management Building was completed in 2018 on a former parking lot just north of the main Saunders Building. With spacious new shop space for grounds maintenance, fabricating/welding and automotive repairs, the 528 m2 building also includes staff offices, a meeting room, showers and lockers.
During construction, nearly 90% of all project waste was diverted from the landfill, while 16% of the construction material came from recycled content and more than 20% of materials were sourced "locally"—within 800 kilometres by road or 2,400 kilometres by rail.
Sustainability features of the building include:
Water use reduced by nearly 38% through low-flow fixtures
Energy use reduced by 27% through the building design coupled with energy-efficient fixtures
More than 70% of the energy used to power the building for the first two years comes from certified green sources such as wind power and low-impact water (hydro) power
High albedo (highly reflective) materials on the roof minimize "heat island" effects
Two rain water gardens help to maximize storm water runoff
Bike storage and end-of-trip facilities promote active transportation
New Student Housing and Dining Project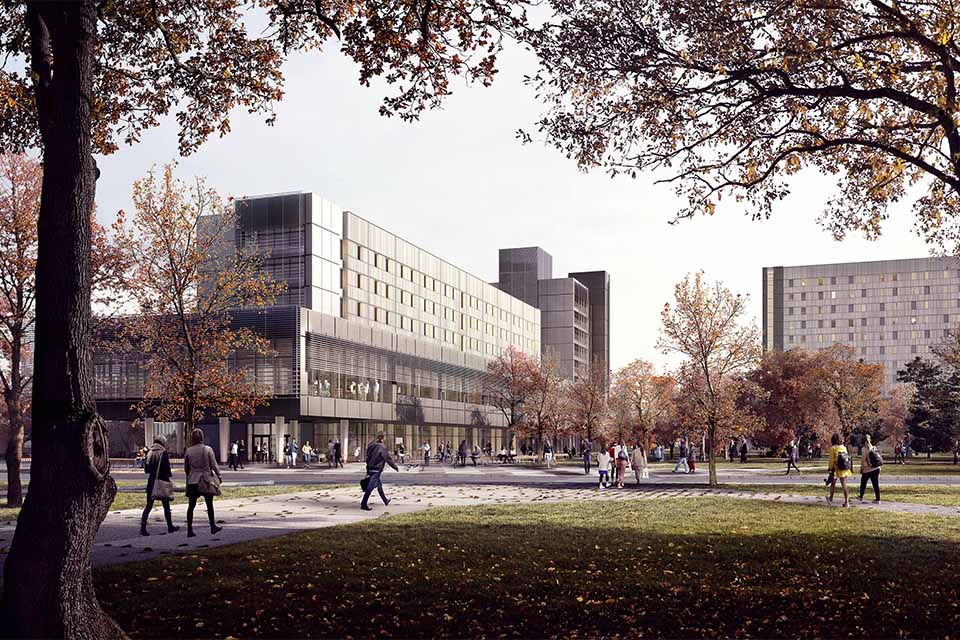 When they open in September 2023, the two new student housing and dining buildings will provide on-campus homes and a new dining hall for 621 students. In a first for a Canadian university campus, "the buildings will be constructed to both LEED Gold and Passive House standards, the most rigorous global building standards for sustainability and energy efficiency," says Mike Wilson, director of campus planning and sustainability.
Passive House standards result in buildings that use at least 75% less energy for heating and cooling and at least 50% less overall energy than a typical North American building.
Passive House strategies include:
A high-performance building envelope with high levels of exterior insulation to reduce heat loss
Airtightness: minimizing air leakage through the building to improve thermal performance
High-performance window glazing and passive solar design: the size and orientation of the glazing maximizes solar energy coming into the building in the winter to keep it warm, while limiting solar energy to keep it cool in the summer.
The Passive House design is resilient to a changing, unpredictable climate while the higher performance building envelope reduces maintenance and replacement costs over the long term.
The use of wood as a primary building material for the project also significantly offsets its carbon footprint.
Read more about the Student Housing and Dining project
The STARS system is in use internationally by 1,004 institutions. The STARS report has five credit categories: innovation and leadership, planning and administration, operations, engagement and academics. The Gold rating requires a minimum score of 65 while the Platinum rating requires a minimum score of 85.
Photos
In this story
Keywords: working capital, administrative, sustainability
People: Mike Wilson, Ron Proulx