New Student Housing and Dining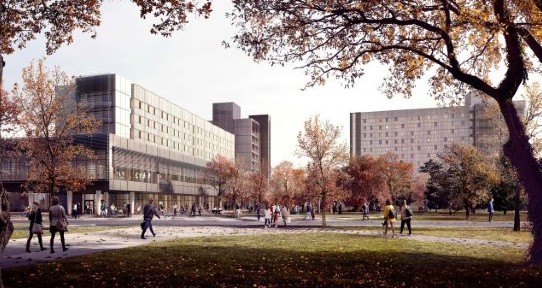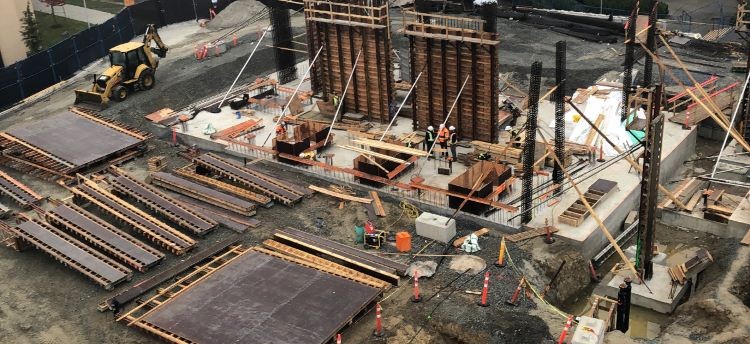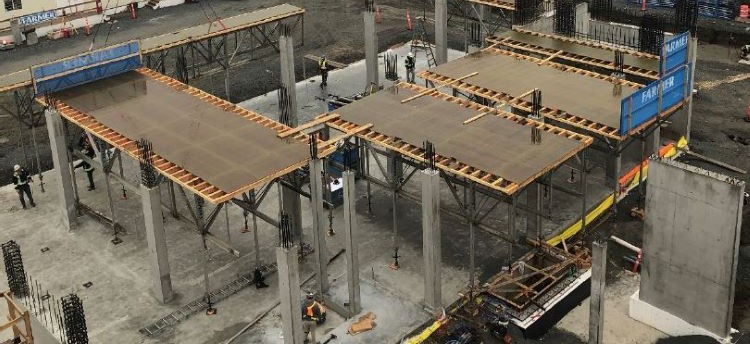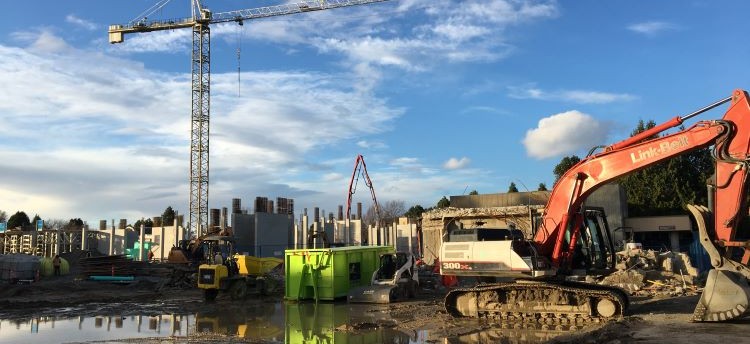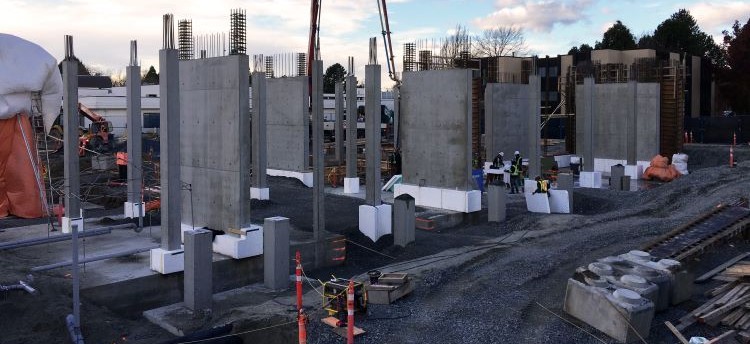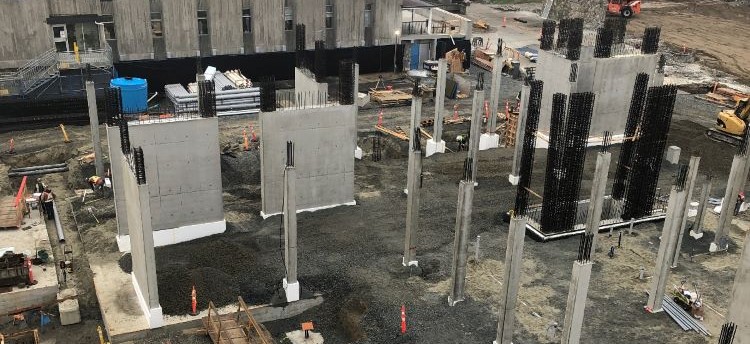 The Student Housing and Dining Project will provide much-needed housing and a new dining facility for 621 students who are currently living off-campus. The project is the first significant capital project since the Campus Plan was renewed in 2016. This important project will build on the ideas generated through the Campus Plan and will help achieve our vision as not only an extraordinary academic environment, but also a vibrant and sustainable community that nurtures student experience and well-being.
The buildings will offer traditional dorm rooms, and new "community-living" style rooms which include single rooms with a shared kitchen and living area. To learn more about the university's on-campus residence options, visit the Residence Services site.
The buildings will be located outside of Ring Road, south of the Student Union Building. They are replacing the Cadboro Commons Building as well as two older residence buildings, Margaret Newton and Emily Carr residences.
Sustainability
The project demonstrates UVic's commitment to sustainability. Design and construction of the new buildings will meet Leadership in Energy and Environmental Design (LEED) V4 Gold and Passive House standards, the most rigorous global building standards for sustainability and energy efficiency.
LEED V4 is an internationally recognized, third party rating system based on energy and environmental principles, which balance knowledge from established practices and emerging concepts. Passive House design principles aim to reduce energy consumption, GHG emissions, maintenance costs, and replacement costs by investing in a higher performing building envelope.   
UVic's Sustainability Action Plan: Campus Operations 2020-2021 highlights specific energy-related goals that will ultimately help foster a culture of energy conservation on campus using innovative technologies:
Achieve a total institutional GHG emissions reduction of 30%, relative to 2010 as the baseline year. 
Reduce campus electrical intensity by 18%, relative to 2010 as the baseline year.
Reduce campus natural gas consumption by 30%, relative to 2010 as the baseline year.
In addition, UVic has started two planning projects to identify longterm emission reduction strategies and help to achieve the university's Strategic Framework priority to "Promote Sustainable Futures". The Student Housing and Dining Project will contribute to UVic's longterm emission reduction through many decarbonization strategies, including:
Opting for electric kitchen equipment instead of the industry standard gas-based equipment will decrease the projected GHG emissions for Building 1 by 83%. 
Exhaust hoods used in the kitchen area of Building 1 will only ramp up when cooking activity is occurring beneath them. Appliances that have a similar design and cooking schedules will be grouped together beneath the hoods to minimize usage.
The hoods will also be shielded on three sides to reduce the volume of air being exhausted. This will result in less new air entering the building to replace exhausted air, and therefore less energy needed to heat/cool new air entering the building
In any building or household, there is waste heat emitted from various sources, such as showers or rejected refrigerator/freezer heat. The Student housing and Dining buildings will capture this waste heat using Heat Recovery Ventilation (HRV) devices, and re-use it to warm incoming fresh air. This will significantly reduce the energy used for space heating in each building. 
Electric Air Source Heat Pumps are being used to heat water in both buildings instead of natural gas energy from the District Energy System. In addition, the pipes transporting water will be shorter in length and have increased insulation to minimize heat loss. The combination of these strategies will result in an 88% reduction of GHGs associated with the process of heating water.  
There will be a custom combination of passive and mechanical cooling strategies used in each different area of the the buildings (e.g. dining hall, student dorms, etc.).
This "mixed mode" zone approach will result in significant energy savings.  For example, the dining hall in Building 1 will have openable windows, strategic solar shading (blinds), and mechanical cooling available when necessary. This will result in 80% less energy used to cool the dining hall compared to a fully mechanical approach.  
Wood is incorporated into the building designs through the use of a mass timber structure in Building 1 and the wood finishes in Building 2. The use of wood as a primary building material significantly offsets the carbon footprint of the project.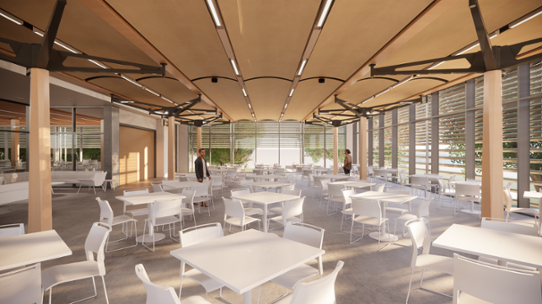 Project updates

Work at the main project site began in January 2020. Excavation of both buildings is underway and construction of the Building 1 envelop will begin in spring 2021. Construction of both buildings will continue until early 2023, with move-in for student residences occurring in September 2022 for Building 1 and September 2023 for Building 2. UVic is committed to the safety of faculty, staff, students and visitors. Please use caution and obey signs in construction areas.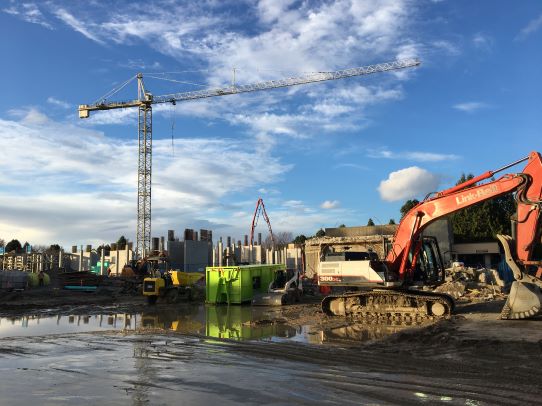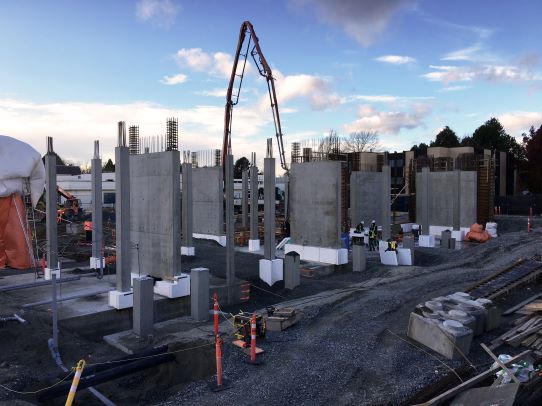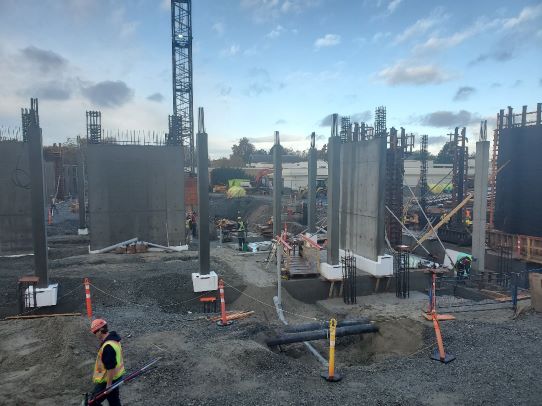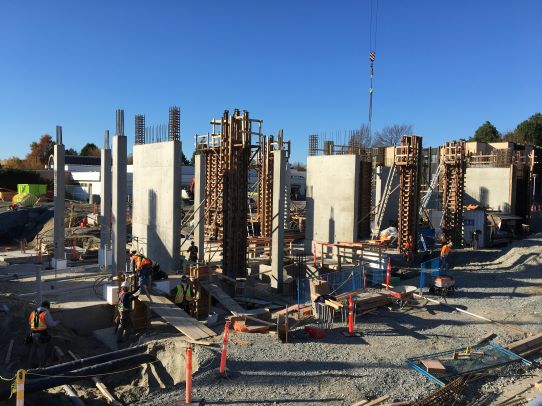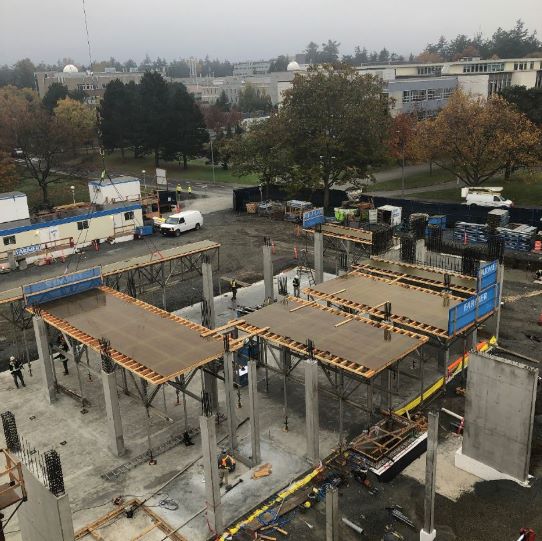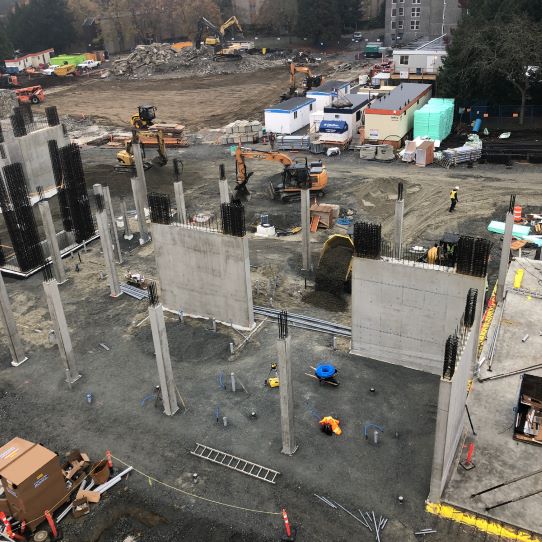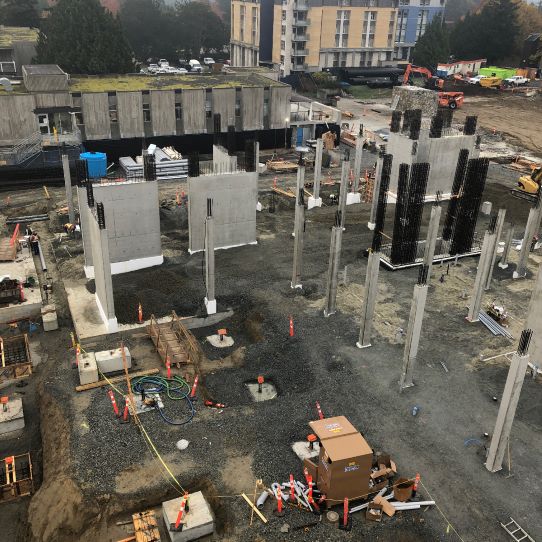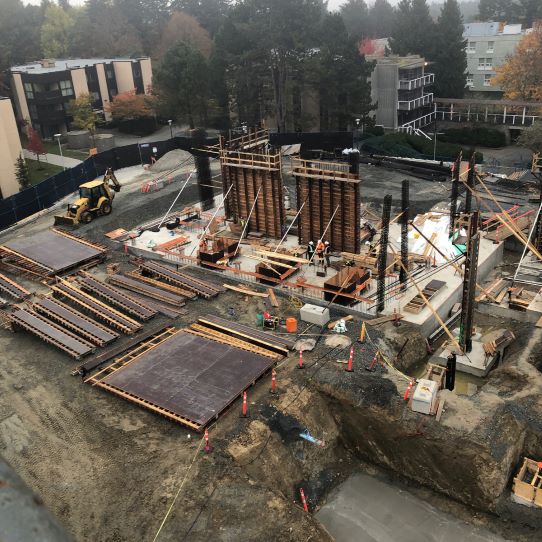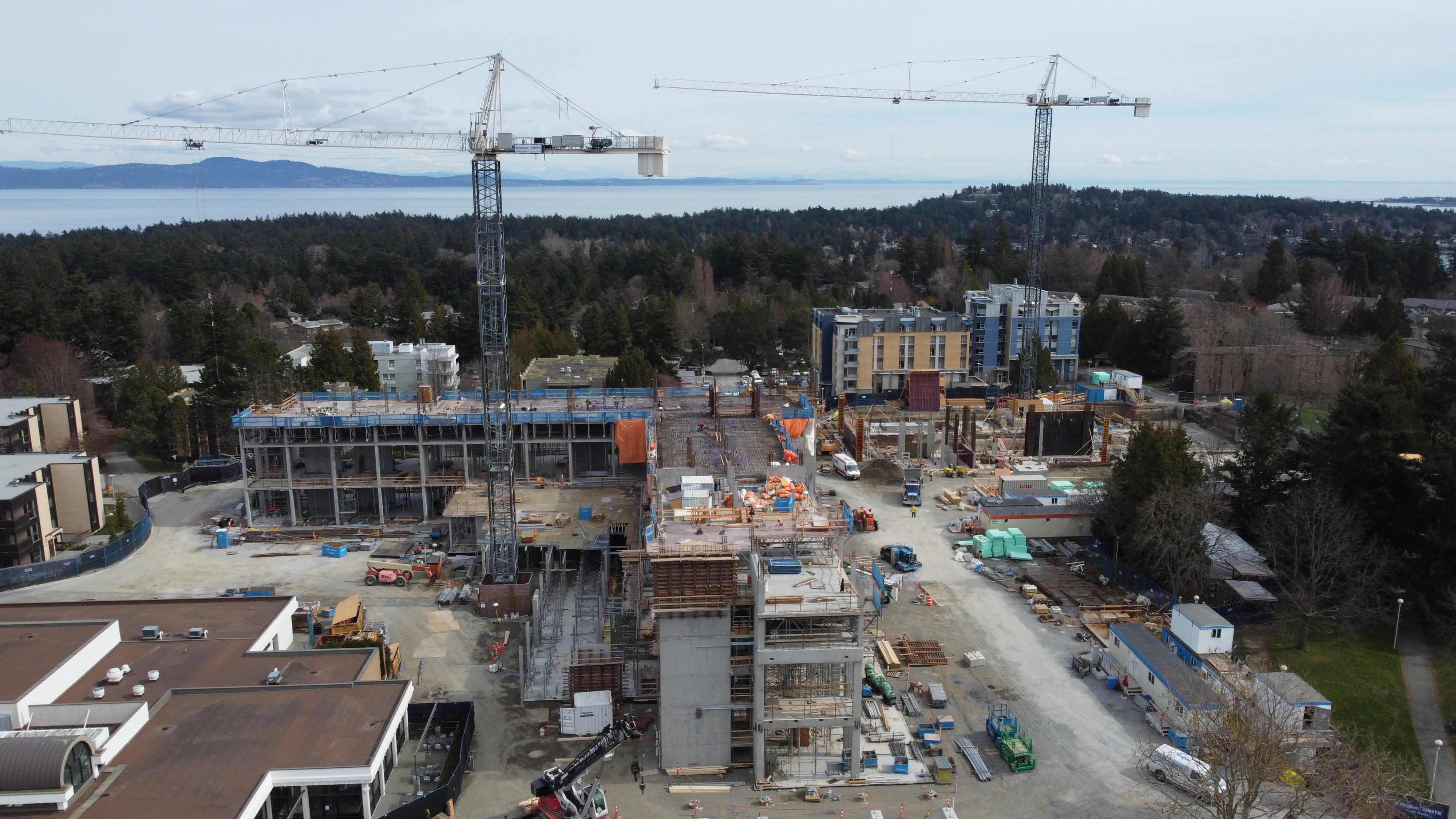 What will the new buildings look like?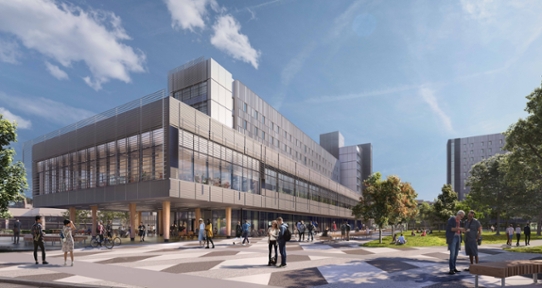 Building 1: Located to the south of the Student Union Building, this site will require the deconstruction of Emily Carr Residence and Margaret Newton Residence. The new building will include a dining hall and servery on the main floor with student housing on the upper floors. This site will be developed first.

Building 2: The construction of a new student residence on this site required the deconstruction of the Cadboro Commons building. The new building will include conference, meeting and academic space on the main floor with student housing on the upper floors.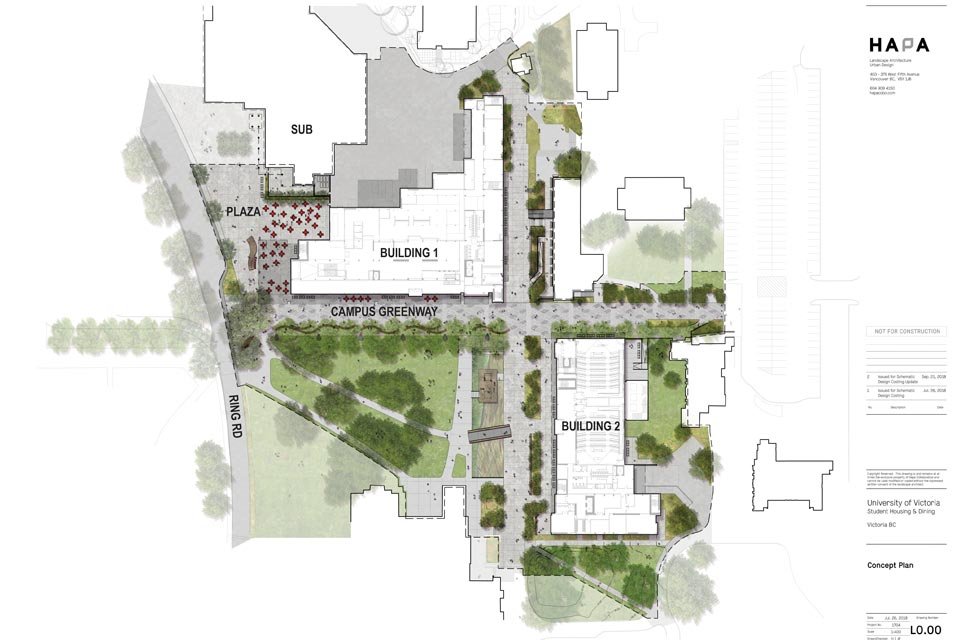 The landscape design is an extension of the east-west Campus Greenway Landscape Plan and Design Guidelines and new north-south Greenway. 
The new 600-seat dining hall, multi-purpose room, kitchen, c-store, coffee shop and servery will be located on the lower two floors of Building 1.

The use of wood structure and finishes are a design driver within the social spaces of these areas. Wood has a historical connection to the site and draws upon the material and building traditions of the area. In addition, the use of wood structure and finishes connects the indoor and outdoor spaces.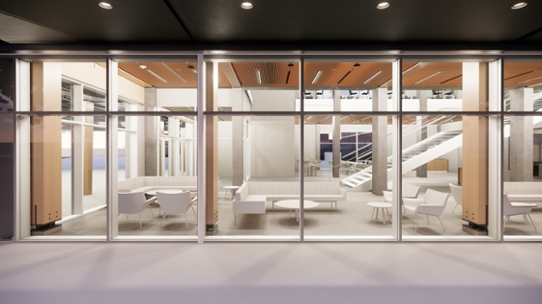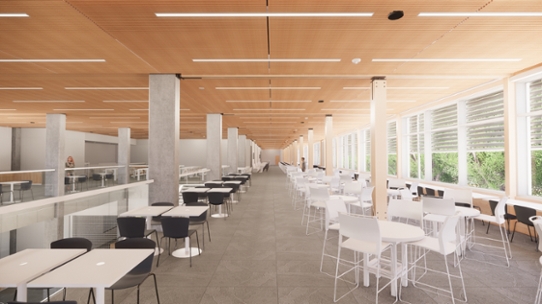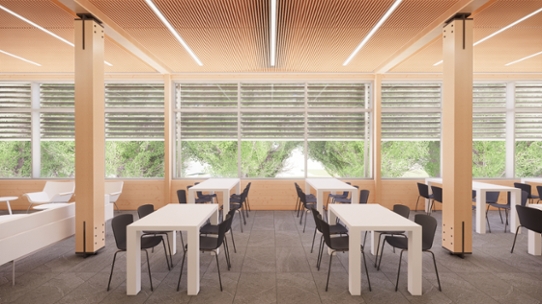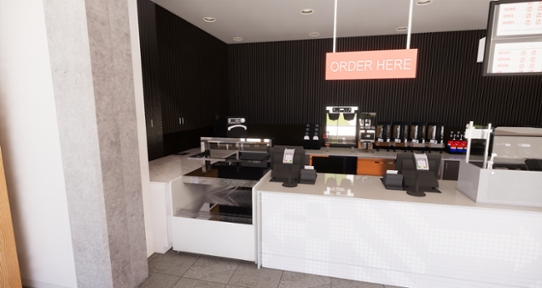 The two new student housing buildings will include 783 beds. 621 of these will be new beds for students currently living off-campus and 162 will replace beds from existing inventory.
The project has prioritized opportunities to recognize and preserve the spirit of place inherited from the past, and connect students to Indigenous communities and the history of traditional territories where UVic resides. An Indigenous land blessing took place in early 2020, and the design process included significant consultation with Elders. 

The new buildings will serve as a tool for Indigenous education, both in aspects of the design and through signage, storytelling and programming. For example, the Indigenous student lounge and landscape in building 2 will support a variety of Indigenous engaged learning programs including storytelling and community building.
To learn more about the university's Indigenous student engagement, visit the Indigenous Academic and Community Engagement site. 
Two classrooms, conference facilities and meeting spaces will be located on the first two floors of Building 2.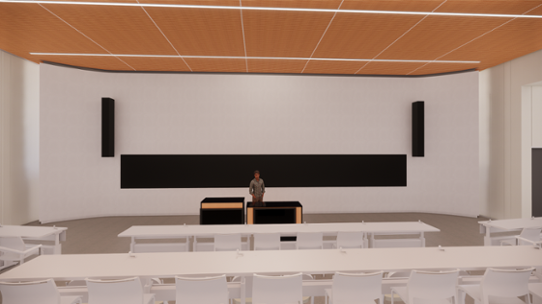 Modular Dining Facility (MOD)
The Modular Dining Facility is located in parking lot B - inside Ring Road, adjacent to the Bob Wright Centre and McPherson Library/Mearns Centre.
The 500-seat facility will be operational from September 2020 to July 2022, when the permanent dining facility in the new student housing building opens.
The Facility will provide a full and diverse range of food service options at the same or higher quality than the options currently available in the Cadboro Commons dining hall. To learn more about the university's food services options, visit the University Food Services site.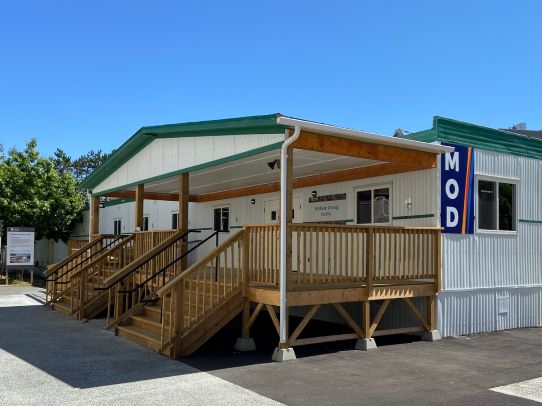 For further information contact Mike Wilson, Director – Campus Planning and Sustainability at 250-472-5433 or planning@uvic.ca
Community engagement is an essential part of planning for the student housing and dining project. The campus and neighbourhood association engagement process followed the university's Community Engagement Framework. 
During the planning phase, we engaged with over 1,200 campus and community members. 
In addition, the project team regularly engaged with the neighbouring community through presentations at the Community Association Liaison Committee.