Indigenous building names
Čeqʷəŋín ʔéʔləŋ (Cheko'nien House) & Sŋéqə ʔéʔləŋ (Sngequ House)
UVic's new student housing and dining buildings have lək̓ʷəŋən names! We are honoured that Songhees and Esquimalt Nations have given us permission to use these names as a way to bring to life the language and the history of the People and land on which these buildings sit.
Pronunciations & spellings
Čeqʷəŋín ʔéʔləŋ (Cheko'nien House)

Pronounced "Chooqw-ngeen ay-lung"
Sŋéqə ʔéʔləŋ (Sngequ House)

Pronounced "Snga-qu ay-lung"
Spoken by Songhees Elder Seniemten, Dr. Elmer George, member of the Songhees Nation and lək̓ʷəŋən language keeper.
Significance of names
The first of the new student housing and dining buildings, started in 2019 and completed in 2022, is called Čeqʷəŋín ʔéʔləŋ (Cheko'nien House), the name given to the territory that is now Oak Bay, and the Peoples who lived there.
The second of these new buildings, to be completed by September 2023, is called Sŋéqə ʔéʔləŋ (Sngequ House), after a village in what is now known as Cadboro Bay. It was used for camas harvesting, trading and cultural and spiritual practices. It means 'snow patches.'
For a deeper understanding of the names and their significance to their territory, listen to the Territory Acknowledgement in which Seniemten explains his family ties to this land and these names.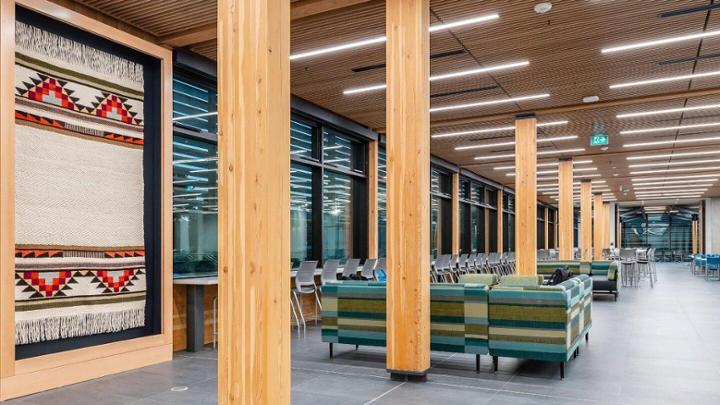 Consultation process
In a spirit of humility, UVic sought the guidance and direction of Chiefs, Councils, Elders and community members for the building naming to honor and integrate Indigenous ways of knowing and being into our work in a respectful manner.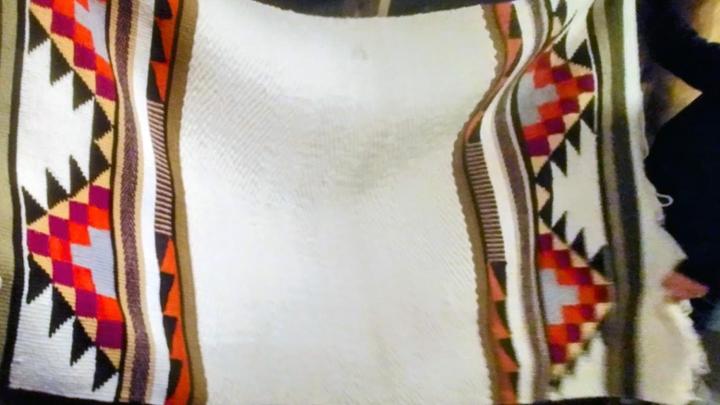 SIÁM SȽEȽWÁȽ NONET SWEꞢE,Ƚ
'The Highly Respected One's, Peace of Mind at Last' Coast Salish Woven Blanket was made to demonstrate UVic's commitment to reconciliation and meaningful engagement with the lək̓ʷəŋən and W̱SÁNEĆ peoples. This blanket is in Čeqʷəŋin ʔéʔləŋ - the student housing and dining building.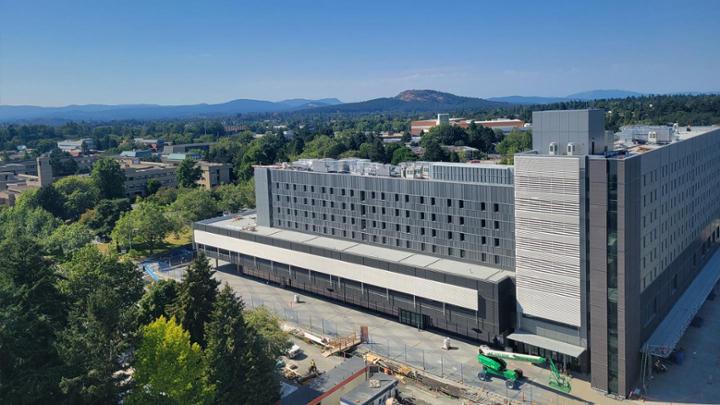 Media release
University and community members gathered April 5 for a ceremony and celebration to reveal the lək̓ʷəŋən names of the two new housing and dining buildings on campus and to thank and honour the Songhees and Esquimalt Nations for permission to use them.
Territory acknowledgement
We acknowledge and respect the Lək̓ʷəŋən (Songhees and Esquimalt) Peoples on whose territory the university stands, and the Lək̓ʷəŋən and WSÁNEĆ Peoples whose historical relationships with the land continue to this day.