Energy and climate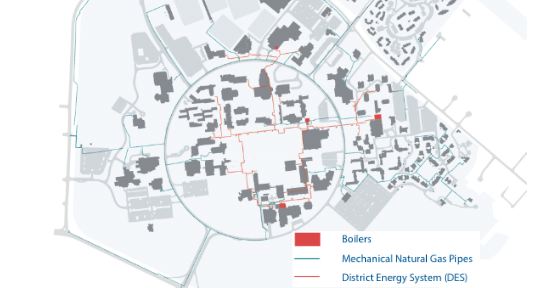 Preventing emissions that contribute to climate change
UVic is committed to improving energy efficiency, conserving resources, and implementing innovative and progressive energy projects across our campus operations. Expertise is vital for UVic to achieve our aggressive energy reduction and climate goals. 
UVic employs a full time energy manager who is responsible for campus energy systems and strategies. Our energy manager, in conjunction with the sustainability coordinators, works tirelessly with campus staff and with our energy providers to ensure the campus is equipped with the tools that reduce impact.
BC Hydro Continious Optimization program

Over the last five years the UVic Energy Manager has engaged the BC Hydro Continious Optimization program as the major strategy to drive energy efficiency at UVic. An engineering study is provided during the first stage of this program that offer many energy saving projects that an institution can choose from. Although implementation plans vary, energy efficiency is the primary goal.

UVic's Integrated Energy Master Plan
In 2011 UVic commissioned the creation of an Integrated Energy Master Plan designed to assess renewable energy and energy conservation opportunities on campus. The recommendations in this report guide future decision-making processes that meet energy and greenhouse gas reduction targets set out in the Sustainability Action Plan 2014-2019.
Greenhouse gas targets in BC
Since 2010, along with every public sector organization and institution governed by the BC government's climate action legislation, Bill 44 (The Greenhouse Gas Reductions Target Act), UVic conducts a carbon emission inventory. The resulting reports provide valuble information to UVic on its progress toward sustainability, and are available in the resources section of this website.
Bill 44 legislation also requires all public sector organizations and institutions purchase carbon offsets in an attempt to nullify the sector's emssions. The financial costs associated with offset purchases provide an incentive to increase energy efficiency at UVic. The university has been paying less for energy and offsets with each subsequent year since 2011.
Climate action
UVic's major emission reduction activities have occured through BC Hydro/FortisBC's Continious Optimization program. UVic has completed significant work on its HVAC control systems, temperature setbacks, and exhaust systems to prevent unnecessary building heating. The result in 2013, for example, was a reduction of 770 tonnes CO2e emitted.
Despite not accounting for vehicle emissions derived from travelling to and from campus in our yearly inventory, UVic also dedicates significant resourses to Transportation Demand Management (TDM) in an attempt to shift transportation behaviour away from single occupancy vehicle use. Learn more about TDM in the transportation seciton of our website.
Revolving Sustainability Loan Fund
Energy or water saving ideas save UVic money. Through the Revolving Sustainability Fund, you can put those ideas into practice. Learn more on the Revolving Fund section of our website.
Sustainability Action Teams
The Sustainability Action Team (SAT) program involves a series of practical initiatives that green our offices, our student residences and our labs ultimately increasing sustainability awareness and energy savings. SATs promote sustainability through action by providing resources and expertise to students, staff and faculty volunteers. Learn more on the Sustainability Action Team section of our website.