Recycling
The University of Victoria has a number of different operational programs in place to deal with the recycling of many items.
We use a standard 4-bin recycling station, but some stations include up to 5 bins. These stations include the following streams:
Vic's food waste is picked up by reFuse Resource Recovery and sent to an industrial composting system in Cobble Hill.  This system can take many items that you would normally not put in a backyard composter, for example all meat and dairy products, and paper towels. Here's a list: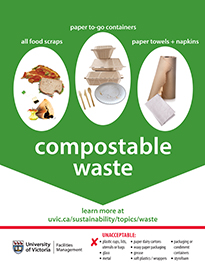 Yes
All food waste, including meat and dairy products
Compostable cutlery and smoothie cups currently used at the SUB
Pizza trays
Paper towels and napkins
Tea bags
No
Plastic bags labeled "biodegradable"
Plastic coffee cup lids
Glass
Dairy cartons
Condiment packages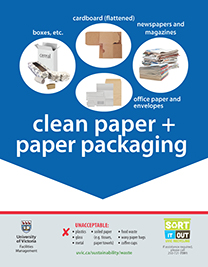 Yes
all office paper
magazines and newsprint
phone books (small quantities)
flattened cardboard boxes
No
corrugated cardboard (flatten these and stack them next to the container)
paper towels, napkins, and tissues 
paper plates
coffee cups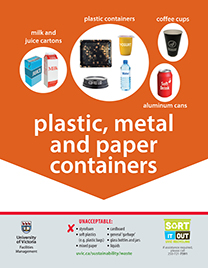 Yes
all refundable bottles & cans
tin & aluminum
paper containers like milk cartons and tetra-paks
hard plastics including coffee cup lids and sushi trays
coffee cups
We ask that you please rinse all containers before recycling them.
No
soft plastic bags or straws
styrofoam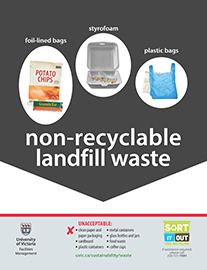 Yes
chip bags, candy and granola wrappers
No
paper
cardboard
refundable containers
batteries
Styrofoam
soft plastics
food waste, paper towels or coffee cups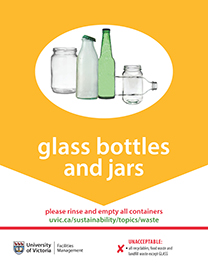 Yes
No
Anything not made of glass