Disposable coffee cups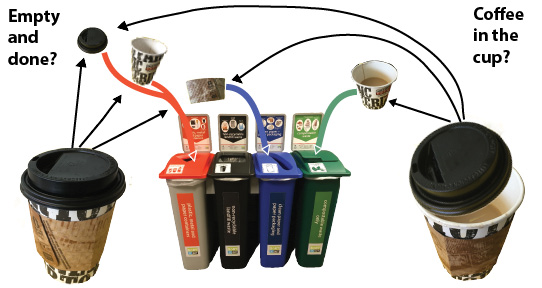 Data shows that disposable coffee cups are the most confusing items to sort on campus. This is made worst by the number of cups that the campus community uses. UVic sends approximately 40 tonnes of coffee cups to the landfill each year. This equates to ~3000 cups a day. That is a lot of cups.
How to:
Step one:
Try to not use disposable cups. Get you self a mug, love your mug and save! Get $.25 cents off a cup of coffee or tea any time you bring your own mug.
Step two:
If you forget your mug, remember you can recycle your cup.
Step three:
Recycle your cup. When the lid and sleeve are removed, you can throw your cup in the recycling orange bin. If you still have coffee in your cup, then compost it, but for remove the lid and sleeve and dispose of them seperately.