Dining and food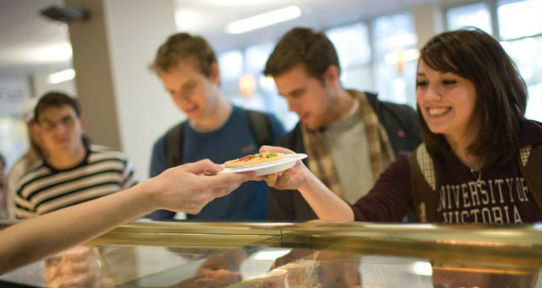 Sustainable food practices
UVic's vision is to provide the community with exceptional food and extraordinary service.
University Food Services is committed to sustainable practices, such as composting and recycling, promoting reusable mugs, offering reuseable plates/cups/cutlery, offering sustainable disposables options like biodegradable straws and containers, and choosing local suppliers and ingredients whenever possible. 
We work closely with University Food Services to maintain and continually improve the sustainability of campus' food operations and services. UVic is committed to choosing local suppliers and ingredients whenever possible. Our suppliers include: 
6 Mile Bakery
Anar Foods
Bento Sushi
Booster Juice
B & C Foods
Cakes Etc.
Canterbury Coffee
Eugene's
Gordon Food Service
Hot House Pizza
Islands West Produce
Kan's Gourmet
M & J Frozen Foods Inc.
Portofino Bakery
PSC Natural Foods
Romeo's Pizza
Saputo
Sysco
UVic is a Fair Trade Certfied campus serving 100% Fair Trade coffee and tea, as well as other items, including a selection of organic and Fair Trade chocolates. Fair Trade ensures that workers in developing countries are rightfully compensated and their communities are strengthened by our purchases. Learn more at our Fairtrade and you page.
UVic is the first institution in Canada to serve "Beyond Fair Trade" Doi Chaang Coffee from Thailand. Find out more about Fairtrade products on campus.
UVic provides extensive vegetarian and vegan meals. Our Village Greens cafe offer all-veggie options, while all dining outlets on campus provide some vegetarian and vegan options. Choices include salads, soups, stir-frys, veggie burgers, poutine and sushi.
University Food Services employs a culinary team of professionals who work together to offer healthy menu items at all locations.