Dining and food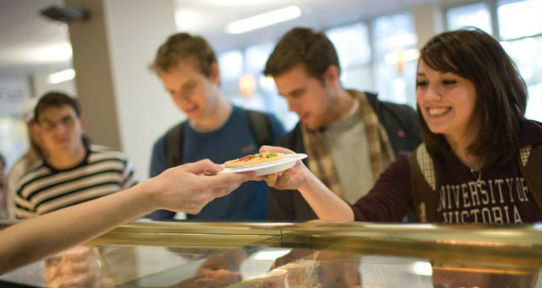 Sustainable food practices
UVic is recognized as a leader in the area of sustainable food purchasing by supporting local farmers and food producers. We serve healthy meals that are prepared onsite by our own chefs and on a daily basis. It may cost more, but it is worth it.
University Food Services is committed to sustainable practices, such as ethical sourcing, green eating, and composting and recycling.
UVic makes great efforts to support local farmers and food producers. Here are some facts we are really proud of:
100% of our breads, muffins, buns, cakes and other baked goods come from local bakeries
30 to 40% of our produce is purchased from Vancouver Island local farms
100% of our poultry comes from Vancouver Island or the Lower Mainland
100% of eggs purchased are "cage-free"
Pizza is either made fresh daily at our Mystic Market or from a local pizzeria that makes efforts to use local ingredients
100% of salmon is BC-wild caught, not farmed
UVic is active in efforts to support local farmers and food security on Vancouver Island. Purchasing Services buys directly from local farms, ensuring that the farmers got a fair price and the university could be guaranteed a reliable supply of produce to satisfy our healthy appetites.
UVic is one of Canada's original campuses to serve entirely organic and Fairtrade certified coffee in all of our cafes and dining outlets. We also serve a selection of organic and Fairtrade teas and chocolate. Check out our various cafes, such as:
UVic is the first institution in Canada to serve "Beyond Fair Trade" Doi Chaang Coffee from Thailand. Find out more about Fairtrade products on campus.
UVic provides extensive vegetarian and vegan meals. Our
Village Greens
 cafe offer all-veggie options, while all 
dining outlets
on campus provide some vegetarian and vegan options. Choices include salads, soups, stir-frys, veggie burgers, poutine and sushi.