Motor pool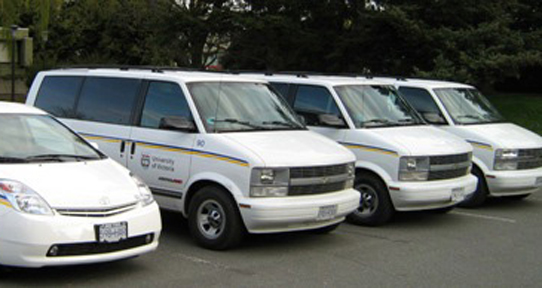 Campus Security Services maintains the University motorpool. There are a variety of vehicles available for short and long term rentals to UVic staff faculty engaged in University business.
Our Fleet
Our rental units include several Dodge Caravans (seating for 7 including driver) a Toyota Prius (seating for 5 including driver) and a 1 ton cube van.
How it works:
Rentals are based upon a first come, first served basis. To reserve a motorpool vehicle, complete the "Request for Rental Vehicle" form  downloaded here and complete the "Conditional Agreement for Rental" form here.
Charges for the motorpool vehicles are based upon length of rental and kilometers driven.  Fuel and insurance are included in the rental charge.  Once completed, the form can be sent to: mailto:rrobbin@uvic.ca
Rates:
Passenger van - $37.50 per day or portion of, $0.48 per km
Prius - $55.00 per day or portion of, $0.22 per km
Cube Van - $39.50 per day or portion of, $0.61 per km
Minimum charge - $75.00