Nicole Fetterly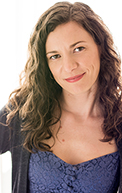 Position
Coordinator, Nutrition Programming & Services
University Food Services
Credentials
Contact
Office: Carroll Residence 126
Nicole Fetterly is the Coordinator of Nutrition Programming and Services at UVic. She comes from a similar position at UBC, where she was able to develop a Food Allergy protocol and training program for Food Services as well as a Peer-to-Peer Nutrition Tour program, among many other exciting initiatives.
Nicole spent 5 years working for Choices Markets, an independent, family-owned chain of 10 natural and organic food stores in British Columbia as the Nutrition Operations Manager where she led a team of in-store Nutrition Consultants, managed labeling of in-house and private label products, developed staff training programs and wrote numerous articles and recipes for the monthly newsletter.
Nicole graduated from the integrated dietetic program at UBC in 2007 after completing a BA in Anthropology at UVic. She spent 2 years working in clinical dietetics with Vancouver Coastal Health while also developing her private practice (www.victoriadietitian.ca), where she continues to counsel patients on a variety of health concerns as well as providing support for the food industry on product design and nutrition labeling. Nicole has extensive experience writing and contributes to newsletters, blogs and other social media, as well as features on television and radio.
Nicole is passionate about helping people make the best food choices they can for their health, lifestyle and tastes. As a working mother with 2 young children, she knows the challenges of getting healthy food on the table fast and tries to provide recommendations centered in practicality.
She is also an advocate for a sustainable food system and spent 5 years on the Steering Committee for the UBC Farm fundraiser, Joy of Feeding. She is an expert in helping clients increase the amount of plants in their diet to reduce environmental and health impacts of excess meat and low vegetable consumption.