Blogs and recipes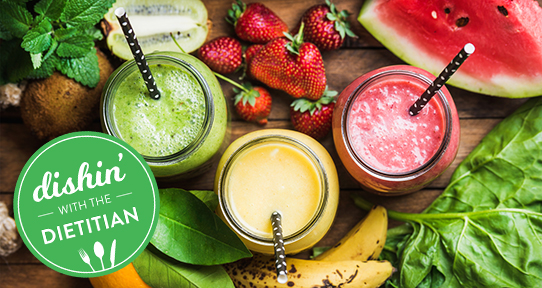 Get Your Greens Smoothie
By Nicole Fetterly, RD
I have a hard time eating breakfast in the morning (as do about 50% of the clients I've presented to or counseled) because of lack of appetite and feeling rushed. But instead of going without eating, grabbing 'just a banana' or stopping at Starbucks, I make a green smoothie every morning and bring it with me. So far, they haven't made a Distracted Driving law about shifting gears whilst holding a giant mug of green smoothie! This hearty beverage gets me through until lunch and meets half my veggie and fruit servings for the day plus almost half of my calcium needs.
Serves 2
1 avocado
2 cups spinach or kale
1 cup cucumber
¼ cup fresh mint or parsley
2 tablespoons spirulina (optional)
1 pear or 1 cup mango (or other light coloured fruit—I love berries, but they turn it brown)
1.5 cups plain kefir or yogurt
¼ cup hemp hearts
1 cup water or orange juice (if just using water, one tablespoon of maple syrup is sometimes needed to taste)
1 cup ice (if you like it cold)
Put all the ingredients in a blender and puree until smooth.
Blogs
Recipes