Dietary needs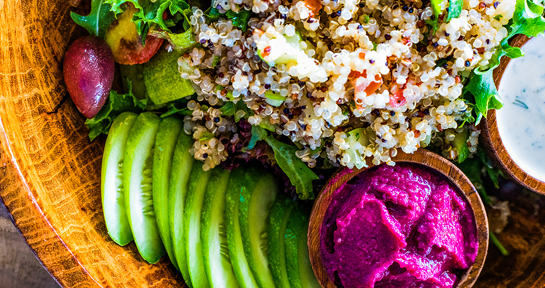 If you are purchasing a meal plan and have dietary restrictions:
As soon as you arrive on campus, get in touch with our registered dietitian to get the appropriate contacts in place and support you in making safe food choices. 
Whether you are on a residence meal plan or joining us for a meal at our retail outlets:
Make sure to talk to our staff every time you order food, so they know to follow correct protocols to limit cross-contamination.
For anything outside the below list, contact unfsdietitian@uvic.ca to get more information on how we can best serve you. 
Dietary needs that can be accommodated in residence dining
We provide ingredient and allergen information for our food items in residence dining for the top 8 priority allergens making it easy for students to avoid dairy, wheat and other ingredients in our house-made foods and many purchased products. We also carry gluten friendly packaged goods and have gluten friendly breads and buns available upon request. Please advise your server if you have a gluten sensitivity.
Top 8 Priority Allergens: Peanuts, tree nuts, wheat, gluten, dairy, eggs, soy, and shellfish.
We cannot guarantee against cross-contamination with gluten, so we do not recommend students with celiac disease participate in the meal plan.
We take food allergies very seriously and can accommodate most restrictions. The Top 8 priority allergens are available for all of our house-made and purchased foods. We also offer kitchen/dining hall tours and/ or meetings with our Registered Dietitian and Dining Managers to give students confidence in the foods they are choosing and our procedures for maintaining their safety. We work closely with Food Allergy Canada on our protocols and our training program for all of our Food Service employees.
Please note that we are not an allergen-free facility and cannot guarantee against cross-contamination.
Top 8 Priority Allergens: Peanuts, tree nuts, wheat, gluten, dairy, eggs, soy, and shellfish.
Plant-based options are available at all meals and locations. Greens is a dedicated plant-based eatery located in The Cove and offers a range of vegan options. In our other outlets, if cross-contamination with meat/dairy items is an issue, please let your server know, so that they can best serve you. More tips on eating a plant-based diet at UVic.
We can help students manage many different health conditions through the provision and prioritization of healthy, balanced meals with whole grains always offered alongside refined grains and low or no sugar options in some of our packaged foods. However, we strongly recommended making an appointment in your first week on campus for a tour with our dietitian to highlight which items are appropriate. We also recommended using ingredient, allergen and nutrition information to make the best choices for your health.
Available halal options include all offerings at the Shawarma station in The Cove, our 50/50 Burger and some prepared grab & go meals with a protein and side that you can heat up on your own. We also have extensive plant-based offerings which are all considered halal.
Please view our Ingredients & Allergens listing for dietary information that lists all halal meats and allows students to avoid items with pork, beef and alcohol. 
We currently cannot accommodate a strict Kosher diet.