Multi-factor authentication
UVic MFA for Everyone
UVic MFA is being added for all eligible users who haven't already signed up. This rollout is happening gradually. Everyone at UVic will be added by March 2024. If you're not already signed up for UVic MFA, you can expect to see a prompt with enrolment instructions when you sign into online resources with your NetLink ID.
The reminder prompt can be deferred for a bit if you're busy, but we recommend finding time to enroll before the deadline to avoid any conflicts with important deadlines like course registration and final exams. These prompts won't show up for everyone at the same time, so you might get yours at a different time than your classmates or colleagues.
You don't have to wait for a prompt! Anyone can sign up for UVic MFA right now.
The best way to keep your UVic account secure is to enable multi-factor authentication (MFA). This type of security is also called two-factor authentication (2FA) or two-step verification. MFA adds an extra layer of security to your account by adding an extra step into your sign in process.
When you use MFA, you'll sign in to your account using your passphrase, then confirm that it's you using a personal device like a phone. This makes it much harder for someone else to gain access to your account.
Keeping your account secure is important for your own online safety and the safety of the UVic community.
Who can use UVic MFA?
Students, faculty, staff, emeritus and UVic affiliates can use UVic MFA.
How to use UVic MFA?
UVic uses Duo for our MFA service. You can register a mobile device or Duo hardware token to be your second factor. You should choose a device you usually have with you or add more than one device to make sure you can always access your account. Your phone is probably the best option to choose because you'll usually have it with you.
When you sign in to UVic resources, you'll get a UVic Duo MFA prompt. You'll need to either approve a push notification on your mobile device or enter in a code from your hardware token to finish your sign in process.
UVic MFA will work even if you don't have access to Wi-Fi or cellular data.
Sign up for UVic MFA
You can use UVic MFA through the Duo Mobile app, a Duo hardware token or both. You can add or remove devices from your Duo profile if you want to add a back-up or get a new phone.
You must complete the whole Duo enrolment process, otherwise your NetLink ID will be locked. If you plan to use your phone for UVic MFA, make sure it's compatible with Duo:
You'll need to do three things to start using UVic MFA:
Set up a device (phone or tablet) or hardware token (your "second factor")
Turn MFA on in your Online tools profile
(Recommended) Make bypass codes
It typically takes about 20 minutes to sign up. If you need help signing up for UVic MFA, we made a video to guide you through the process. You can also contact the Computer Help Desk.
Set up a device or token
You'll need to set up at least one device to use to authenticate. Most people use the Duo Mobile app on an iPhone or Android phone that they already carry around. To install Duo Mobile on your phone or tablet:
Go to Duo Mobile for iPhone and iPad (Apple App Store) or Duo Mobile for Android (Google Play Store)
Select Get or Install to download and install the free Duo Mobile app
Make sure you install the correct app. It will be called Duo Mobile and is published by Duo Security LLC. The logo is green with DUO written in white text.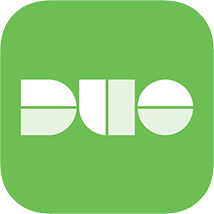 UVic MFA only works with the Duo Mobile app. If you already use another authenticator app you'll still need get Duo Mobile as well. But you can add other accounts to Duo Mobile if you want to streamline account security for all your online services.
If you don't have a compatible iPhone, iPad or Android device, you can use a Duo hardware token instead. A hardware token is a small single-purpose device that generates a one-time passcode when you press a button.
If you're a student or emeritus, you can buy a hardware token at the UVic Bookstore
If you're an employee, you can request a hardware token through your department.
If you can't use your phone or access a Duo hardware token, there is support available for students with financial or accessibility needs.
You can use multiple devices (phones, tablets, tokens) if you want. It can be useful to have a backup! But you must add at least one.
Turn MFA on in your UVic profile
Go to account security settings in Your profile.
Select Manage multi-factor authentication. Confirm you're ready to enrol in UVic MFA and select Enable Duo.
Follow the on-screen steps to enrol your first device.
Make bypass codes
Bypass codes are codes that you can use to get into your account if you don't have access to your phone or token—for example, if you forget it at home one day.
You don't have to make bypass codes, but we strongly recommend that you generate a set of single-use codes, write them down and keep them someplace safe.
Accommodation requests
UVic MFA account security is for everyone. If you have accessibility needs or financial barriers that make it difficult for you to enrol in Duo, please submit an accommodation request.
International use
If you're travelling or living outside Canada, you can still use UVic MFA. You can still use Duo Mobile without data or Wi-Fi.
You can also swap SIM cards in your phone. The Duo Mobile app is tied to your phone's hardware security module (HSM), so picking up different SIM cards in other countries won't disable your UVic MFA access.
There are some specific countries or regions where the Duo Mobile app is blocked due to economic and trade sanctions enforced by the U.S. Office of Foreign Assets Control. These restrictions also include other online services through UVic, like Microsoft 365 and Remote VPN access.
If you're travelling to a restricted country or region, please contact the Computer Help Desk before you leave. This list of countries or regions currently includes:
Cuba
North Korea
Iran
Sudan
Syria
Crimea region
Sevastopol region
Donetsk region
Luhansk region