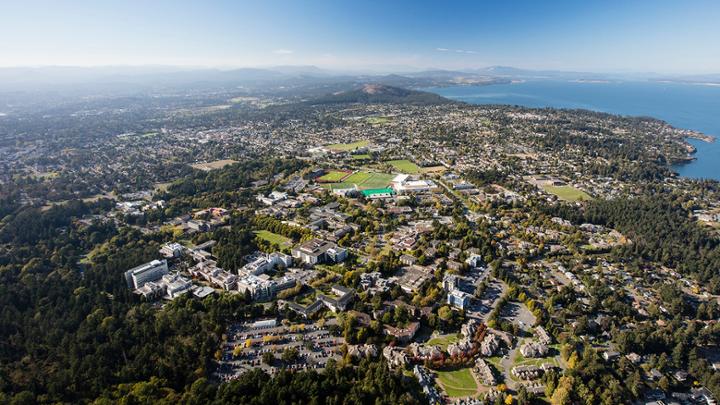 The University of Victoria is an international leader in research that makes a vital impact on people, places, and the planet. Our faculty are committed and inspiring teachers who are essential to our dynamic environment. Here, our students receive a research-enriched education and applied learning opportunities.
The UVic Edge
The UVic Edge brand gives us a consistent way to show and tell the UVic story. Consistency helps us gain recognition for what makes UVic different. You're an important part of telling UVic's story.
Our guidelines will help you align messages, look and tone. You can access a variety of templates for print, web and electronic use. We also have guides to help with writing and photography and video.
Facts & figures
22,020 students (undergraduate and graduate)
900 full-time faculty members
535+ patents filed to date
1,080+ invention disclosures to date
169 start-up companies to date
$3.7 billion UVic annual economic impact
Consistently the top university in North America for international research collaboration (Leiden, 2011-19)
Ranking & reputation
We're recognized annually as one of Canada's top-ranked universities.
#1 among Canadian comprehensive universities for preparing career-ready students (2019 Times Higher Education Global University Employability Ranking)  
Global top 200 in English language and literature, earth and marine sciences and philosophy (QS Subject Rankings)
#1 in Canada for scientific impact in math and computer science (Leiden 2019)
#3 in Canada for scientific impact in social sciences and humanities (Leiden 2019)
#4 in Canada for overall scientific impact (Leiden 2019)
#2 among all Canadian universities in citation impact per faculty member (QS rankings, 2019)
Gold star performer for sustainability practices in the 2019 Sustainable Campus Index, compiled by the international Association for the Advancement of Sustainability in Higher Education
#2 among comprehensive universities in medical/science grants per faculty (Maclean's 2020)
International perspectives
The UVic International Plan, launched in October 2016, takes our global commitment further. We're moving forward in this era of complex geopolitics and increased international collaboration.
More international initiatives:
Indigenous focus
UVic's first Indigenous Plan builds on our longstanding commitment to Indigenous communities. The plan establishes ambitious goals and clear accountability. We want to increase educational opportunities and success for Indigenous students. We're working with Indigenous communities to further develop education, research, outreach and engagement initiatives.
Indigenous students
More than 1,300 Indigenous students choose UVic for their studies each year. This includes over 200 graduate students. Learn about our undergraduate Indigenous-focused programs, graduate Indigenous-focused programs, services for Indigenous students and scholarships and bursaries.
Indigenous research
We are always working to understand, preserve and celebrate Indigenous traditions and cultures. Our researchers work with Indigenous communities and organizations around the world. Examples of our work include our language revitalization program and the world's first Indigenous law program.
More Indigenous initiatives:
Contact our community engagement manager at iacecem@uvic.ca to learn more.
Sustainable initiatives
The UVic Strategic Framework calls for us to manage our physical and financial resources in a sustainable manner. We make all decisions with attention to economic, social and environmental consequences.
Campus planning and sustainability is the online hub for sustainability. You can explore our green initiatives on the ground, in the classroom, and in our research activities. Connect with student groups, learn tips to reduce your impact and find out how you can get involved.
More sustainability initiatives: