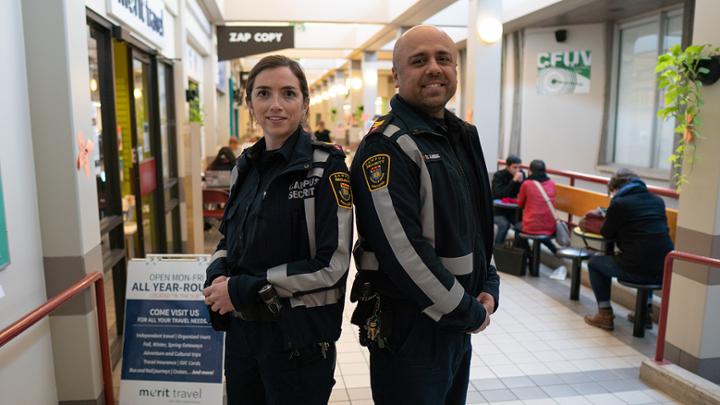 UVic is committed to providing a safe and welcoming working environment. Whether you're on campus or travelling abroad, we offer various resources to promote your safety and security.
Occupational health, safety & environment
Our team provides health and safety support to UVic faculty, staff and students. Our areas of focus are research safety, occupational health and environmental protection.
Personal safety
Campus Security Services works to promote a safe and welcoming campus.
Safehaven – The Campus Security Building, located near the bus loop and bookstore, is open 24 hours a day, 7 days a week. Come here if you need assistance.
SafeWalk – We'll escort you anywhere within the boundaries of UVic's campus, including the Ian Stewart Complex. SafeWalk is available 24/7. To access this service call 250-721-7599.
CampusAlone – If you work alone on campus during quiet hours (such as at night or on weekends and holidays), we can check in on you. To access this service call 250-721-7599.
For emergencies call 911.
For medical emergencies call 911. For all other medical concerns, call Campus Security at 250-721-7599.
If you need to report suspicious behaviour or a personal safety concern, call Campus Security at 250-721-7599.
Bullying & harassment
Contact the Equity and Human Rights office if you feel affected by discrimination, bullying or harassment. Get advice and support whether you're experiencing these things yourself or have questions or concerns.
International travel safety
If you're planning to travel internationally, you should learn about the countries you'll be travelling to. This includes learning about risks and taking precautions to ensure your health and safety.
We've partnered with International SOS (ISOS) to offer emergency medical, safety advice, referrals and emotional support when you're travelling.
Emergency information
During an emergency, the UVic website will display prominent advisories with information and instructions. You can visit our emergency information page at any time or download our safety app in case of a campus-wide emergency.
Stay prepared with all the emergency procedures we have in place at UVic.