Graduation & convocation for undergraduate students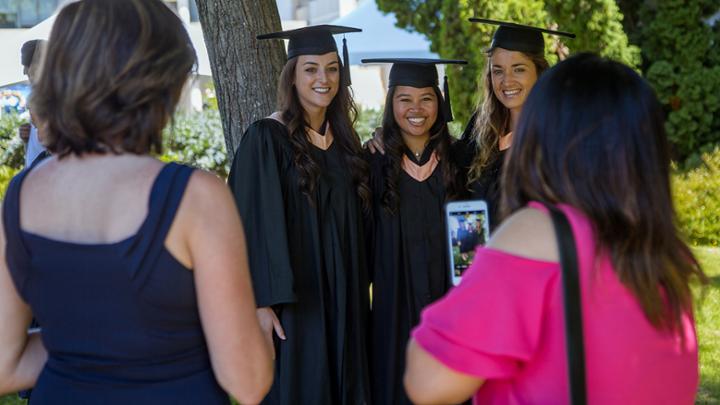 Graduation vs convocation
Graduation is the awarding of your credential (degree, diploma or certificate) by the University of Victoria Senate. You must apply to graduate in order to be awarded your credential and receive your diploma.
Convocation is a ceremony where your graduation is celebrated. Visit UVic Ceremonies for information about convocation, grad photos, guest tickets and more.
Graduation timeline
The graduation timeline for undergraduate students is based on the term when you take your last course.
If you're a graduate student, your application deadlines are different. Refer to the graduation timeline for graduate students.
Deadlines and approvals for undergraduate students
Fall 2022 graduation
You can graduate in Fall 2022 if your last course takes place in Summer 2022 (May - August):
Application deadline: July 15, 2022
Late application deadline*: September 10, 2022
Faculty approval: mid October 2022
Graduation approved by Senate: October 19, 2022
Spring 2023 graduation
You can graduate in Spring 2023 if your last course takes place in Fall 2022 (September - December) or Spring 2023 (January - April):
Application deadline: December 15, 2022
Late application deadline*: February 15, 2023
Faculty approval: mid May 2023
Graduation approved by Senate: May 25, 2023
*Late applications are subject to additional fees. If you miss the deadline, you can apply for a future graduation period.
Application fees
You must pay your graduation application fee online when you submit your application. You can use Visa, MasterCard or American Express. Contact mygrad@uvic.ca for alternate payment methods.
The application fee is non-refundable and non-transferable. If your application is cancelled, you'll need to re-apply for a future graduation. You'll have to pay the fee again.
Application fee: $40

Late application fee: $10
Review your eligibility to graduate
Before you apply to graduate, make sure you meet UVic's minimum degree requirements.
Review your Curriculum, Advising and Program Planning (CAPP) report. It will show you the graduation requirements for your program. This is not required for Juris Doctor students. Contact your academic adviser if you have any questions about your program requirements.
Make sure your program details appear correctly, including honours, minors, specializations or concurrent programs. If you're also completing a diploma or certificate program, make sure it is listed too.
If you are graduating with surplus credit, you may be able to hold it toward a future credential. To do this, you must get permission from your academic adviser at least two months before you graduate.
Check your transfer credit
You can check your transfer credit in the Transfer Credit Information section of your administrative transcript. Make sure that all your transfer credit appears correctly.
If you're currently attending another college or university, you must arrange for an official transcript with all your final grades to be sent to the Office of the Registrar by:
February 15 for spring graduation
September 10 for fall graduation
When these dates occur on a weekend, the transcript deadline is extended to the next business day.
Apply to graduate
Before you submit your application, make sure your preferred email address, phone number, and mailing address are up to date in Online tools. We'll use your preferred email to contact you about your application to graduate.
Review the graduation timeline and application fees, then submit your application by the deadline.
The application will display your current declared program(s).
If part of your declared program is missing or incorrect, you must indicate it on your application. Components that could be missing or incorrect are honours, double or combined majors, minors, concentrations, specializations, options, co-op or work experience.
You must submit a separate application for each credential you plan to graduate from.
After you apply
Monitor your CAPP report
Review your Curriculum, Advising and Program Planning (CAPP) report any time you add or drop a course. Any duplicate or mutually exclusive course registrations won't be reflected on your CAPP report until the course has been graded.
You can also review the status of your graduation eligibility on your CAPP report (graduation status) or in Online tools (application status).
| CAPP | Online tools | Details |
| --- | --- | --- |
| Submitted | Submitted | Application received |
| Applied to Graduate | In progress | Application is under review* |
| Records Approval | In progress | You will be recommended for graduation |
| Awarded | Awarded | Congratulations, you've officially graduated! |
| - | Cancelled | Application cancelled |
*It's normal for your application to stay in this status until early May (spring graduation) or early October (fall graduation).
Check your preferred email
We'll notify you when your graduation has been officially awarded or if there are any issues with your eligibility to graduate. If you fail to respond, your application for graduation might be cancelled.
Order a degree completion letter (optional)
If you need to show that your program requirements have been met and that you will be recommended for graduation, you can order a degree completion letter. International students may need this document in support of a post-graduation work permit. The letters are issued after all of your final grades appear on your transcript.
You can order a degree completion letter after your application to graduate has been received.
International convocation guests
If your guests need a visa to travel to Canada to attend your convocation ceremony, they might need an invitation letter. Complete the Invitation letter for international guest to attend convocation form.
Your diploma
Your degree, diploma or certificate (also known as your parchment) will display your faculty and credential. If applicable, it will also display "(Honours)", "With Distinction" and/or "Co-operative Education".
THE FACULTY OF SOCIAL SCIENCES
Admits
Your Name Here
to the degree of
BACHELOR OF ARTS (HONOURS)
CO-OPERATIVE EDUCATION
WITH DISTINCTION
"With Distinction" will appear on your diploma and transcript if your graduating GPA is in the top 20 percent of your academic unit. If you achieve "With Distinction", we'll add a notation to your transcript on your graduation date.
Your diploma will not display your major, minor, concentration, specialization, emphasis, specialization or option. These program details are displayed on your transcript, degree completion letters and certificates of degree completion.
Name on your diploma
The name on your diploma must be your legal name, but you can choose to make the following modifications:
replace your first name with its initial
replace your middle name with its initial or choose not to display your middle name
include accents e.g. Zoë
display an alternate legal name, e.g. maiden name (with supporting documentation)
Except for accents, modifications that you make to your legal name for your diploma will also be made to your student record and official transcript. See use of legal name for more information on where we use your legal name and how to register a legal name change with us.
When you apply for graduation, you'll specify the name you want on your diploma.
Including your Indigenous or traditional name on the diploma
If you are an Indigenous student, you can include your traditional name alongside your legal name on your diploma. However, the application for graduation does not currently support many of the characters found in Indigenous languages.
Please submit your application for graduation without your traditional name. You can then send an email to degrees@uvic.ca with your student number and your full name as you would like it to appear on your diploma.
Receiving your diploma
Your diploma will be prepared after Senate approves your graduation. We'll email you in March (spring graduation) or October (fall graduation) with options for receiving your diploma.
Make sure you have paid all your outstanding fees and fines. If you haven't, your diploma may be withheld.
Replacement diplomas
You can request a replacement diploma, which is a reprint of your original document. You might want one if yours has been lost or damaged, you have had a name change, or if you are converting your Bachelor of Laws degree to a Juris Doctor degree.
If you did not receive your original diploma, contact degrees@uvic.ca before you order a replacement.
Post-graduation documents
In addition to your diploma, these documents provide proof of graduation.
Official transcript
A "credential granted" section will be added to your transcript on your graduation date.
Certificate of degree completion
A certificate of degree completion bears the Registrar's signature and the university seal. This document can be provided to employers, agencies and in support of international work visas.
Need help?
If you need to change information on your application or if you have any questions, contact mygrad@uvic.ca or 250-721-8121.