UVic is temporarily shifting to online learning Jan. 10-24. Campus services are open.
Most undergraduate and graduate courses are face to face. To ensure equitable access to UVic programming, some online courses are also available for students who are unable to be on campus.
Check the campus (Online vs Main) and instructional method (Online vs Face-to-face) to determine the delivery methods for each course. If a course has a time and days listed in the timetable, students should expect to have class instruction during those times.
If the time says TBA, the course delivery is likely asynchronous.
An example of a course that is fully online and blended (both synchronous and asynchronous delivery) may look as follows: the calendar states the course has 3 hours of instruction but the courses lists only one 1 hour of meeting time in the timetable. The 1 hour meeting time listed in the timetable will be synchronous and the remaining 2 hours of instruction per week will be asynchronous.
Online courses
You can search for course sections in the timetable or through the course pages in the academic calendar. 
The instructions below explain how to search for courses within Student Services so you can easily register once you've found them.  
Sign in to Online tools
Click Student Services
Click Look up classes. You can scroll down to find the link on the main page, or you can click the Registration menu, then click Look up classes
Click Search by Term to select the term in which you're hoping to register
Click Submit
Click Advanced Search
Select the following filters:

Subject: choose any subject
You can select multiple subjects by holding down  the "shift" or "control" keys
Instructional Method: Online
Campus: Online

Click Section Search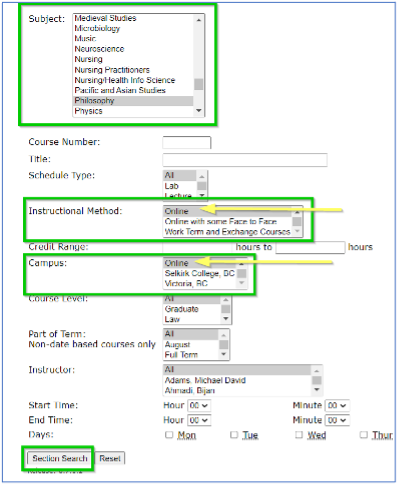 The results of your search will be displayed. Follow the instructions on that page to register, add these courses to a temporary worksheet, or begin a new search.
If registration isn't open for the term, or if it's not yet your turn to register, you won't be able to select courses for registration. You can record the Course Reference Number (CRN) of each course in which you want to register, so that you're ready when the time comes.
If you want to, you can click any CRN to see more information about that class.
In the class schedule listing, you can click the course title to see how many seats are available in that course. You can also click View Catalog Entry, then Calendar Entry to see the academic calendar page for this course.
Timetable comments
Many course sections will have a timetable comment regarding the delivery of the course.
| Comment | What it means |
| --- | --- |
| This course will be offered fully online and synchronous ("real-time" sessions planned or required). | The course will be regularly scheduled in the timeslot listed in the timetable.  You are expected to attend and participate in these "live" online classes, engage in "live" discussions/chat etc. |
| This course will be offered fully online and asynchronous (no "real-time" sessions planned or required). | The course does not require you to be online at the same time. |
| This course will be offered fully online and blended (a mix of "real-time" and asynchronous sessions). | The regularly scheduled timeslots will be used for some classes.  You will be expected to attend synchronous live sessions within the regularly scheduled timeslots.  Other aspects of the course will be asynchronous.  This may include pre-recorded videos, discussion groups, collaborative activities, self-directed learning activities etc. |
| This course will be offered both F2F and online (this could be all in "real-time" or a mix of "real-time" and asynchronous). |  The course will be offered concurrently face-to-face and online by the instructor to enable students to attend in person or virtually. |
How to register
When and how to register for courses depends on a few factors. Learn everything you need to know so you're prepared when the time comes.
Academic writing requirement
Effective Fall 2020, ENGL 135 has been changed to ATWP 135. ATWP 135 is open to all students and satisfies the Academic Writing Requirement; instead of being housed in the English department, this course is now offered by the new Academic and Technical Writing Program. All program worksheets have been updated to reflect the new course code.