Pre-Arrival Program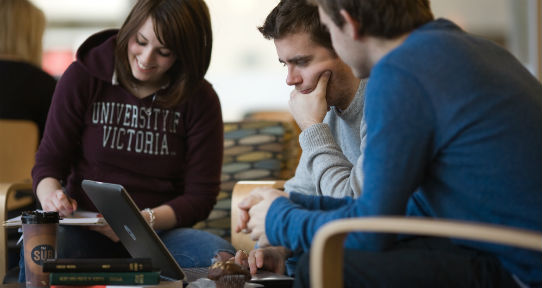 To be completed online in July and August
Your orientation to UVic starts even before your first class. Completing our online pre-arrival program in the months before you start at UVic will make your first few weeks a little easier and to help make you a little more successful. By taking the time to complete this program, you will:
Learn what to expect at UVic, inside and outside the classroom
Learn what supports and services are available to you
Explore some strategies for university success
Feel ready and confident to start the term
All undergraduate students who are new to UVic should complete this program before the first day of classes on September 7, 2022. This program is not intended for graduate students. 
---
Topics
The online program will introduce you to the following topics*:
| | |
| --- | --- |
| Topic | Description |
| Welcome to our community | Learn more about the UVic community, including some fun facts, our community values and the basics of navigating the campus. |
| Transition | Learn more about what changes to expect in your life, evaluate your life skills and make a plan for building and maintaining your community. |
| Academic success | Learn what to expect during your first term at UVic, develop strategies for success and explore how to maintain your academic integrity. This topic also includes optional content about online learning.  |
| Finances | Learn more about the costs associated with being a university student, explore how financial systems work and identify strategies for ensuring you can finance your education and your life. |
| Health & wellness | Learn about the wellness wheel, reflect on the strategies you use for self-care and explore ways to maintain positive mental and physical health at university. |
| Substance use | Learn more about substance use at UVic and reflect on what you would like your relationship with substances to be. |
| Involvement | Learn why involvement is an important part of your UVic experience, explore the wide variety of opportunities available on campus and make a plan to get involved. |
*Transfer students may see a different set of topics
---
Summer series
As you work your way through the Pre-Arrival Program, join us live for our Summer series webinars throughout the summer. Each webinar will provide you with a chance to discuss a topic in more depth and ask questions to current students and UVic staff. All sessions will be recorded. 
---
Contest
Setting yourself up for success is a great reason to complete the pre-arrival program, but we know that it's not always easy to do the things you know you should do. So, we've added a little incentive for you. 
Every eligible student who completes the program by Wednesday, September 7, 2022 will be entered in a draw to win a $500 tuition credit.
Additionally, if you complete designated topics by a specified deadline, you will be entered into a draw to win a corresponding prize pack. 
| | | |
| --- | --- | --- |
| Prize | Topic | Date |
| $500 tuition credit | All topics | September 7, 2022 |
| Prize Pack #1 | Welcome to Our Community  | July 26, 2022 |
| Prize Pack #2 | Academic Success | August 9, 2022 |
| Prize Pack #3 | Health & Wellness | August 23, 2022 |
| Prize Pack #4 | Involvement | September 6, 2022 |