Joint Degree Program in Canadian Common Law and Indigenous Legal Orders (JD/JID)
Our joint degree program in Canadian Common Law (JD) and Indigenous Legal Orders (JID) is the first program of its kind in the world. In the JD/JID program, you'll develop the skills you need to practice with Indigenous legal orders, within Canadian common law and at the interface between them.
You'll graduate this four-year program with two professional degrees: a Juris Doctor (JD) and a Juris Indigenarum Doctor (JID). You'll be well-positioned to practice law at a local, national and international level.
How to apply
Online applications open September 1 and close on December 1 (4 p.m. PST) each year. Review our admission requirements for more information.
The land is one of your classrooms
In your first and second year, you'll examine various areas of law through an intersocietal lens—comparing common law with one or more Indigenous legal traditions.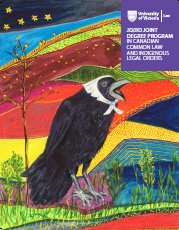 You'll spend a full term in each of your third and fourth years immersed in community-led field schools. Under close academic supervision, you'll observe the ways in which Indigenous legal processes are engaged with and revitalized, and work with the community on law-related projects.
Additional upper year courses will examine the legal traditions and language of the Coast Salish region, legal ethics, and intersocietal study of administrative law and business associations.
Learn more about the program structure and courses.
Why JD/JID?
The JD/JID is a four-year program combining classroom learning with field studies conducted in collaboration with Indigenous communities. You'll graduate with two professional degrees—the full content of UVic's common law degree combined with the skills you need to work productively with Indigenous legal orders.
You'll study Canadian law, Indigenous legal traditions, governance, environment and a range of other areas. You'll also attend field schools where you'll learn from community experts and work with the community on law-related projects. Through these, you will explore the diversity of Indigenous legal traditions and observe first-hand the ways Indigenous legal processes are being used today.
The JD/JID program builds upon our longstanding commitment to and international reputation in Indigenous law and Indigenous legal education. It is made possible by our treasured relationships with:
the Songhees and Esquimalt peoples, on whose lands the University of Victoria is located
the W̱SÁNEĆ people, who have longstanding connections to this land
Indigenous peoples from coast to coast to coast and around the world
Indigenous legal knowledge
Our teaching faculty represent some of Canada's foremost Indigenous legal experts, including:
John Borrows (Anishinaabe, Chippewa of the Nawash First Nation), Canada Research Chair in Indigenous Law
Val Napoleon (Saulteau First Nation), Law Foundation Chair of Indigenous Justice and Governance
Bradley Bryan, Assistant Professor 
Alan Hanna (Blackfoot, French, and Scottish ancestry), Assistant Professor
Rebecca Johnson, Professor
Tracey Lindberg (As'in'i'wa'chi Ni'yaw Nation/Kelly Lake Cree Nation), Professor
David Milward (Cree, Beardy's & Okemasis First Nation), Associate Professor
Sarah Morales (Coast Salish, Cowichan Tribes), Associate Professor
Janna Promislow, Associate Professor
Ruth Young (Cree Nation of Wemindji), Director of Indigenous Initiatives
Career opportunities
There is a rapidly growing need for legal professionals with Indigenous legal knowledge. As a graduate of this program, you'll be in great demand in many fields, including:
Indigenous governance
non-Indigenous government agencies
law firms that work with Indigenous peoples and Indigenous lands
business enterprises
UVic Law has a careers office that facilitates student placements in law firms, government and public interest organizations. They can also provide resources and one-on-one counselling to you as you begin your legal careers.
Read about JD/JID graduate and 2022 law school gold medalist Kelty McKerracher.
Support for students
You'll have access to many different supports meant to ensure your success and well-being in the program, including the Law Amicus program, the Student Wellness Centre and the Centre for accessible learning. Indigenous students in the program will have access to additional supports that are designed to meet their particular needs.
National Centre for Indigenous Laws
The new National Centre for Indigenous Laws is expected to open in Fall 2024. This addition to the law building will include public lecture theatres, faculty and staff offices, classrooms, meeting space, an Elders room and spaces for gathering, ceremony and sharing of histories and knowledge.
Need help?
Our admissions team is available to answer your application and program questions.