Why UVic Law?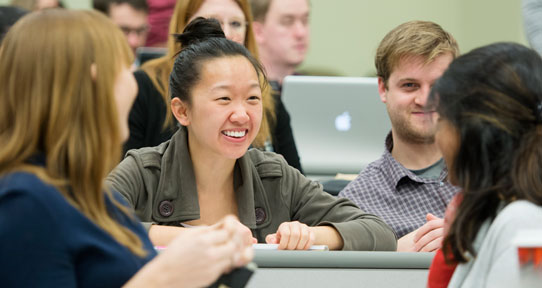 What makes UVic Law unique?
UVic is situated in the territory of the Songhees, Esquimalt and WSANEC peoples and sits on the site of an old Lekwungen village. Respect for the land's traditional stewards has inspired us to become leaders in environmental law, Indigenous law issues and public policy initiatives.
We are committed to teaching law within its wider social, political, historical and economic contexts. Our outstanding professors and exceptional students come together to create a vibrant learning experience that is based on collaboration and civic responsibility. You'll find an environment that is academically rigorous, progressive, intellectually challenging and personally enriching. Take a look at the courses we offer.
We offer the only common law co-operative education program in Canada. Co-op students alternate study terms with full-time, paid work assignments, gain practical experience and make valuable connections within the legal community. The co-op program, open to all helps you explore potential career options before graduating. The program is open to all law students.
Participate in clinical programs like the Environmental Law Centre Clinic, the Law Centre Clinic and the Business Law Clinic to gain hands-on experience and make valuable contributions to the community.
We are proud of our collaborative, inclusive and accessible learning environment. Our small class sizes allow us to build a community and form relationships that continue throughout law school and beyond. One of our greatest strengths is the variety of social, cultural, ethnic and educational backgrounds of our students. At UVic, you will learn in an atmosphere of diversity and openness.
UVic Law has developed a student support program that is now a model for universities across the country. The Amicus program is a unique UVic Law student support initiative that plays an active role in engaging, advising and supporting you during your law school journey. These services are in place to provide you with financial, academic, cultural and personal support. Our commitment to equity is supported by programs and policies that ensure a safe and open environment for all students.
We are a world leader in Indigenous legal education and we recognize the urgent need within the Canadian legal community for a broader understanding of Indigenous legal issues.
We invite prospective students to apply under our Indigenous admissions category. Through our Amicus program we offer academic and cultural support as a complement to the support provided by UVic's First Peoples House.
We have a constantly growing range of courses dedicated to Indigenous law and legal issues, as well as opportunities to get involved with the Indigenous Law Students Association, Aboriginal Cultural Awareness Camp and the National Kawaskimhon Aboriginal Moot.
With the mildest climate in Canada, the university is located minutes from beaches and parks that you can enjoy year-round. Victoria is a beautiful city with a vibrant urban culture and downtown is only a short distance from the university campus.
UVic Law is proud of our deep international connections. We have forged relationships around the world and our students participate in student exchanges and international co-op placements or internships.
Our professors have links worldwide, with particular connections to the UK, Belgium, Thailand, China, Australia, France, Ghana, India, New Zealand and the United States. We have leading experts in international arbitration law, international human rights, public international law, transnational law, international taxation, global corruption and the law of the arctic and oceans.
UVic Law's approach to research recognizes that law both shapes and is a product of society. We are committed to communicating our research to a wide range of audiences across disciplinary and national boundaries. Our research is challenging, relevant, and is literally changing the world. Two examples of this are the Environmental Law Centre and the Indigenous Law Research Unit.