About us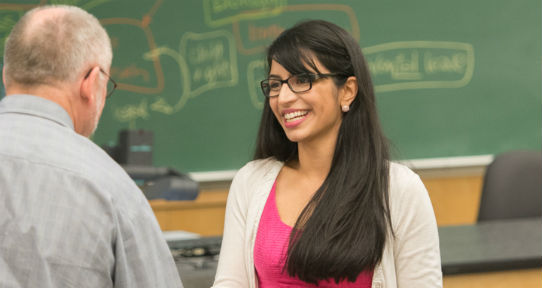 Our collegial atmosphere, commitment to social justice, and opportunities for hands-on learning are a few of the things that set the University of Victoria's Faculty of Law apart. Plus, with the mildest climate in Canada, our campus is just minutes from beaches and parks that you can enjoy year round.
It is my great honour to welcome you to one of Canada's leading law schools – a unique school, one that has built an extraordinary global and national reputation among law schools, law firms, governments, international organizations and non-governmental organizations. This is due to the high quality of its legal education, its supportive yet challenging learning environment, and its impressive blend of practical skills and critical thinking. There are four main elements of the UVic difference.
First, we have an unparalleled selection of options that allow you to see the law in practice and, simultaneously, to serve your community: the Law Centre (our flagship legal clinic), Environmental Law Clinic, Business Law Clinic, and our extensive co-op programs. And these are paired with courses that convey critical insight across a wide range of subjects and perspectives, from feminist theory to taxation law, from theories of rights to the economic analysis of law. At UVic, practice and theory work together. You need both to understand law. You need both to be a good lawyer.
Second, this Faculty has prided itself on its commitment to social justice. At UVic, it means all members of faculty accept that legal education ought to speak to all members of society, including those who are marginalized. Different faculty members define their particular focus differently, but all share the general objective. And you too, as students, help to define that objective.
Thirdly, the Faculty has launched the Joint Indigenous Law Degree the first program of its kind in the world. Students will graduate in four years with two professional degrees, Juris Doctor (JD) and Juris Indigenarum Doctor (JID). This degree uniquely combines intensive study of Canadian Common Law with deep engagement with the laws of indigenous peoples.
Finally, this is a welcoming and supportive learning environment.  I am amazed by the connection among students, between students and faculty, and among staff, students and faculty. We would like you to be a part of this amazing Law School. Come and join us!
Susan Breau
Dean of Law