Tuition and financial aid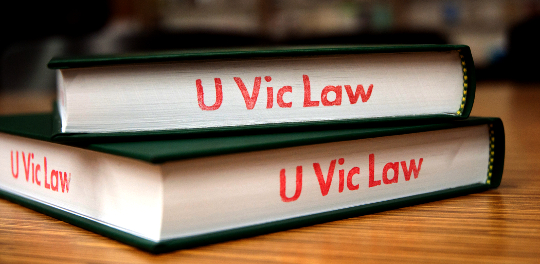 In 2016-17 our students received over one million dollars in funding through scholarships, awards, grants and bursaries from the general university and the Faculty of Law.
Tuition and costs
2018-2019 winter session (Sept-Apr)
Tuition is $9,772.92 for domestic students
2018-19 fees are approximately $1,120 for domestic students
Texts and course materials are approximately $1,500/year
2018-19 Law Co-op work term fee is $703
Cost of living off campus for a single student is approximately $12,512 according to Student Aid BC (moderate standard of living)
Financial aid
UVic Law Bursaries – The 2018-19 Fall/Spring Faculty of Law bursary application is now open. Bursary applications for the 2018-19 Fall/Spring academic calendar year are due June 30, 2018. If you need an application for the 2018 summer term, please email the Financial Aid Officer. All supporting documentation for submitted applications (i.e. pay stubs, mortgage statements, student loan notices of assessment) is due on August 15, 2018.
UVic General Undergraduate Bursaries – The UVic undergraduate bursary application is available online. The deadline for UVic general bursaries for the winter session is October 15.
Law Foundation Diversity Access Grant – These grants provide financial assistance for exceptional or unexpected circumstances. Contact the financial aid officer for an application form and to confirm your eligibility. Applications are accepted on an ongoing basis.
Dean's Emergency Loans – These loans are available to provide short term, interest-free funds to students experiencing unanticipated financial crisis. This assistance includes, but is not limited to, an inability to pay immediate living costs due to unexpected delays receiving government student assistance or personal/family crisis which generate urgent financial need.  Emergency Loans are not intended to pay for tuition fees and are not a regular supplement or substitute for traditional forms of student financial aid, i.e. government student assistance, scholarships, bursaries, family support etc.  Application should be made directly to the law financial aid officer.
Scholarships and awards
You do not need to submit an application for our scholarships and awards.
Entrance scholarships – You are automatically considered for entrance scholarships upon acceptance. Scholarships range from $1,000-$15,000 and are awarded to the most qualified students in the applicant pool.
Scholarships and course prizes – Numerous scholarships and course prizes are awarded on the basis of academic achievement.
External funding
Professional Student Lines of Credit, available at most major banking institutions
Please note that this is not an exhaustive list.