Tuition and financial aid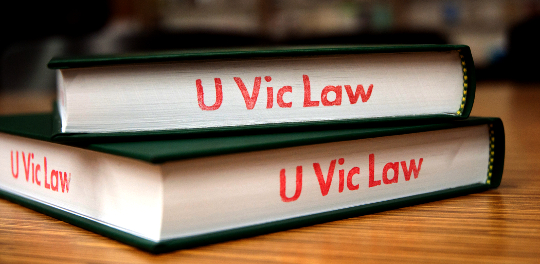 In 2016-17 our students received over one million dollars in funding through scholarships, awards, grants and bursaries from the general university and the Faculty of Law.
Tuition and costs
2018-2019 winter session (Sept-Apr)
Tuition is $9,772.92 for domestic students
2018-19 fees are approximately $1,120 for domestic students
Texts and course materials are approximately $1,500/year
2018-19 Law Co-op work term fee is $703
Cost of living off campus for a single student is approximately $12,512 according to Student Aid BC (moderate standard of living)
Financial aid
Video overview of available financial aid programs.
UVic Law Bursaries – The 2019-20 Fall/Winter Faculty of Law bursary application is now closed. Log on to the OCEAN to complete your application. If you are a new student, you will need to create your Netlink ID and email it to careerof@uvic.ca in order to be given access. Instructions for incoming students can be found here, and instructions for current students can be found here. 
Bursary applications for the 2019-20 Fall/Winter academic calendar year are now closed. All supporting documentation for submitted applications (i.e. pay stubs, mortgage statements, student loan notices of assessment) is due August 15, 2019.
Application checklist
Bursary application -

 

closed
A copy of your government student loan notification of assessment (or funding summary)
A pay statement for a typical pay period (for students employed during the pre-study period)
Mortgage documents (for students who own homes)
Amount of last year's income tax refund
Current amount of GST rebate (quarterly and annual)
Application deadlines:                  
Winter session – June 30
Summer session – May 1

Supporting documentation deadlines:
Winter session – August 15
Summer session – May 1
Supporting documents can be mailed, e-mailed, or dropped off in person to the financial aid officer.
Mailing Address: 
Financial Aid
Faculty of Law
University of Victoria
PO Box 1700, STN CSC
Victoria, BC, V8W 2Y2
University of Victoria Faculty of Law
1 week ago
For all of our new students coming in the fall... uvic.ca/onecard
2 Likes
University of Victoria Faculty of Law
3 weeks ago
Congratulations to UVic Law Professors Maneesha Deckha and Pooja Parmar who both received SSHRC Insight grants for their animal law and Indigenous law projects, respectively. https://www.uvic.ca/law/home/news/current/professors-deckha-and-parmar-awarded-sshrc-insight-grants.php
Professors Deckha and Parmar awarded S...
Congratulations to UVic Law Professors Pooja Parmar and Maneesha Deckha, who were both receipients of SSHRC Insight grants for their respective research. The awards were announced on July 17th, with&a...
45 Likes
See more of University of Victoria Faculty of Law on Facebook
UVic General Undergraduate Bursaries – The UVic undergraduate bursary application is available online. The deadline for UVic general bursaries for the winter session is October 15.
Law Foundation Diversity Access Grant – These grants provide financial assistance for exceptional or unexpected circumstances. Contact the Financial Aid Officer for an application form and to confirm your eligibility. Applications are accepted on an ongoing basis.
Dean's Emergency Loans – These loans are available to provide short term, interest-free funds to students experiencing unanticipated financial crisis. This assistance includes, but is not limited to, an inability to pay immediate living costs due to unexpected delays receiving government student assistance or personal/family crisis which generate urgent financial need.  Emergency Loans are not intended to pay for tuition fees and are not a regular supplement or substitute for traditional forms of student financial aid, i.e. government student assistance, scholarships, bursaries, family support etc.  Application should be made directly to the law financial aid officer.
Scholarships and awards
You do not need to submit an application for our scholarships and awards.
Entrance scholarships – You are automatically considered for entrance scholarships upon acceptance. Scholarships range from $1,000-$15,000 and are awarded to the most qualified students in the applicant pool.
Scholarships and course prizes – Numerous scholarships and course prizes are awarded on the basis of academic achievement.
External funding
Professional Student Lines of Credit, available at most major banking institutions
Please note that this is not an exhaustive list.