Appeal: Review of Current Law and Law Reform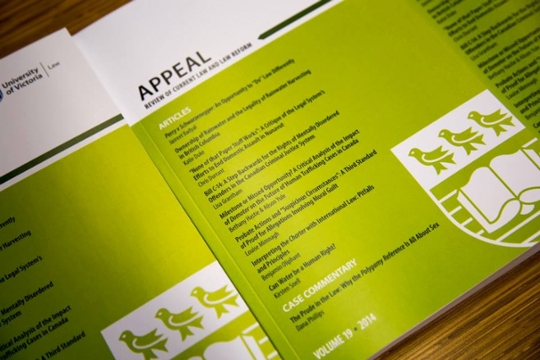 Appeal: Review of Current Law and Law Reform is a double-blind, peer-reviewed law journal published through the Faculty of Law at the University of Victoria (Victoria, British Columbia, Canada).
Appeal publishes articles, case commentaries, and book reviews that offer insightful commentary on Canadian and comparative law. This law journal also promotes legal scholarship in its political, philosophical, and social contexts. Appeal is student-run, and its Editorial Board aims to publish primarily student compositions.
Submissions:
Appeal is accepting submissions for Volume 23 (March 2018)!

Please send submissions electronically to appeal@uvic.ca. All submissions must be saved as Microsoft Word documents, and they must adhere to the Canadian Guide to Uniform Legal Citation, 8th Edition. Full submission guidelines are available through this website.
PLANNING TO SUBMIT AN ARTICLE TO APPEAL? DOWNLOAD APPEAL'S SUBMISSION GUIDELINES.
Publications:
Appeal is an annual publication, published electronically through this website, HeinOnline, CanLII, and LexisNexis QuickLaw.

Volume 22 of Appeal was released in March 2017.
WANT TO READ APPEAL? DOWNLOAD VOLUME 22 (MARCH 2017).
Print subscriptions are available for CAD20.00. To subscribe to Appeal, email the Editorial Board at appeal@uvic.ca.
Contact Appeal:
Appeal Publishing Society
University of Victoria
Faculty of Law
PO Box 1700 STN CSC
Victoria, British Columbia
V8R 4N3
Canada

@appealreviewofcurrentlawandlawreform


@appeallawreview
Contact Appeal's Editorial Board:
Editors-in-Chief
Christopher VanBerkum
Kean Silverthorn
Submissions Department
Business Department
Publication Department
Andrew Tigchelaar
Makaela Peters
Public Relations and Fundraising Department
Podcast Department
---