Appeal Law Journal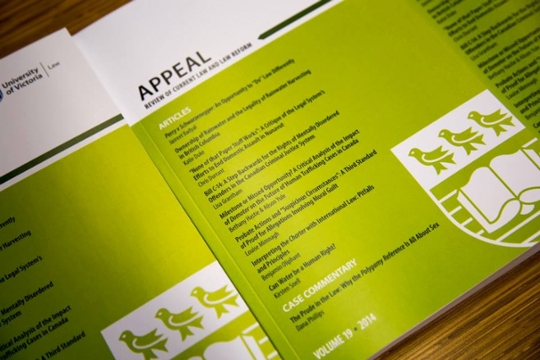 Appeal: Review of Current Law and Law Reform is an annual double-blind peer-reviewed journal affiliated with the University of Victoria, Faculty of Law.
The objective of Appeal is to promote legal research and scholarship which views law in its social, political, and philosophical contexts. Appeal is run by a student editorial board and is committed to publishing primarily student work. 
Thank you to all the authors for your submissions for Volume 22 of APPEAL! The Editorial Board is now reviewing the papers and will be in contact by December 2016 with the status of each prospective paper.

Mark your calendars! 
 APPEAL will be hosting a fundraiser for the journal on November 24, 2016 7:00 pm at the Bay Street Armoury [713 Bay Street, Victoria BC].
Join us for an evening of food, drinks, and music! Patrick Aldous from CFA Law in Vancouver will be giving a presentation on the exciting world of law in the entertainment industry, followed by live music by way of an open-mic. Tickets available for $15 through the Editorial Board and $20 at the door. See you there!
Contact APPEAL:
appeal@uvic.ca 
Appeal Publishing Society
Faculty of Law - University of Victoria
P.O. Box 1700 STN CSC
Victoria, BC, Canada V8W 2Y2
Follow us!


@appealreviewofcurrentlawandlawreform


@appeallawreview
Volume 21 of Appeal was released in March 2016. The journal is published electronically through this website, HeinOnline and LexisNexis QuickLaw.
Print subscriptions are available for $20. To subscribe, email us at appeal@uvic.ca. 
Link to Volume 21 Issue of APPEAL: https://journals.uvic.ca/index.php/appeal/index
Submitting a paper? View our Style Guidelines.