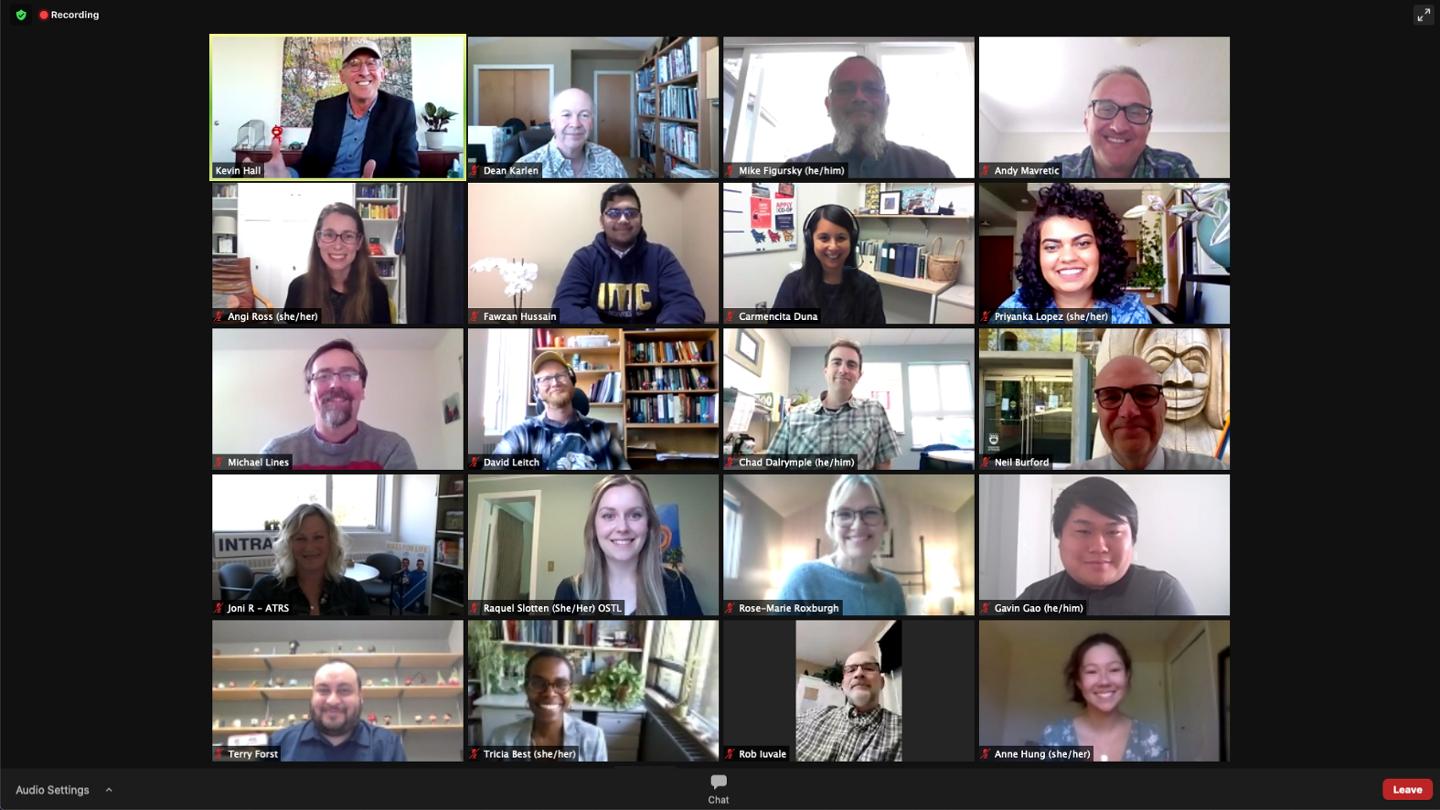 Campus Kudos celebrates and acknowledges the achievements and accomplishments of our talented and hard-working faculty, staff, and students. 
President Kevin Hall will recognize the people receiving Campus Kudos at informal celebration events throughout the academic year.
Kudos are shared with our campus community so we can all learn more about the great things happening at UVic and the people that make up this institution. 
The next Campus Kudos will be held in March 2022.
Nominations may be submitted at any time. 
Nominations
The UVic community is made up of people and groups doing amazing things every day to make a difference in our world and on our campus. We want to celebrate the many kinds of contributions—small or large, visible or unseen—that make UVic a great place to work and study.
Please nominate faculty, staff and students who have:

Made a significant or creative contribution to the campus community by going above or beyond their role, 
Are engaged with the wider community and working to make Greater Victoria a great place to live, work and learn, and/or 
Have received significant external awards for scholarship, learning, teaching, research or community contributions.
There is a very simple nomination process:
Please fill out the

Campus Kudos

form to let President Hall know about the achievements of current faculty, staff members, or students. 
You can submit a nomination whenever you identify someone who you think deserves kudos—deadlines for upcoming events will be published in the Campus Checklist.
Nominations are accepted on an ongoing basis.
Recipients
Ian Case — Ceremonies and Events
championing arts and culture on campus despite the challenges of the pandemic, including building and maintaining strong local partnerships such as with the Victoria Symphony.
Carmen Welta, Amanda Hawkins, Richard Toogood, Mandy Pearce, Wendy Joyce, Heather MacLennan, Ruth Adam, Vugar Mehraliyev, Kathleen Garland and Bob Fleming — EducationPlanner BC admission application project team
successfully integrating a new province-wide application process for our prospective undergraduate students
Ashley de Moscoso and Tara Britt — Classroom Safety Ambassador Program
leading the creation and coordination of the very successful Classroom Safety Ambassador Program to support COVID-19 safety protocols throughout the 2020-2021 Winter and 2021 Summer Sessions
Susan Lewis and Kane Kilbey – UVic COVID-19 Transition Team co-chairs
leading our university through the pandemic — from navigating the pivot to online learning through overseeing our safe return to campus this fall
Bruce Kilpatrick, Erin King, Cara Segger, Heather Warren, Beth Doman, Amos Rowsell, Len Collins, Cathie Walker, Ali Baggott, Kim Dias, Kelly Clark, Lindsay Gagel, Cecil Blakeslee, Robin Sutherland, Craig McNaughton, Ray Choo, Ethan Perriccioli, Dorothy Eggenberer, Sejr Andersen and Ivan Petrovic — UVic.ca redesign project team
displaying dedication and commitment to excellence throughout the multi-year project that resulted in an award-winning new website for UVic
Jodie Walsh – Centre for Global Studies
being "the glue that holds the centre together" and commitment to the university shown through generously supporting other areas of campus operations and sharing institutional knowledge during the pandemic
Gord Lyall – History PhD candidate
facilitating the inaugural Faculty of Humanities Student Research Forum and supporting graduate student research assistants across the faculty
Garry Sagert, Scott Thompson, Ivan Petrovic, Rizwan Bashir, Lance Grant, Nav Bassi, Marcus Greenshields, Laurene Sheilds, Mariel Miller, Craig Scharien, Alex Warrington, Hajime Kataoka, Becca Edwards and Katy Chan — UVic Systems and the Division of learning and Teaching Support and Innovation
deploying Brightspace, a new learning management system, within 60 days to respond to the challenges of remote learning during the pandemic, and implementing new classroom technology to prepare for the return to campus
Lawrence Lu & Peter Cassar — Facilities Management Waste Reduction
helping the university manage and keep up with the ever-changing COVID-19 pandemic health and safety protocols in extremely short timelines so the university could continue to serve our students.
Rob Hancock — Anthropology & Office of Indigenous Academic and Community Engagement
going above and beyond to be an agent of change at UVic in support of Indigenization and decolonization across the institution and for mentoring Indigenous students, staff and faculty.
Alexandrine Bourealt-Fournier — Anthropology
work and scholarship in the service of Anthropology while teaching grad and undergrad courses, acting as Chair and honours advisor, and editing Anthropologica journal.
Marc Bavin — Office of Global Engagement
Robyn Fila — Centre for Asia-Pacific Initiatives
developing successful grant proposals that resulted in $1 million for student mobility programs.
Tine Lathouwers — Human Resources
swiftly assembling the campus Rapid Antigen Testing Clinic while handling a huge caseload of Remote Work Agreement requests.
Carolyn Choo, Timothy O'Gorman, Simon Farrow, Bert Timmermans & Michael Caudwell — Theatre, Libraries & Facilities Management
quickly and creatively lighting the Mearns Centre for Learning — McPherson Library in orange to reflect UVic's commitment to truth and reconciliation, and to display our grief and solidarity with Indigenous communities across the country. 
Bruce Ravelli — Sociology
scholarly and teaching contributions that inspire students and demonstrate how sociology can help promote a better world.
Jeanie Gunn, Jennifer Wong, Morgan Slavkin, Mira Cvitanovic — Ceremonies and Events
Alex Solunac, Flemming Sorvin, Luke Mynott, Mike Thomas, Jeff Birmingham, Jordan Forbes, Eugene Deen — University Systems AV Tech
amazing and knowledgeable assistance in running events and for quickly becoming experts in delivering remote and hybrid events during the pandemic.
Danielle Mulligan — Development
leading UVic's Giving Tuesday campaign to greater and greater heights each year and receiving the CASE Rising Star Award in Philanthropy for her early career successes.
Liz Eby, Samantha Krzywonos, Amanda Taylor, Nicole Boulet & Danielle Mulligan — Development
working during the pandemic to receive their Certified Fund Raising Executive designations.
Samantha Knudson — Fine Arts
consistently demonstrating compassion and collegiality in all of her work. She made it possible to hold in-person classes during the pandemic; provided supports to students unable to travel home over the holidays due to travel restrictions and was instrumental in welcoming four Syrian musicians.
Steve Gorham — Human Resources
working with openness, authenticity and outstanding commitment to making UVic a positive and productive place to work for everyone.
Neil Burford — Acting Associate Dean Academic, Faculty of Science & Professor, Department of Chemistry
a long career of service, leadership and mentorship in his department and faculty, at UVic and across the scientific community
Mike Figursky — Manager, Production Services, Farquhar Auditorium
research and leadership in developing safe work plans that allowed the Farquhar to continue to serve the School of Music and host the Victoria Symphony's virtual season
Anne Hung — English student
led a team of multi-year students to develop a peer mentorship project for over 80 incoming students who wouldn't be able to meet other students during COVID-19
Fawzan Hussain — Engineering student
first-year engineering student who used 3D printers to create and deliver 1,545 pieces of personal protective equipment to over 30 organizations across B.C. during the pandemic. Fawzan received the BC Medal of Good Citizenship!
International Student Services Team — Tricia Best and Carmencita Duna
provided welcome, supports and community to international students during the pandemic through self-isolation assistance, virtual engagement and peer-to-peer connection programs
Rob Iuvalé — Supervisor, Science Stores, Faculty of Science
supporting his team while helping to keep lab research going during COVID-19
Dean Karlen — Professor, Department of Physics and Astronomy
developing a new, highly successful, statistical model for COVID-19 epidemiology
David Leitch — Assistant Professor, Department of Chemistry
organized a team to produce hundreds of litres of Health Canada approved hand sanitizer that was donated to local hospitals
Michael Lines — Learning and Research Librarian, UVic Libraries
making connections between local schools and the university since 2014 with his Bookbinding for Kids workshops
Andy Mavretic — Director, Occupational Health, Safety & Environment, Human Resources
coordinating the creation and implementation of the over 700 safe work plans that have kept us safe working on campus during COVID-19
Office of Student Life Team — Priyanka Lopez, Gavin Gao, Raquel Slotten, Angi Ross
developed the New Student Connect Program that provided an online university community to over 3,000 first-year students from all over the world
Residence Services Team — Kathryn McLeod, Chad Dalrymple, Rose Marie Roxburgh, Terry Forst
responsible for bringing 840 first-year students to live on campus this year and supporting their student experience with innovative and safe student life programming
Joni Richardson — Programmer, Intramurals & Outdoor Recreation, VIKES Athletics
instrumental in developing an approach to virtual esports/video gaming participation that is now taking seed with other institutions and grabbing hold in the rest of Canada