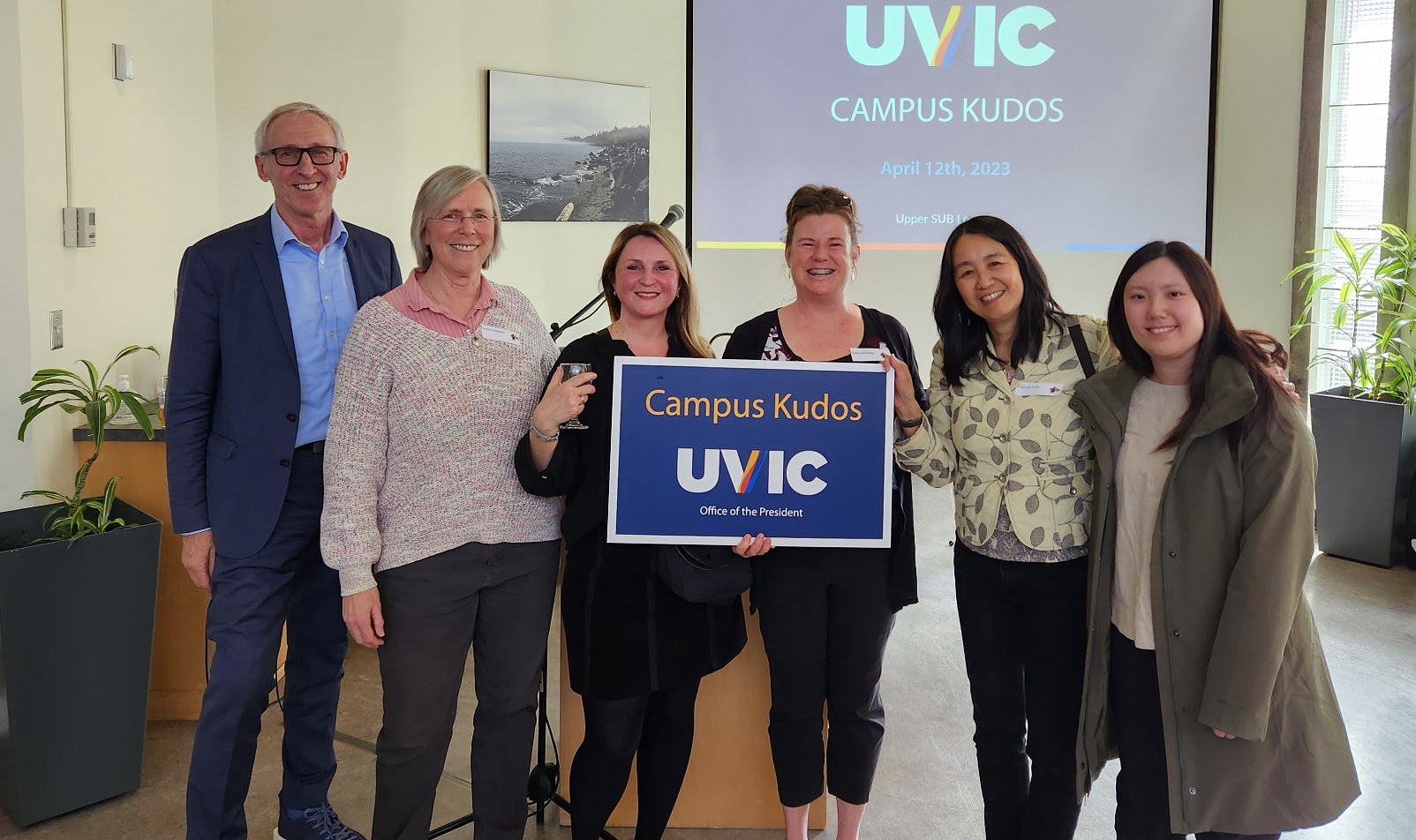 Campus Kudos celebrates and acknowledges the achievements and accomplishments of our talented and hard-working faculty, staff and students. 
President Kevin Hall will recognize the people receiving Campus Kudos at informal celebration events throughout the academic year.
Kudos are shared with our campus community so we can all learn more about the great things happening at UVic and the people that make up this institution. 
The next Campus Kudos will be in the fall of 2023.
Nominations
The UVic community is made up of people and groups doing amazing things every day to make a difference in our world and on our campus. We want to celebrate the many kinds of contributions—small or large, visible or unseen—that make UVic a great place to work and study.
Please nominate faculty, staff and students who:

have made a significant or creative contribution to the campus community by going above or beyond their role, 
are engaged with the wider community and working to make Greater Victoria a great place to live, work and learn, and/or 
have received significant external awards for scholarship, learning, teaching, research or community contributions
There is a very simple nomination process:
please fill out the

Campus Kudos

form to let President Hall know about the achievements of current faculty, staff members or students
you can submit a nomination whenever you identify someone who you think deserves kudos—deadlines for upcoming events will be published in the Campus Checklist
Nominations may be submitted at any time and will be considered for the Spring event in 2024 as the November event is full.

Recipients
Tom Lam - senior procurement advisor for Purchasing Services
deep experience, willingness to listen to problems, solve and fast track where possible, and general leadership eases concerns and ensure successful project deliveries
Mark Stephenson - treasury analyst for Treasury and Risk Management
encouraging and inclusive leader when it comes to volunteering, climate action and sustainability,
amazing captain of the Go By Bike Week team, the UVic Coffee Brakes
Jessica Gelowsky - associate director of strategic projects and initiatives for Student Affairs
organized a week of highly successful meetings and events to bring Kapal and UVic leaders together
highly dedicated, speedy and efficient, and a positive and encouraging colleague
Nancy Ami - manager of Centre for Academic Communications
kind, inclusive, and creative, she has helped thousands of students navigate academic communication supports
Emily Ashton - campus engagement assistant for Athletics & Recreational Services
excels at building the Vikes Nation spirit on campus and through social media
a prominent leader in the Fitness and Weight Centre, working as a Community Leader in Residence, and lifeguarding at the McKinnon pool
Eugenie Lam, Kenna Miskelly, Jeta Rugova-Plakolli, Emilie Tse - UVic human research ethics team
exemplify teamwork and are shining examples of how to work collaboratively in a calm, kind, respectful, and inclusive way
regularly go above and beyond, when helping researchers successfully navigate the ethics process
Kristi Blyth, Sandra Curran, Dan Hogg, Iona Hubner, Kirk McNally, Tim O'Gorman, Hollis Roberts, Sarah Murphy - Fine Arts emergency team
play a key role in promoting a healthy and safe working environment for the occupants of the Fine Arts, Music, Theatre and Visual Arts buildings
Bethel Sileshi and Swapnil Daxini - Global Community ambassadors
incredibly gifted at building connections for students and making people feel welcome
dedicated countless hours volunteering at UVic events, supporting food security programs, encouraging participation in student life grants, sexualized violence prevention programs and sports activities
Byron Crossley, Nicole Gilchrist, Hajime Kataoka, Trevar Pearce - Division of Continuing Studies online learning services team
transition courses online, and handle an increase in registrations at an unimaginable pace, all the while applying new quality frameworks
always put the needs of a course and its learners above expediency 
Brita Harrison, Anika Leist, Julie Potter, Morgan Slavkin - Women Leading Change Series team
outstanding coordination efforts and leadership to deliver an initiative that addresses the needs and issues that matter to everyone in our community
Ian Case, Tejas Collison, Lindsay Delaronde, Maria del Carmen Rodriguez de France, Rebecca Hass, Clinton Kuzio, Ry Moran, Sudhir Nair, Shelagh Rogers, Lorilee Wastasecoot - Voices In Circle Programming Circle
a powerhouse group that teamed up to launch a presenting and engagement series featuring established and emerging Indigenous artists
created incredible programming that brings Indigenous voices to the forefront
Snow Closure Team - Amardeep Bhatti, Ali Johnson, Amrit Gossal, Ariel Cabangangan, Avel Bayot, Arend Stamhuis, Ashleigh Draaisma, Ben Kyles, Bill Read, Bill Mawbey, Bob Thompson, Brian Gauthier, Burm Buasuwanchai, Caleb Luke, Catherine Estimada, Charles Bradshaw, Craig Belton, Craig Payne, Danielle Beachamp, Dave Carter, Dave Sylvest, Dan Braga, Dave Collins, Dean Cameron, Derrick MacLeod, Edward Choo, Eshetu Woldeyes, Faustin Wavedila, Giannina Mercado, Glenn Douglas, Guiller Cusi, Han-Liang Tai, Harjit Dulku, Jake Werrun, Jack Gahunia, Jackie Holliday, James Mason, Jas Gahunia, Joseph  Blas, Jorden Tytgat, Judd Gruenberg, John Ahn, Joseph Papio, Ken Campbell, Kieu Vuong, Kon Grib, Kristen Sernoski, Laura Baddeley, Laura Nava, Marco De Medeiros, Mohammad Tarrach, Mike Gillespie, Patrick Telford, Paul L'Heureux, Parick Seward, Paul Mason, Richard Sologastua, Rob O'Neill, Rob Tunks, Robert Da Costa, Roland Honicke, Richard Christison, Roberto Montagnaro, Rose Nguyen, Rose Nimwilai, Smain Saidi, Scott Montgomery, Seth Munro, Shane Furmanic, Shane Randall, Thanh Banh ,Thuy Chau, Tracey Marcelle, Tsering Dhondup, Tanisha Marcelle, Teija Humalamaki, Taj Johal, Tony Qualizza, Yi Chen, Zoey Westle
ensured food options were available for people who call UVic their home, maintained cleanliness, safety and security, and worked tirelessly to ensure that when UVic opened, our entire campus community had access to our daily amenities
Animal Care Services Team
work year-round to make sure that all the animals involved in teaching and research are safe, well-cared for, and provided as much of an enriched life as possible
no matter the weather or university closures, this team makes it to campus to care for the animals
Lori Nolt - director of Student Awards and Financial Aid
modeling patient, compassionate and courageous leadership supporting the needs of students, especially those who deal with financial hardships
Mary McCue - director's assistant and office administrator for First Peoples House
making people feel comfortable and at ease
ensuring the First Peoples House feels like a "home away from home," especially for visiting Elders
Lori Shaw - immigration coordinator for the Office of General Counsel
went above and beyond her duties to secure a playwright and her family from Zimbabwe, navigating flights, hotels, quarantine and even meeting them in Vancouver when they arrived
Philip Cox - communications officer, Faculty of Humanities
an extremely skilled strategic thinker with a deep commitment to collegiality, collaboration, equity, diversity, Indigenization and decolonization
Diane Sam - cultural protocol liaison, Office of Indigenous Academic and Community Engagement
critical to all UVic's cultural protocol, Diane often goes out of her way to support events like the 215+ Remembrance Ceremony, National Day for Truth and Reconciliation and the Indigenous Welcome to the Campus, calling on her personal networks to ensure success
Melvin Peters - director of administration, Faculty of Humanities
has gone above and beyond in supporting mentoring Humanities faculty and staff, building strong relationships and advancing the work of equity, diversity, inclusion, anti-racism and decolonization
John Threlfall - communications and special projects officer, Faculty of Fine Arts
consistently goes above and beyond in offering his creativity and ingenuity to many initiatives on campus, improving our campus culture as a fun and better-informed space for all
Nicole Achtymichuk, Gillian Booth, Shannon Lake, Katie Hughes, Orvis Starkweather, Lorilee Wastasecoot, Caroline Ridel and Roger Huffman - Legacy Art Galleries team
moved swiftly and safely to be one of the first public venues on campus to open during the pandemic, demonstrating dedication and passion for supporting arts and culture in our community
Mike Gillespie, Dave Collins, Chris Sawatsky, Thai Le, Jimmy Aquino, Dave Gellatly, Rodrigo Solomon and Ruenruedee Nimwilai - Library Custodial Services
with a unique combination of fearlessness and positivity, this team made it possible for those working and studying in the libraries to continue doing so during the most challenging times during the pandemic
Laura Doublet, Ry Moran, Jane Morrison, Lisa Petrachenko, Pia Russell and Dean Seeman - decolonizing description task group
actively set out to change aspects of an outdated and offensive global vocabulary, guided by a set of principles that prioritize respect, diversity and improved representation in describing Indigenous-focused material across the Libraries' collections and resources
Inba Kehoe, Emma Hilliard, Jennifer Ashmore and Mary Macleod - copyright and scholarly communications team
scanned the university landscape to determine the extent to which the Libraries' licensed electronic resources were being used, identified 327 titles being used in 270 courses, which resulted in a savings of near $630K for UVic students
Adam Taylor, Janice Johnson, Melanie Groves, Kim Fawthorpe, Michelle Peterson, Tom Downie, Patrick Seward, Rob Johns, Boriana Tzatcheva, Ron Proulx, Ron Kozan, Nav Bassi, Ben McAllister, Andy Mavretic, Pam Richards, Vanessa Cartwright, Anisa Montgomery, Jaclyn Davidson and Chandra Beaveridge - rapid test distribution and COVID-19 logistics teams
made sure employees and students could pick up packs of rapid tests for COVID-19 during a time when kits were scarce, handing out more than 10,000 kits over a period of 7 days
coordinated the free UVic mask program in partnership with Student Affairs, the furniture and equipment protocols to support remote offices with Facilities Management, the vaccine attestation follow-up program and much more
Ethan Perriccioli, Julie Sloan, Christina Harris, Lindsay Gagel, Ali Baggott, Krista Boehnert, Mel Carter, Mallory DeMille, Denise Helm, Mel Groves, Alicia Kaiser, Erin King, Christine Howard and Rain Scott - internal communications team
this team's work was crucial in directly supporting the university's ongoing and rapidly changing COVID responses for the past two years
available at all hours, 24/7, they ensured the entire campus community was both promptly informed and prepared at every stage of the pandemic developments
Kellee Strom, Kjalen Hansen, Christine Howard and Melanie Carter - parchment project team
developed a modern parchment worthy of UVic's outstanding graduates today and in the future through cross-Canada research on best practices
key objectives included adding graduate's primary area of study, an embossed gold seal, inclusion of UVic's territorial acknowledgement and enhanced security features
Diana Varela — dean of academic advising in Humanities, Science and Social Sciences
doing impressive work supporting undergraduate student faculty members, chairs and directors, and impacting the campus community in the tri-faculties
Graham Rhodes — Occupational Heath, Safety and Environment consultant
working hard in support and care for the community
Jennifer Sauter — program assistant/assistant to the chair of Germanic and Slavic Studies
successfully assisting colleagues, students, and the program chair
has enhanced media presence, provided problem-solving solutions and support in all aspects of running the department
Gabe Ho — Financial Planning and Operations
helped streamline the posting process of a record-breaking number of job postings in UVic Careers over the past nine months by suggesting additional improvements to the current process, by reviewing posting requisitions quickly and by expediting time-sensitive requests
Lydia Toorenburgh — inaugural tri-faculty Indigenous resurgence coordinator
developing an Indigenous implementation plan for each of the faculties that responded to UVic's Indigenous Plan and the Strategic Framework as well as the TRC Calls to Action
Alicia Kaiser, Mel Carter, Lauren Heppell and Christine Howard — University Communications + Marketing
created the strong and strategic appearance of Aspiration 2030 that included representation of all UVic's impact areas and honoured Carey Newman's artwork
Trish Kearley — administrative and finance officer, University Systems
development and maintenance of the University Systems contracts database, which processes support a continuity of services and cost savings for all central IT equipment, licenses and services
Emma Stuart, Jasmine Desjardins, Jean Dickson, Kathy Jang, Charlotte Loppie — HSD Research Support Centre team
maintaining and improving the research support services provided to faculty, post-docs and graduate students in the Faculty of Human and Social Development, including an increased workload of new COVID-19 related research projects
Rhianna Nagel and Alexandra Haupt — Community-Engaged Learning
supporting students and faculty with experiential learning opportunities, community-engaged courses/research and professional development
Mark Hovey, Gord Heal and Darcy Douglas — Farquhar Auditorium production team
keeping the lights on and meeting the needs of both campus users and community groups using the facility while protecting the health and safety of everyone who comes to the Farquhar Auditorium
Elisabeth Gugle — associate professor and chair, Department of Economics
helping students, colleagues, and staff with advising students so that they get the most out of their education at UVic
Anne-Lise Loomer — senior development officer
managing a significant fundraising portfolio while also being open and available to mentor other fundraising professionals
Cat Price — assistant to the associate dean, advising - Humanities, Science and Social Sciences
assisted students through academic support with tri-fac programs, ensuring staff safety, knowledge and training in all practices
Sarah Hood, Cara Jones, Karissa Sovdi and Sarah Howe —organization development and learning services team
building a learning program exclusively for UVic
the "Learning that Shifts U" employee learning program has six learning series and a total of 30 courses (plus electives) that are designed and developed by and for UVic employees to support the UVic competencies and UVic's strategic priorities
Xavier Serrano — director of Purchasing Services
contributed towards sustainable procurement and leadership at UVic and cultivating sustainability in procurement
developed the supplier code of conduct that emphasizes UVic's commitment to global leadership in environment, social and institutional sustainability and outlines expectations for suppliers to integrate corporate social responsibility approach to their business practices
Garry Sagert – director of UVic Online Systems
leadership and contributions in the purchase of the IT related software agreements for UVic
supported negotiation and execution of various complex system involved procurement contracts for the university such as procurement of services for OneCard program and Thrive Health
Amanda Hawkins, aspen apGaia, Ben Cox, Corey Gibbins, Crystal Bergeron, David Protheroe, Devin Arnold, Diane Price, Evan Rempel, Ivan Petrovic, Jackie Evans, James Wigginton, Jeni Norris, Jes Castor, Nicol Smirl, Pat Cretney, Raymond Choo, Rizwan Bashir, Russell Wong, Ruth Adam, Scott Campbell, Sheeja Rajagopal and Vugar Mehraliyev - SSB9 upgrade project team
successfully launched the Banner 9 student registration system for Summer Session 2022
worked to install, configure, modify, test and document the new system in order to ensure a seamless transition for students and for the staff who support registration
Ian Case — Ceremonies and Events
championing arts and culture on campus despite the challenges of the pandemic, including building and maintaining strong local partnerships such as with the Victoria Symphony
Carmen Welta, Amanda Hawkins, Richard Toogood, Mandy Pearce, Wendy Joyce, Heather MacLennan, Ruth Adam, Vugar Mehraliyev, Kathleen Garland and Bob Fleming — EducationPlanner BC admission application project team
successfully integrating a new province-wide application process for our prospective undergraduate students
Ashley de Moscoso and Tara Britt — classroom safety ambassador program
leading the creation and coordination of the very successful classroom safety ambassador program to support COVID-19 safety protocols throughout the 2020-2021 Winter and 2021 Summer Sessions
Susan Lewis and Kane Kilbey – UVic COVID-19 transition team co-chairs
leading our university through the pandemic — from navigating the pivot to online learning through overseeing our safe return to campus this fall
Bruce Kilpatrick, Erin King, Cara Segger, Heather Warren, Beth Doman, Amos Rowsell, Len Collins, Cathie Walker, Ali Baggott, Kim Dias, Kelly Clark, Lindsay Gagel, Cecil Blakeslee, Robin Sutherland, Craig McNaughton, Ray Choo, Ethan Perriccioli, Dorothy Eggenberer, Sejr Andersen and Ivan Petrovic — UVic.ca redesign project team
displaying dedication and commitment to excellence throughout the multi-year project that resulted in an award-winning new website for UVic
Jodie Walsh – Centre for Global Studies
being "the glue that holds the centre together" and commitment to the university shown through generously supporting other areas of campus operations and sharing institutional knowledge during the pandemic
Gord Lyall – History PhD candidate
facilitating the inaugural Faculty of Humanities student research forum and supporting graduate student research assistants across the faculty
Garry Sagert, Scott Thompson, Ivan Petrovic, Rizwan Bashir, Lance Grant, Nav Bassi, Marcus Greenshields, Laurene Sheilds, Mariel Miller, Craig Scharien, Alex Warrington, Hajime Kataoka, Becca Edwards and Katy Chan — UVic Systems and the Division of Learning and Teaching Support and Innovation
deploying Brightspace, a new learning management system, within 60 days to respond to the challenges of remote learning during the pandemic, and implementing new classroom technology to prepare for the return to campus
Lawrence Lu & Peter Cassar — Facilities Management waste reduction
helping the university manage and keep up with the ever-changing COVID-19 pandemic health and safety protocols in extremely short timelines so the university could continue to serve our students
Rob Hancock — Anthropology and Office of Indigenous Academic and Community Engagement
going above and beyond to be an agent of change at UVic in support of Indigenization and decolonization across the institution and for mentoring Indigenous students, staff and faculty
Alexandrine Bourealt-Fournier - Anthropology
work and scholarship in the service of Anthropology while teaching grad and undergrad courses, acting as chair and honours advisor, and editing Anthropologica journal.
Marc Bavin — Office of Global Engagement
Robyn Fila — Centre for Asia-Pacific Initiatives
developing successful grant proposals that resulted in $1 million for student mobility programs
Tine Lathouwers — Human Resources
swiftly assembling the campus rapid antigen testing clinic while handling a huge caseload of remote work agreement requests
Carolyn Choo, Timothy O'Gorman, Simon Farrow, Bert Timmermans & Michael Caudwell — Theatre, Libraries and Facilities Management
quickly and creatively lighting the Mearns Centre for Learning — McPherson Library in orange to reflect UVic's commitment to truth and reconciliation, and to display our grief and solidarity with Indigenous communities across the country
Bruce Ravelli — Sociology
scholarly and teaching contributions that inspire students and demonstrate how sociology can help promote a better world
Jeanie Gunn, Jennifer Wong, Morgan Slavkin, Mira Cvitanovic — Ceremonies and Events
Alex Solunac, Flemming Sorvin, Luke Mynott, Mike Thomas, Jeff Birmingham, Jordan Forbes, Eugene Deen — University Systems AV Tech
amazing and knowledgeable assistance in running events and for quickly becoming experts in delivering remote and hybrid events during the pandemic
Danielle Mulligan — Development
leading UVic's Giving Tuesday campaign to greater and greater heights each year and receiving the CASE Rising Star Award in Philanthropy for her early career successes
Liz Eby, Samantha Krzywonos, Amanda Taylor, Nicole Boulet & Danielle Mulligan — Development
working during the pandemic to receive their Certified Fund Raising Executive designations
Samantha Knudson — Fine Arts
consistently demonstrating compassion and collegiality in all of her work
made it possible to hold in-person classes during the pandemic; provided supports to students unable to travel home over the holidays due to travel restrictions and was instrumental in welcoming four Syrian musicians
Steve Gorham — Human Resources
working with openness, authenticity and outstanding commitment to making UVic a positive and productive place to work for everyone
Neil Burford — acting associate dean academic, Faculty of Science and professor, Department of Chemistry
a long career of service, leadership and mentorship in his department and faculty, at UVic and across the scientific community
Mike Figursky — manager, production services, Farquhar Auditorium
research and leadership in developing safe work plans that allowed the Farquhar to continue to serve the School of Music and host the Victoria Symphony's virtual season
Anne Hung — English student
led a team of multi-year students to develop a peer mentorship project for over 80 incoming students who wouldn't be able to meet other students during COVID-19
Fawzan Hussain — Engineering student
first-year engineering student who used 3D printers to create and deliver 1,545 pieces of personal protective equipment to over 30 organizations across B.C. during the pandemic
Fawzan received the BC Medal of Good Citizenship!
Tricia Best and Carmencita Duna - International Student Services team
provided welcome, supports and community to international students during the pandemic through self-isolation assistance, virtual engagement and peer-to-peer connection programs
Rob Iuvalé — supervisor, Science Stores, Faculty of Science
supporting his team while helping to keep lab research going during COVID-19
Dean Karlen — professor, Department of Physics and Astronomy
developing a new, highly successful, statistical model for COVID-19 epidemiology
David Leitch — assistant professor, Department of Chemistry
organized a team to produce hundreds of litres of Health Canada approved hand sanitizer that was donated to local hospitals
Michael Lines — learning and research librarian, UVic Libraries
making connections between local schools and the university since 2014 with his Bookbinding for Kids workshops
Andy Mavretic — director, Occupational Health, Safety and Environment, Human Resources
coordinating the creation and implementation of the over 700 safe work plans that have kept us safe working on campus during COVID-19
Priyanka Lopez, Gavin Gao, Raquel Slotten, Angi Ross - Office of Student Life team
developed the New Student Connect program that provided an online university community to over 3,000 first-year students from all over the world
Kathryn McLeod, Chad Dalrymple, Rose Marie Roxburgh, Terry Forst - Residence Services team
responsible for bringing 840 first-year students to live on campus this year and supporting their student experience with innovative and safe student life programming
Joni Richardson — programmer, intramurals and outdoor recreation, Vikes Athletics
instrumental in developing an approach to virtual esports/video gaming participation that is now taking seed with other institutions and grabbing hold in the rest of Canada