It's Just Black Hair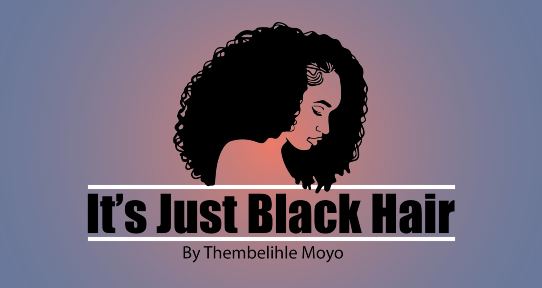 Theatre Workshop Production
From May 12-14, 2023
Maliki, a Black woman from Nigeria, is a newcomer to Canada. Ms. Bezel is an older White woman who insists Maliki can only succeed in Canada by letting go of her current ways of being. Maliki balances homesickness, new foods and culture and managing microaggressions at the same time.
on the Verge Workshop and Celebration
A free Performance Workshop for Writers with celebrity judge, Johnny D. Trinh will be held on March 23 from 9am - 12pm. Find out more. 
There will also be a Writing Contest Celebration later that day on March 23 from 4:30pm - 6pm. This celebration would be to listen to the winners of the contest share their stories, songs, and spoken word pieces on the topic of dialogue. Join us on Zoom or in-person in the McPherson Library's Digital Scholarship Commons A308. Register here. 
on the Verge Writing Contest
on the Verge Writing Contest showcases and celebrates emerging UVic student voices with an annual theme under the broad rubric of equity, diversity, and human rights. The contest is co-sponsored by UVic Libraries and Equity and Human Rights (EQHR) with significant support from other units on campus.
The theme this year is dialogue. 
There's $1,600 in prizes to be won. Submission deadline is February 15, 2023 to otvcontest@uvic.ca.
Our guest judge is Johnny D Trinh, an interdisciplinary, spoken word artist based in Vancouver, British Columbia.
Learn more about the contest details
Beyond Bystander Intervention: Creating a Culture of Care and Accountability in Sport
This virtual panel will address how to put active bystander intervention into practice within the context of athletics and sports teams.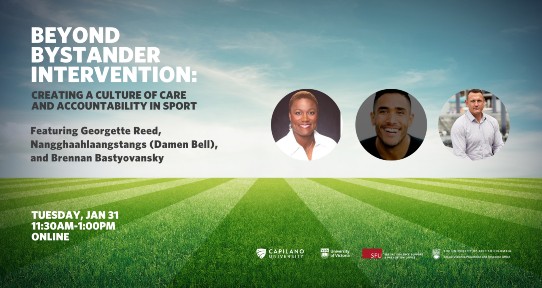 Hosted by the University of Victoria, Simon Fraser University, Capilano University, and the University of British Columbia
Join us for an online panel discussion with Brennan Bastyovansky, Georgette Reed, and Nangghaahlaangstangs about sexual violence prevention and intervention in sport. Panelists will share stories and perspectives on how we can take bystander intervention from one moment of action to an ongoing practice.
During this event, we'll discuss the following questions:
What can we do to overcome the discomfort of either intervening in the moment or providing ongoing support?
What can we do when a whole team is impacted by an incident or ongoing incidents of sexualized violence?
What is possible for teams when it comes to restorative practices such as accountability and community care?
Date and time: Tuesday, January 31, 2023 (11:30 AM - 1:00 PM PST)
Location: Online
View a recording of the session below. 
Walk to End Gender-Based Violence
We acknowledge and respect the lək̓ʷəŋən peoples on whose traditional territories the university stands and the Songhees, Esquimalt and the W̱SÁNEĆ peoples whose historical relationships with the land continue to this day.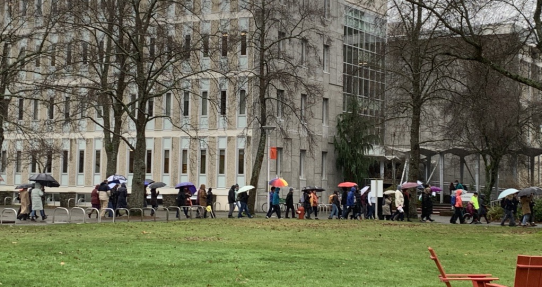 December 6th: National Day of Remembrance and Action on Violence Against Women
On December 6th, 1989, 14 women were murdered and another 14 people were injured at what is known as the Montreal massacre, which occurred at École Polytechnique de Montréal. The gunman killed these people because they were women. It was an intentional act of gender-based violence.
Since then, December 6th has become a national day to remember the victims and survivors of the massacre. We are taking this day to not only acknowledge violence against women, but to affirm our commitment to resist and bring about an end to all gender-based violence. This includes violence against murdered and missing Indigenous women; violence against 2SLGBTQIA+, non-binary and gender diverse people; violence against sex workers, as well as other forms of violence that intersect with race, sex, gender, socio-economic status and ability among other factors.
In honour of Canada's National Day of Remembrance and Action on Violence Against Women, UVic cancelled all classes from 11:30 a.m.—12:30 p.m. on December 6.
---
Event details
This year, UVic commemorates the National Day of Remembrance and Action on Violence Against Women with a Walk to End Gender-Based Violence. Everyone is welcome to come by and join us.
Program guide
December 6, 2022
11:00 am – 11:30 am | Gathering at UVic's Petch Fountain in front of McPherson Library
11:30 am – 11:50 am | Welcome, Territory acknowledgement and guest speakers
11:50 am – 12:20 pm | Walk to End Gender-Based Violence, from Petch Fountain to Engineering Lab Wing
12:20 pm - 12:30 pm | Engineering Lab Wing for concluding remarks
12:30 pm – 1:30 pm | Engineering Lab Wing lobby for gentle art activities and refreshments
Spaces to reflect on your own
A walking mediation labyrinth at the Multifaith Centre is open December 5th – December 9th, 10:00 am – 3:00 pm.
A reflection guide with suggested actions to take is available.
---
Background
The National Day of Remembrance and Action of Violence Against Women commemorates the tragedy of December 6, 1989 when 14 young women were killed in a horrific act of gender-based violence at Ecole Polytechnique de Montréal:
Geneviève Bergeron
Hélène Colgan
Nathalie Croteau
Barbara Daigneault
Anne-Marie Edward
Maud Haviernick
Maryse Laganière
Maryse Leclair
Anne-Marie Lemay
Sonia Pelletier
Michèle Richard
Annie St-Arneault
Annie Turcotte
Barbara Klucznik-Widajewicz
As we remember and honour them, we reaffirm our commitment to fighting the misogyny and hatred that affects women, girls, 2SLGBTQIA+, non-binary and gender diverse people around the world to this day.
In past years, the university has coordinated events that spotlight the impact gender-based violence has on our campuses and our communities. We have gathered in candlelight vigils, engaged in presentations and panel discussions, and more recently, joined in a silent walk to honour the victims of gender-based violence. 
Download a PPT slide that can be used to help raise awareness for the event.