Employment equity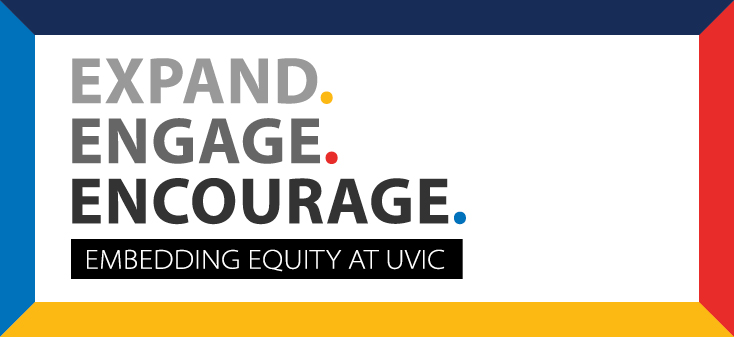 Embedding Equity at UVic: Expand. Engage. Encourage.
At UVic, we each have a responsibility and a role to play in creating an equitable, diverse and inclusive community. Embedding equity is not only the right thing to do but essential for attracting and retaining people with the knowledge, perspectives and skills we need to achieve excellence.
Here are some practices to embed equity, diversity and inclusion in your units.
EXPAND AWARENESS.
Expand your own awareness and build skills in equity, diversity and inclusion.
1. Get informed. Learn more about Indigenization, anti-racism initiatives, sexualized violence prevention, gender diversity, disability and accommodation, and mental health support and fair hiring.
2. Become a bias buster. Learn about unconscious bias, its impacts and how to overcome it.
ENGAGE THE TEAM.
Engage your employees and get them involved in creating a shared vision for an inclusive climate.
3.  Inclusive vision. Work with your team to create a shared vision of inclusion.
Build an inclusive vision: Inclusive statements (PDF)
4.  Integrate best practices. Draw on resources to support all stages of hiring, assessment and employment.
5.  Set goals. Review online goal-setting tools.
ENCOURAGE OTHERS.
Encourage staff and faculty in your unit to support and build an inclusive community.
6.  Build it in. Factor equity into every decision you make. 
To come: Workbook on effective administrative decision-making 
7.  Include it. Make a standing item on equity, diversity and inclusion at your meetings.
8.  Build community. Plan an event focused on equity, diversity and inclusion.
Build community: Steps for community building (PDF)
9.  Become champions. Create and support an equity committee in your unit.
Embed practices of equity, diversity, accessibility, inclusion and dialogue throughout the university community so that all members feel welcomed, valued and supported to achieve their highest potential. - University of Victoria Strategic Framework, strategy 1.2
What is employment equity?
Employment equity is for everyone. It means a fair shake for all, respect for and valuing of the perspectives each person brings, and a rich environment enlivened by the experiences, approaches and ideas of people who vary across the many characteristics that make us human.
We practice employment equity when we break down barriers to fairness and equal access. Equity is not only a prerequisite for excellence but the right thing to do.
Other resources on employment equity: