Performance and Development Cycle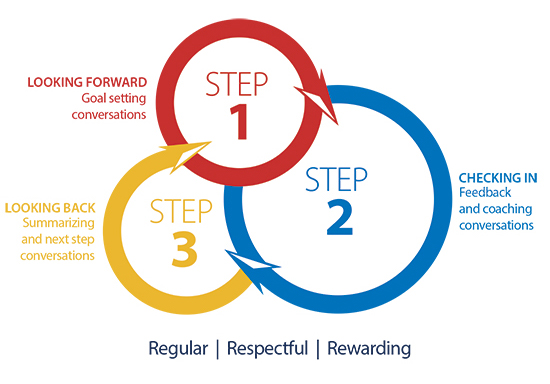 Regular performance conversations between an employee and supervisor create respectful relationships and contribute to outcomes that are rewarding for both. The Performance and Development Cycle (PDC) provides a structure for setting goals, providing ongoing feedback and coaching, and identifying ways to support learning and development. The PDC tools and resources help make performance conversations regular, respectful and rewarding.
Forms
The PDC forms act as a guide through the 3 step process of looking forward (goal setting), checking in (coaching) and looking back (summarizing progress). They are offered as editable word documents so that you can adjust and adapt the forms to suit your needs or incorporate an existing process. As long as you cover the three steps and include a signature block at the end of step three we encourage you to make the forms work for you.
Sample Forms
The samples are for illustrative purposes only.  They demonstrate how the forms might be used for a mid-level administrative professional role, so you can see how the performance conversation develops at each step of the cycle.
Handouts
Other resources
Looking for an opportunity to begin Performance Conversations? Speak to your Human Resources Consultant about how to best get started.