Past research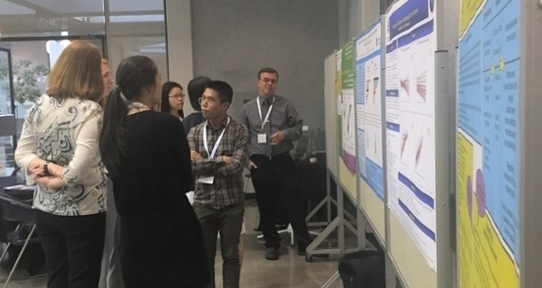 Youth physical & mental health
Transitions - work, family & education
This research uses data from the McMaster Teen Study, an ongoing prospective longitudinal panel study that considers the stability and change of bullying, aggression, and mental health from childhood into young adulthood. The first paper, titled "Longitudinal Relations between Bullying Perpetration, Sexual Harassment, Homophobic Taunting, and Dating Violence: Evidence of Heterotypic Continuity",  using these data provides important evidence for heterotypic continuity, where stability in bullying perpetration beginning in pre-adolescence is related to involvement in multiple forms of aggression including sexual harassment and dating violence in young adulthood. A second paper, "Longitudinal Relations between Hypercompetitiveness, Jealousy, and Aggression across Adolescence", provides evidence for a developmental model of aggression, where precursors to indirectly aggressive behaviour include hypercompetitiveness and jealousy across adolescence. These papers point to the need for early intervention in childhood and adolescence to curb the use of aggressive behaviour in adolescence and into early adulthood.
Funding: SSHRC, CIHR, the Ontario Mental Health Foundation
Research team: Tamara Humphrey & Tracy Vaillancourt (PI, University of Ottawa)
Contact: tamarahumphrey@uvic.ca
Vulnerable youth and youth with developmental disabilities are consistently identified as having particular and multiple barriers to employment. However, many employment programs and systems exclude these young people who experience multiple barriers to finding and keeping work, thus preventing them from having meaningful economic participation in society. One promising approach to address this need is collaborative social entrepreneurship.
Using two case studies, the project will identify knowledge, training needs, and support strategies for effective social entrepreneurship interventions with vulnerable and developmentally disabled youth. Case Study #1 will explore micro-enterprise priorities, strategies, training needs, models, and potential impacts from youth with developmental disabilities and community stakeholders at a local non-profit organization. Case Study #2 will investigate a local bistro enterprise: staff, youth bistro workers, bistro patrons, Elders, and other community stakeholders will participate in interviews or surveys. Anticipated outcomes include new data on social enterprise applications with vulnerable youth, research capacity building, accessible data summaries, social entrepreneurship program development, digital stories, and community Knowledge Mobilization.
Funding partner: CCCBE
Research team: Anne Marshall, Tricia Roche, Fanie Collardeau, Jessica Sahlstrom, Brooke MacDonald, Jessica Cumming, Linden Collette, Mitzi Dean, Victor Skrypczynski, Ingrid Oliviera-Tavares.
Mobilizing the hope to "do good": Transitions from youth custody investigated the perspectives of youth transitioning from custody about their future and return to the community. Seven main data themes were identified in the analysis process: education, work, family, independence, recreation, getting off probation, and goals.
Funding partner: Ministry of Child and Family Development
Research team: Anne Marshall, Kate Creedon, Tricia Roche, Jessica Cumming, Kimiya Missaghi, Paulina Ramirez, Trina Macintosh.
The purpose of the study is to explore how work experiences and culturally-based work-life identity are understood by Aboriginal youth and adults who work with them within the context of employment outcomes. Our research question is: "What are the connections between cultural identity and work-life experiences for Aboriginal youth as they relate to employment outcomes?" The results will help improve career education and employment support for Aboriginal youth and young adults. It also presents an opportunity to create dialogue among employers to improve future youth employment opportunities.
Funding partner: SSHRC - Insight
Research Team: Anne Marshall, LeeAnna Deringer, Jennifer Coverdale, Jessica Cumming, Kate Butler, Jackie Leblanc, Paulina Ramirez, Emerald Pringle.
The recidivism rate in British Columbia for youth custody centres is 76%. This very high rate, combined with the high incidence of remanded youth, indicates that more needs to be done to assist youth in their preparation for release and their re-integration into society. At the same time, we know that the average reading ability of incarcerated adolescents is at the fourth grade level. Building on earlier research on transitions from custody (Creedon,2012), this project will lead to the creation of a brief graphic novel containing accessible information on probation orders and release plans that youth need to understand to transition successfully out of custody. The project develops literacy, legal literacy and transition skills simultaneously. The project also uses a strength-based approach harnessing the youth's knowledge of transition challenges and their artistic skills. Written, designed, and evaluated by youth, the graphic novel format engages literacy skills at every stage and gives the youth a tangible end product. The goal of the project is to engage youth in learning and develop a creative way to deliver information on transition and support upon their release.
Funding partner: Victoria Community Literacy Plan, Family Court Justice Youth Committee
Research Team: Anne Marshall, Kate Creedon, Tricia Roche
Copies of the graphic novel have been sent to the provincial detention centres, as well as schools in Victoria and the mainland, the Ministry of Child and Family Development, youth programs, and families of youth at risk.
Read more about this project in the Globe & Mail.
This literature review illustrated how positive parenting programs can support individuals in the parenting role, while recognizing and respecting the resources they already possess. Situated within an asset-based framework, this discussion is focused on ways that programs can celebrate and enhance parents' capacities, by focusing primarily on what resources are present rather than absent – that is, attending to assets rather than deficiencies (Kretzmann & McKnight, 1996). Focusing on assets does not ignore the actuality that some individuals or groups need additional resources; however, these resources will be more beneficial if individual strengths are also recognized and included in program design. 
Funding Partner: United Way of Greater Victoria
Research Team: Anne Marshall, Tricia Roche, Leah Lychowyd, Kimiya Missaghi, and Katrina Macintosh.
Using surveys and key informant interviews, this project identified community partnership principles, skills, and knowledge to be incorporated into graduate research courses and assessed students' learning on these topics. Infographic summary here. 
Funding Partner: Learning and Teaching Centre (UVic)
Research Team: Anne Marshall, Tricia Roche, Stephanie Poje
Indigenous youth
This website summarizes a number of wise practices for promoting life among young people based on what is already working and/or showing promise in First Nations communities across the country. The final product has been designed to be culturally relevant and responsive to the lived realities of young people and all who are invested in wellness for First Nations youth.
Website: https://wisepractices.ca/
Funding Partner: Indigenous Services Canada
Research Team: Jennifer White, Ed Connors, & team
Contact: jhwhite@uvic.ca
It is well documented that Aboriginal youth, the largest and fastest-growing demographic in Canada, are overrepresented in statistical figures of national unemployment. Further, Aboriginal youth show low levels of educational attainment, including the completion of high school and entrance into post-secondary programs. Generating meaningful solutions for multi-level policy change for Aboriginal youth life transitions in education to employment through a national partnership is the objective. This research project addresses the needs of Aboriginal partners who are at the front lines of youth life transition issues.
Research Team: Suzanne Stewart, PI – U of Toronto, Anne Marshall, Co-investigator.
Funding Partner: SSHRC - Insight
Stronger Together is a partnership that connects academics and community organizations working with Indigenous youth. Four collaborative teams have investigated cultural identity awareness and development for Indigenous youth, utilizing traditional knowledge processes and methodologies.

Summary sheets are available on our Summaries & reports page: Eagle Project Employment Training, Urban Indigenous Youth Engagement, Canoe Journey, Language and Cultural Camps. 
Research Team: Anne Marshall (PI), Lorna Williams (Co-PI), Suzanne Stewart (Co-PI), Chris Lalonde (Co-PI).
Funding Partner: SSHRC Partnership grant
Eagle project: Anne Marshall, Bruce Parisian (Cree), Jennifer Coverdale (Dreyer; Cree-Métis), Jaime Lewis, Jeanette Mercer. 
Urban youth engagement: Suzanne Stewart, Larry Frost (Anishnawbe), Tera Beaulieu (Métis), Nicole Elliott, Max Carney, Mikaela Gabriel (Mi'kmaq Qalipu 'caribou' band of Newfoundland), Ashley Hyatt, Mariam Ayoub, Jessica Syrette (Ojibwe), Suvi Mohanty, Ammaar Kidwai.
Canoe Journey: Chris Lalonde, Travis Holyk, Tania Smethurst, Darcy Dennis. 
Language and Culture Camps: Lorna Williams, Tracey Herbert, St'uxwtews First Nation (Cache Creek), First People's Cultural Council, Asma Antoine (Toquaht), Aliana Parker, Alexandra de Montigny, Suzanne Gessner, and Britt Thorburn.
Residential School Resistance Narratives: Significance and Strategies for Indigenous Youth worked with Indigenous youth to identify, integrate, and celebrate strategies of resistance that enabled family and community members to survive in the residential school system. Vancouver Island, British Columbia was the site of several Indian Residential Schools (Ahousat, Alberni IRS, Christie (Clayoquot, Kakawis), Kuper Island, Alert Bay Girls'Home, Alert Bay Boys' Home). The legacy of harm and ongoing impacts has affected thousands of individuals, families and communities. This project aimed to increase awareness of resistance acts and strategies, as well as their relevance in today's context, and to promote intergenerational healing. Watch the stories on our Digital stories page.
Funding Partner: Truth and Reconciliation Commission
Research Team: Anne Marshall, Asma Antoine, Amanda Poitras, Shayli Robinson, Lindsay Delaronde, Rita Merrick, Richard Spearman, Alexandra Kent
Centre for Youth and Society researchers in partnership with University of Toronto researchers and Aboriginal service delivery agencies conducted a mixed-methods study to explore the perspectives of Aboriginal young people, aged 18-28, regarding their transitions from school to work. Researchers used narrative methodologies, story-mapping and the Possible Selves Mapping tool to interview 43 Aboriginal Youth in Victoria, BC, and 54 Aboriginal Youth in Toronto, ON, individually and in groups.
The researchers analyzed the data and identified six themes: the impact of cultural identity in the workplace; the role of relational connections; the need for respecting diversity in the workplace; support from family and community; the facilitative role of employers and coworkers; and the challenges of overcoming workplace discrimination.
The results of Walking in Multiple Worlds will impact theory, research and practice for supporting Aboriginal success in education and work transitions. There is a need to support the Aboriginal youths' relations (familial, social, and community connections) as well as the young people themselves.
The project also sheds light on key factors of working with community partners, such as authenticity and the ongoing incorporation of traditional knowledge. This project has demonstrated how to locate research within an Indigenous context and to collaborate with local knowledge keepers and community partners; this led to a more locally relevant interpretation of stories and more comprehensive data on the supports, challenges and barriers these youth faced. The strong partnerships formed throughout the project will continue into future projects that will also have a positive impact on Aboriginal communities and the youth that are part of them.
Funding partner: SSHRC - Insight
Research Team: Anne Marshall, Suzanne Stewart, Jennifer Coverdale, Payden Spowart, Jackie Leblanc, Breanna Lawrence, Stephanie Poje.
Youth & international contexts
This project examines the narratives of a group of non-citizen former youth in care and their perceptions of the care-to-prison-to-deportation. Findings will be published in an upcoming special issue. This project served as seed funding to a larger project, "Bordering practices in the Canadian child welfare system: How immigration status shapes risk assessment with immigrant families."
Community Partner: Elizabeth Fry Society of Nova Scotia
Funding Partner: SSHRC Internal Research Grant
Research Team: Mandeep Kaur Mucina (PI)
Contact: mmucina@uvic.ca 
To many immigrants, refugees, and international students, coming to a new country and using a new language can be daunting, challenging, and effortful. In addition, there can be added worry about being judged for developing language skills and accent. Those with a growth mindset are more likely to believe they can overcome these challenges and thus use the language more often. These people are able to break the cycle of language anxiety and view language use, even imperfect, as an opportunity for learning and improvement.
Research team: Nigel Mantou Lou & team
Contact: nigellou@uvic.ca
Like many around the globe, our attention at CFYS has been drawn to the refugee crisis – in particular to refugee youth. They make up almost 50% of refugees and many arrive in host countries unaccompanied. Yet, resettlement policies and programs rarely focus specifically on youth. In partnership with UN Habitat Office of Livelihoods, a research team at CFYS is looking at good practices in refugee resettlement. The aim of this research is to enrich the planning and thinking being done on the ground by non-governmental organizations, social services, religious organizations, education and health service providers. There are specific skills and knowledge that are helpful in working with refugee youth in urban contexts. The project focuses on: youth mental health, arts/recreation/sports initiatives, language learning, housing, transitions to employment and the particular situation of refugee girls and young women.
Funding partner: UN Habitat
Research Team: Anne Marshall, Tricia Roche, Emily Comeau, Joelle Taknint, Kathryn Butler, Emerald Pringle, Jessica Cumming, Elizabeth Hagestedt, LeeAnna Deringer, Victor Skrzypczynski.
Read more:
Research briefs - language, gender, housing, employment, mental health, sports, arts. 
Inclusion & engagement
This study investigated the ways music teachers embed Indigenous knowledge, pedagogy, and worldview in their classes during the 2019-2020 school year following a Music Education Summer Institute course (EDCI 499 Indigenizing Music Education). The course was taught by Mi'kmaw instructor Sarah Rhude's who included modelling and teachings with an emphasis on bringing Indigenous culture to music education. The research team is currently following up with the course participants to learn if and how they have been able to embed the course teachings in their classes.
Funding Partner: University of Victoria Strategic Initiatives – Indigenous Grant
Research Team: Anita Prest, Hector Vazquez-Cordoba, & Sarah Rhude
Contact: aprest@uvic.ca
In partnership with the Victoria Native Friendship Centre, the research team facilitated four sharing circles. During these circles, Indigenous Elders, knowledge keepers, music teachers, and others explored the issues that must be discussed before creating resources for music educators to include local Indigenous content, pedagogy, and worldview appropriately into their classes.
Funding Partner: SSHRC Partnership Engage Grant
Research Team: Anita Prest, J. Scott Goble (UBC), Adam Con (UVic), Hector Vazquez-Cordoba, & Hyo Jung Jung
Contact: aprest@uvic.ca
This project, spearheaded by CFYS research fellow Dr. Anita Prest, examined the methods public school music educators, in partnership with First Nations and Métis community members, use to appropriately embed local Indigenous content, pedagogy, and worldview into their classrooms, schools, and broader communities.
Funding Partner: SSHRC Insight Development Grant
Research Team: Anita Prest, J. Scott Goble (UBC), Hector Vazquez-Cordoba, & Beth Tuinstra (Western University)
Contact: aprest@uvic.ca
Inclusive education is mandated across Canada. It is an effective approach and a human right, yet we still do not implement it as effectively as we could. The understanding of how our new professionals develop the expertise needed to teach in diverse classrooms is a huge step in ensuring the systemic success of inclusion. This project will create knowledge and disseminate it across the country to increase the ability for the educational community to ensure successful academic and social outcomes for all students. We propose multiple means of charting the development of teachers in the inclusive classroom across Canada using both quantitative and qualitative methods. We are interested in the knowledge gained in areas that research indicates helps teachers engage diverse learners (e.g., strategy instruction, universal design for learning, differentiated instruction, assistive technology, classroom management) during their course work and field experiences and how these contribute to the professional learning of beginning teachers.
Funding partner: SSHRC Insight
Research Team: CFYS research fellow Donna McGhie- Richmond is a Co-PI on this national research project. CFYS is leading KM strategy for this five-year project, which you can find on our research briefs page.
CFYS KM team: Donna McGhie-Richmond, Anne Marshall, Tricia Roche, Jen Poole, Lauren Henderson, Ingrid Oliveira-Tavares, Emerald Pringle.
This project examines several youth philanthropy initiatives to better understand the contemporary context of youth engagement in philanthropy and to consider the ways in which sustainable youth engagement is essential for building compassionate communities and dynamic societies. The research considers innovative strategies to engage marginalized youth in philanthropy and how philanthropic organizations can work to better engage marginalized youth. It is supplemented by an inventory of youth-grantmaking, youth advisory councils, and youth-led community service or citizenship initiatives around the world. These documents will inspire reflection within the greater Victoria community on how to strategically engage with equity groups and facilitate their participation in the philanthropic sector in non-tokenistic ways.
Summary available on our Summaries & reports page.
Funding partner: United Way of Greater Victoria
Research Team: Anne Marshall, Allison Murphy, Tricia Roche, Claire Sauvage-Mar, Karolina Karas.
The Youth and Family Community Innovation Project pilots a science-shop model of student-community research service. Non-profit organizations serving youth and families are assisted with small scale evidence reviews. This project is leading to the newly created Youth and Family Community Research Exchange. 
Research team: Tricia Roche, Joelle Taknint, Emerald Pringle, Diane Teixeira, Sarah Wright Cardinal, LeeAnna Deringer, Jessica Cumming, Fanie Collardeau, Emily Comeau, Liam Law, Jordanna Freeman, Betsy Hagestedt, Victor Skrzypczynski, Robin Wilmot, Dylan Much, Mandy Rosts. 
It is estimated that between 5% and 31% of children have some form of disability and that the majority of these children live with at least one typically developing sibling (Holt‐Dehner, 2008; Cox et al, 2003; Conway & Meyer, 2008). Despite the fact that the prevalence of disabilities among children and youth vary wildly across studies, in part due to varying definitions of what constitutes a "disability" (Caspi, 2011), the fact remains that siblings of children and youth with disabilities are a large and often overlooked population in research on mental and physical well‐being and adjustment. Relatively little research has explored the first-hand, lived experiences of typically developing siblings.
Research team: Susan Tasker, Anne Marshall, James Cairns, Stephanie Poje, Erika Antl‐Shrieves.
Literacy & digital youth
The School Cellphone Project examines both the positive and negative effects of cellphone use and policy in the context of middle schools. The majority of middle schoolers receive first their smartphone making this age group a critical window of opportunity to teach self-regulation and healthy behaviours. Smartphone use by students comes with a variety of benefits, including using the phone as a learning tool and increased social opportunities, and risks, including added distraction and access to texting, games, social media during school.
Funding Partner: SSHRC
Research Team: Sam Liu, Ulrich Mueller, Ryan Rhodes & team
Contact: samliu@uvic.ca
Today's youth live online and offline. This is a generation of highly connected children and teens who have frequent online access through portable, personal devices. As virtual spaces and technological forms of communication become more embedded in the everyday lives of youth, this creates new opportunities for young people to engage and to be engaged in digital forms of research. Despite these developments, university students are seldom taught how to ethically employ new media nor how to conduct research (recruitment, data collection, analysis, KM) with digital platforms and tools.
This study explores the current state of the field of digital research with youth to consider innovative strategies for training new researchers in using digital tools to conduct research with youth. Qualitative interviews with experienced researchers will be conducted to identify the knowledge, attitudes, and practices needed for effective youth-related research in digital spaces. This project aims to increase knowledge of and access to digital methods and tools for university student researchers across multiple disciplines engaged in youth-related research.
Funding partner: UVic - IRG
Research Team: Anne Marshall, Tricia Roche, Allison Murphy, Shana Girard, Jessica Cumming
Mobilizing research from the research project Examining adolescent literacy, health and the media, Chasing Adland was a KM project.
Funding partner: Canadian Institute of Health Research
Research team: Deborah Begoray, Joan Wharf Higgins, Robin Wilmot, Ingrid Bach.
Mobilizing research from the research project Examining adolescent literacy, health and the media, Chasing Adland was a KM project.
Funding partner: Canadian Institute of Health Research
Research team: Deborah Begoray, Joan Wharf Higgins, Robin Wilmot, Ingrid Bach.