Past research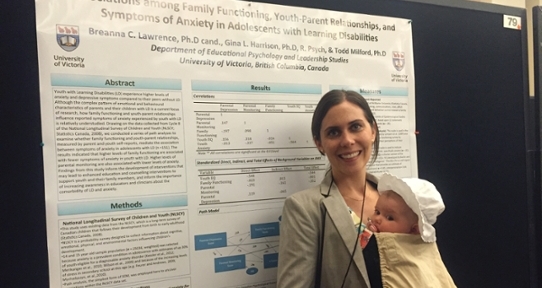 Selected completed research:
FRIENDS For Life is a suite of programs that helps children and teenagers cope with feelings of fear, worry, and depression by building resilience and self-esteem and teaching cognitive and emotional skills. Teams of researchers with CFYS have evaluated several FRIENDS programs and contributed to the design of the parent program.
Funding Partner: Ministry of Child and Family Development
Research Team: Dr. Anne Marshall, Tricia Roche, Amy Green, Stephanie Poje, Jessica Cumming.
It is estimated that between 5% and 31% of children have some form of disability and that the majority of these children live with at least one typically developing sibling (Holt‐Dehner, 2008; Cox et al, 2003; Conway & Meyer, 2008). Despite the fact that the prevalence of disabilities among children and youth vary wildly across studies, in part due to varying definitions of what constitutes a "disability" (Caspi, 2011), the fact remains that siblings of children and youth with disabilities are a large and often overlooked population in research on mental and physical well‐being and adjustment. Relatively little research has explored the first‐ hand, lived experiences of typically developing siblings.
Research team: Susan Tasker, Anne Marshall, James Cairns, Stephanie Poje, Erika Antl‐Shrieves.
Centre for Youth and Society researchers in partnership with University of Toronto researchers and Aboriginal service delivery agencies conducted a mixed-methods study to explore the perspectives of Aboriginal young people, aged 18-28, regarding their transitions from school to work. Researchers used narrative methodologies, story-mapping and the Possible Selves Mapping tool to interview 43 Aboriginal Youth in Victoria, BC, and 54 Aboriginal Youth in Toronto, ON, individually and in groups.
The researchers analyzed the data and identified six themes: the impact of cultural identity in the workplace; the role of relational connections; the need for respecting diversity in the workplace; support from family and community; the facilitative role of employers and coworkers; and the challenges of overcoming workplace discrimination.
The results of Walking in Multiple Worlds will impact theory, research and practice for supporting Aboriginal success in education and work transitions. There is a need to support the Aboriginal youths' relations (familial, social, and community connections) as well as the young people themselves.
The project also sheds light on key factors of working with community partners, such as authenticity and the ongoing incorporation of traditional knowledge. This project has demonstrated how to locate research within an Indigenous context and to collaborate with local knowledge keepers and community partners; this led to a more locally relevant interpretation of stories and more comprehensive data on the supports, challenges and barriers these youth faced. The strong partnerships formed throughout the project will continue into future projects that will also have a positive impact on Aboriginal communities and the youth that are part of them.
Funding partner: SSHRC - Insight
Research Team: Anne Marshall, Suzanne Stewart, Jennifer Coverdale, Payden Spowart, Jackie Leblanc, Breanna Lawrence, Stephanie Poje.
Youth and Mental Health: Addressing Stigma and Discrimination Through Community-Informed Curriculum was a joint endeavour between the University of Victoria and York University, which focused "CaringMinds" curriculum development on the themes of discrimination and stigma, rights and activism, housing and poverty, and well-being and treatment. Curriculum materials on the Caring Minds website challenge learners from Grades 7 to 12 to consider mental health issues from multiple perspectives and to explore themes of difference, diversity, and discrimination. 
Funding Partner: SSHRC
Research Team: Dr. Anne Marshall,  Dr. Megan Davies (York University), Samantha Cutrara, Meghan Atherton, Corey Chan, Evan Mann.
This literature review included demographic information on BC youth and a synthesis of research and theory related to positive youth development. The study included a brief overview of programs that foster positive development, including a more in-depth discussion of two specific types of programs – mentoring programs and leadership development programs – thought to enhance positive development, physical health, and well-being.
Funding partner: United Way of Greater Victoria
Research team: Anne Marshall, Tricia Roche, Leah Lychowyd, Kimiya Missaghi, Katrina Macintosh. 
This literature review illustrated how positive parenting programs can support individuals in the parenting role, while recognizing and respecting the resources they already possess. Situated within an asset-based framework, this discussion is focused on ways that programs can celebrate and enhance parents' capacities, by focusing primarily on what resources are present rather than absent – that is, attending to assets rather than deficiencies (Kretzmann & McKnight, 1996). Focusing on assets does not ignore the actuality that some individuals or groups need additional resources; however, these resources will be more beneficial if individual strengths are also recognized and included in program design. 
Funding Partner: United Way of Greater Victoria
Research Team: Anne Marshall, Tricia Roche, Leah Lychowyd, Kimiya Missaghi, and Katrina Macintosh.
Using surveys and key informant interviews, this project identified community partnership principles, skills, and knowledge to be incorporated into graduate research courses and assessed students' learning on these topics. Infographic summary here. 
Funding Partner: Learning and Teaching Centre (UVic)
Research Team: Anne Marshall, Tricia Roche, Stephanie Poje