Indigenous youth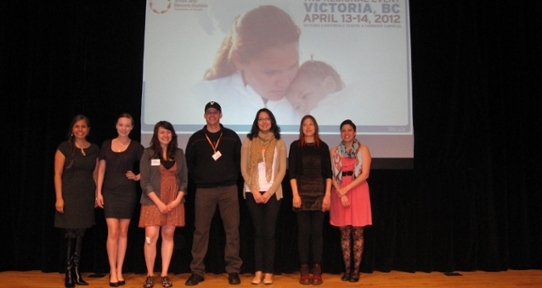 The CFYS has received a SSHRC Partnership Engage Grant to conduct research on the topic of Reconciliation. In partnership with the Victoria Native Friendship Centre, Art of Reconciliation, is an Indigenous art project that allows youth and Elders to work together on an art project to enhance youth engagement and cultural awareness on the topic of Reconciliation.
Funding partner: SSHRC Partnership Engage Grant
Research team: Dr. Frederick Grouzet and the Victoria Native Friendship Centre
It is well documented that Aboriginal youth, the largest and fastest-growing demographic in Canada, are overrepresented in statistical figures of national unemployment. Further, Aboriginal youth show low levels of educational attainment, including the completion of high school and entrance into post-secondary programs. Generating meaningful solutions for multi-level policy change for Aboriginal youth life transitions in education to employment through a national partnership is the objective. This research project addresses the needs of Aboriginal partners who are at the front lines of youth life transition issues.
Research Team: Suzanne Stewart, PI – U of Toronto, Anne Marshall, Co-investigator.
Funding Partner: SSHRC - Insight
Stronger Together is a partnership that connects academics and community organizations working with Indigenous youth. Four collaborative teams have investigated cultural identity awareness and development for Indigenous youth, utilizing traditional knowledge processes and methodologies.

Summary sheets are available on our Summaries & reports page: Eagle Project Employment Training, Urban Indigenous Youth Engagement, Canoe Journey, Language and Cultural Camps. 
Research Team: Anne Marshall (PI), Lorna Williams (Co-PI), Suzanne Stewart (Co-PI), Chris Lalonde (Co-PI).
Funding Partner: SSHRC Partnership grant
Eagle project: Anne Marshall, Bruce Parisian (Cree), Jennifer Coverdale (Dreyer; Cree-Métis), Jaime Lewis, Jeanette Mercer. 
Urban youth engagement: Suzanne Stewart, Larry Frost (Anishnawbe), Tera Beaulieu (Métis), Nicole Elliott, Max Carney, Mikaela Gabriel (Mi'kmaq Qalipu 'caribou' band of Newfoundland), Ashley Hyatt, Mariam Ayoub, Jessica Syrette (Ojibwe), Suvi Mohanty, Ammaar Kidwai.
Canoe Journey: Chris Lalonde, Travis Holyk, Tania Smethurst, Darcy Dennis. 
Language and Culture Camps: Lorna Williams, Tracey Herbert, St'uxwtews First Nation (Cache Creek), First People's Cultural Council, Asma Antoine (Toquaht), Aliana Parker, Alexandra de Montigny, Suzanne Gessner, and Britt Thorburn.
Residential School Resistance Narratives: Significance and Strategies for Indigenous Youth worked with Indigenous youth to identify, integrate, and celebrate strategies of resistance that enabled family and community members to survive in the residential school system. Vancouver Island, British Columbia was the site of several Indian Residential Schools (Ahousat, Alberni IRS, Christie (Clayoquot, Kakawis), Kuper Island, Alert Bay Girls'Home, Alert Bay Boys' Home). The legacy of harm and ongoing impacts has affected thousands of individuals, families and communities. This project aimed to increase awareness of resistance acts and strategies, as well as their relevance in today's context, and to promote intergenerational healing. Watch the stories on our Digital stories page.
Funding Partner: Truth and Reconciliation Commission
Research Team: Anne Marshall, Asma Antoine, Amanda Poitras, Shayli Robinson, Lindsay Delaronde, Rita Merrick, Richard Spearman, Alexandra Kent