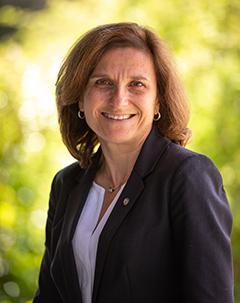 Vice-President Academic and Provost
Contact:

Office: Michael Williams Building A265

provost@uvic.ca 250-721-7013
Credentials:

BASc (UBC), MASc (Waterloo), PhD (UofT)
About UVic's Provost
Dr. Elizabeth Croft (she/her) is a visionary and forward-thinking leader with a track record of building inclusive, collegial and collaborative partnerships. On July 1, 2022, she began her five-year term as Vice-President Academic and Provost at UVic.
Dr. Croft holds a BASc in Mechanical Engineering from the University of British Columbia, an MASc in Mechanical Engineering from the University of Waterloo, and a PhD from the University of Toronto. Dr. Croft is recognized internationally as an expert in the field of human-robot interaction.
Before joining UVic, Dr. Croft was Dean of Engineering at Monash University in Melbourne, Australia. Prior to that, she was a tenured full professor in the Department of Mechanical Engineering at the University of British Columbia. With the Faculty of Applied Science, she served as Senior Associate Dean, Associate Dean, Education and Professional Development, and as Associate Head of the Department of Mechanical Engineering. In each of her senior leadership positions, her action-oriented approach has delivered results in areas of importance to our university, including innovative academic programming, reconciliation and decolonization, transformational student experience, and equity, diversity and inclusion.
For five years, Dr. Croft was the NSERC Chair for Women in Science and Engineering, for BC and the Yukon. In this role, she delivered policies and outcomes to increase the participation of women and other equity deserving groups in engineering, with significant and measured success. Her outstanding contributions have earned Professor Croft considerable recognition, including the Society for Teaching and Learning in Higher Education Alan Blizzard Award, WXN's Top 100 most powerful women in Canada award, and the Engineers and Geoscientists BC RA McLachlan Award.
Select committee membership
Member, Executive Council
Chair, Deans' Council and Academic Leadership
Chair, Integrated Planning Committee
Co-Chair, Campus Planning Committee
Member, Senate
Member, Senate Committee on Agenda and Governance
Member, Joint Senate Board Retreat Committee
Member, President's Leadership Council