New Student Housing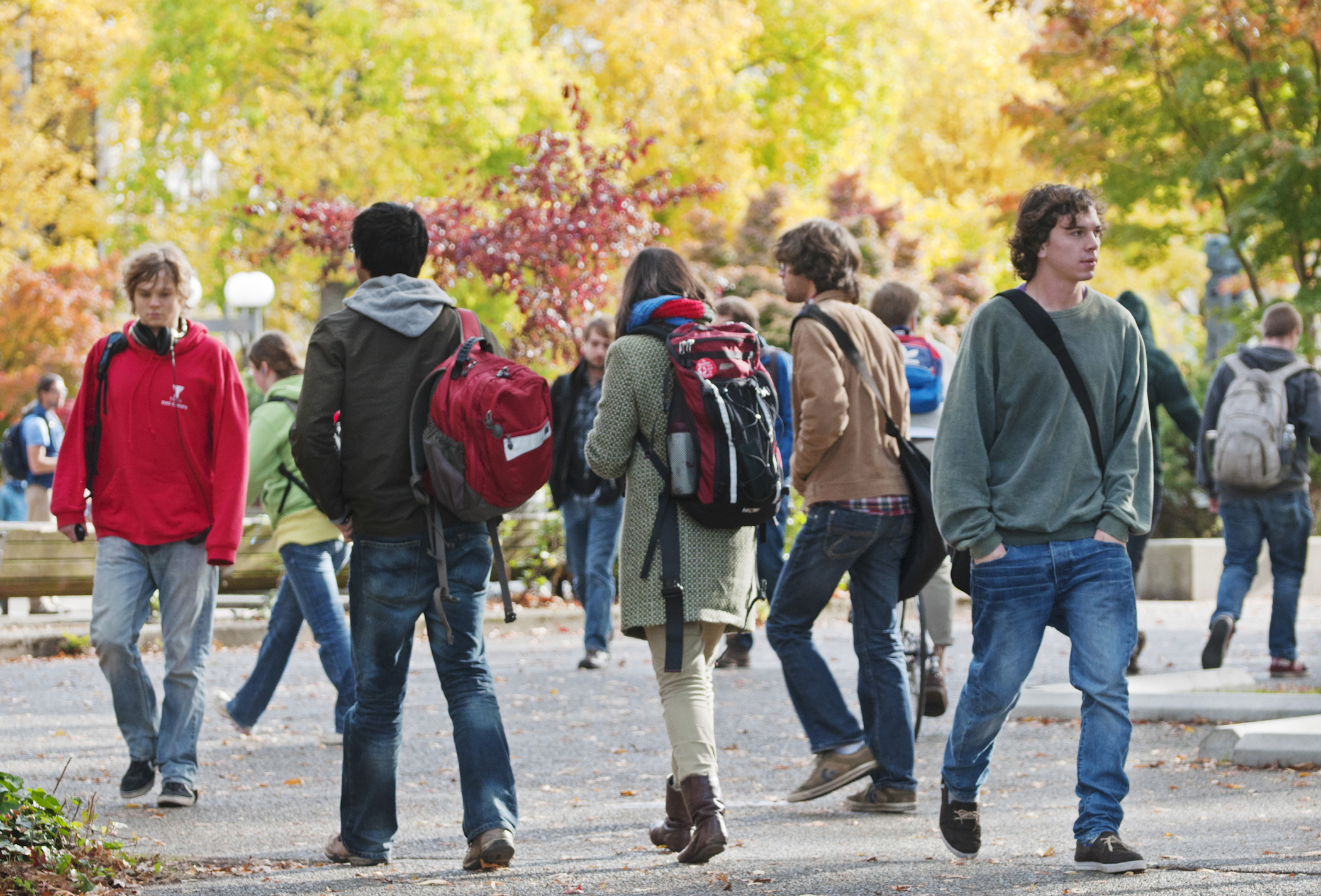 Planning for new student housing
UVic has begun planning for a new residence to provide much-needed housing for undergraduate students. Living on campus assists students with their transition to university, provides academic and social programming and support, and nurtures a strong sense of belonging in the UVic community.
Learn more, get involved! We want to hear from students, staff, community members and other stakeholders to help shape plans for the new student housing. Learn more and share your ideas on the preliminary building design, landscaping, sustainability principles and new outdoor areas at our upcoming open houses:
Wednesday, June 13, 11 a.m. – 2 p.m.
McPherson Library
University of Victoria

Thursday, June 14, 5 p.m. – 8 p.m.
Goward House
2495 Arbutus Road
_
Take the survey and provide your input into the design development of new student housing on campus.
 
UVic's Campus Plan guides the physical growth and change on the campus and its outlying lands. The new student housing project is the first significant capital project since the Campus Plan was renewed in 2016. This important project will build on the ideas generated through the Campus Plan and will help achieve our vision as not only an extraordinary academic environment, but also a vibrant and sustainable community that nurtures student experience and well-being.
What will the new housing include?
The new modern student housing will include at least 600 new beds and will respond to a broad range of student needs, including people with a wide range of physical abilities. A variety of room types and layouts are being considered including traditional dorm rooms and "pod" style living which includes single rooms with a shared kitchen and living areas.
The creation of the 2016 Campus Plan involved extensive community engagement. Part of the Campus Plan renewal process involved identifying a number of different sites on campus that might work for a modern building for student housing. The university has selected two sites, "Ring Road" and "Cadboro Commons," that will accommodate two new buildings for student housing on campus. These sites were supported by Campus Planning Committee and the President in November 2017.
Phase 1: Located to the south of the Student Union Building, this site will require the deconstruction of Emily Carr Residence and Margaret Newton Residence. The new building will include a dining hall and servery on the main floor with student housing on the upper floors. This site will be developed first.
Phase 2: The construction of a new student residence on this site will require the deconstruction of the existing Cadboro Commons building. The new building will include conference, meeting and academic space on the main floor with student housing on the upper floors.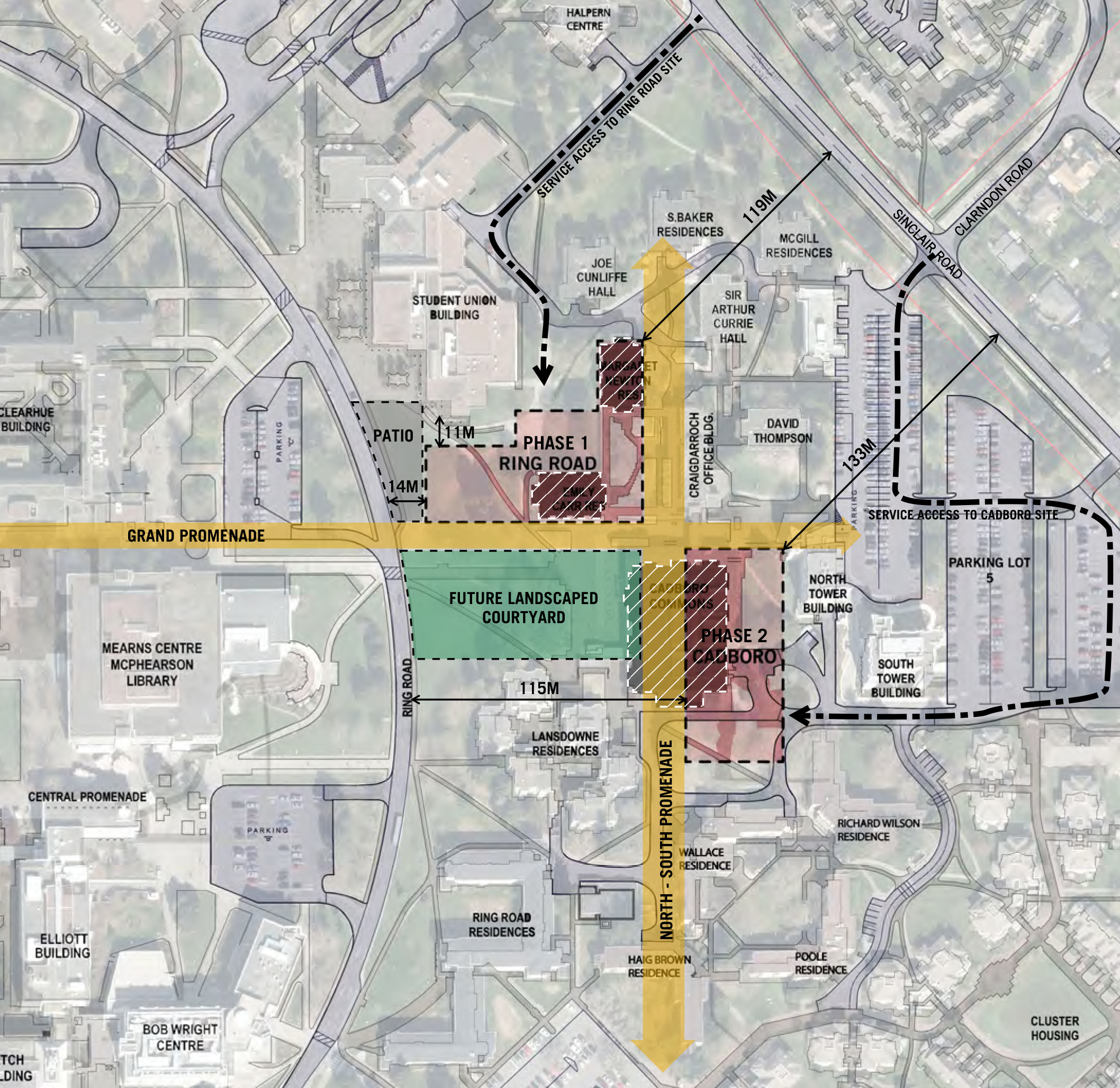 The proposed student housing project will provide housing on campus for 600 existing students currently living in the community. The project will not displace existing parking stalls. Students living on campus generate less parking demand than those students living in the community. As a result, daily commuting trips to and from the campus will decrease and demand for parking on campus is also expected to decrease.
The university has a long history of leadership in sustainability. When it comes to new buildings on campus, we aim to develop new buildings that achieve LEED Gold certification. The Campus Plan also focuses new development within and near Ring Road, growing upward rather than outward, and maximizing the efficient use of land.  New student housing buildings will be taller than the existing ones to reduce the building footprint as much as possible.
As we consider the future, we will preserve the spirit of place inherited from the past, respecting and supporting the commitments to environmental stewardship and sustainability that are so widely shared in our community and our culture.  

As part of the design and process, the project will explore opportunities to recognize and preserve the spirit of place inherited from the past, and connect students to Indigenous communities and the history of the traditional territories where UVic resides. Building on UVic's Indigenous Plan, the project design process will explore opportunities to include design elements that can educate the campus community about Indigenous history and culture.


We acknowledge and respect the Lkwungen-speaking peoples on whose traditional territory the university stands and the Songhees, Esquimalt and WSÁNEĆ peoples whose historical relationships with the land continue to this day.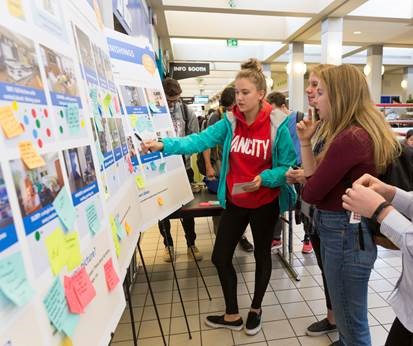 Community Association Presentation

In June 2018, an overview of the preliminary schematic design was presented to neighbouring community associations in Saanich. The presentation can be found here.
In February 2018, a brief overview of the project was presented to each of the neighbouring community associations in Saanich. The presentation can be found here. 
Project team
The architectural team leading the new student residence project is Perkins + Will. 
Perkins + Will brings leadership and expertise in the design and planning of student life facilities, having worked with nearly 300 colleges and universities across the country and internationally over the past 30 years.  They've assembled a team of local and international professionals who are leaders in their fields of engineering, food services planning, public engagement and sustainability.

For further information contact Mike Wilson, Director – Campus Planning and Sustainability at 250-472-5433 or planning@uvic.ca
To learn more about our existing residence community click here.
To learn more about our Campus Plan, click here.
To learn more about our Sustainability Action Plan, click here.