Earn while you learn
Through co-operative education (co-op), you can alternate terms in class with paid work terms in jobs related to your field of study.

You'll try different jobs, earn a salary, meet employers and gain relevant experience—all during your UVic degree!

Co-op at UVic is available for students in almost every program.
52%
of co-op students get job offers before graduation
$3,076
average monthly salary for undergraduates
$3,699
average monthly salary for graduate students
Student experiences
Engineering
Kirsten Krajnc - Civil engineering student Kirsten learned how to collect historical weather data while working with Indigenous Services Canada.
Health Information Science
Andrew Abuleal - Health information science student Andrew worked to improve healthcare in Kenya on an international work term at Aga Khan University.
Law
Kirsty Broadhead - UVic Law student Kirsty combined passion and research with an Indigenous law work term at the Indigenous Law Research Unit.
Fine Arts
Anahita Ranjbar
- Art history and visual studies student Anahita worked as a gallery assistant with Winchester Galleries, where she curated and advertised exhibitions.
Social Sciences
Nhan (Young) Nguyen - Nhan (Young) spent a co-op with the Comox Valley Project Watershed as a field and research assistant on a marine conservation project.
Business
Angela Yu
- BCom co-op student Angela was a voice for mental illness in the community during her work term at the United Way Greater Victoria.
More stories
.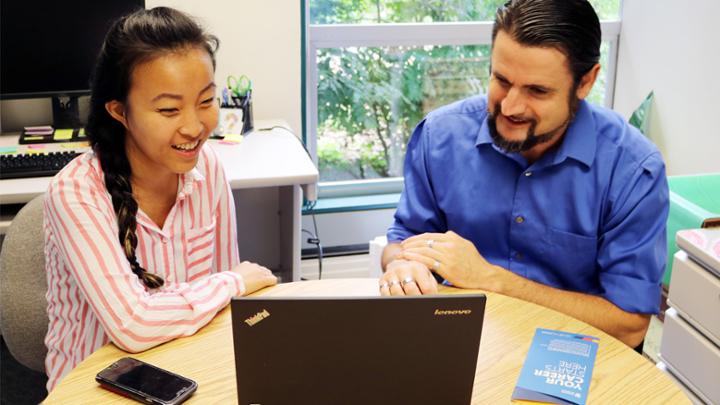 Looking for career help?
Career Services is here to help you succeed at work during your time at UVic and beyond. We run workshops and programs, offer in-person support and provide many online resources to help you navigate your career.
Co-op Students of the Year
Each year, we recognize three co-op students with outstanding achievements in their academic studies, workplace performance and community involvement. Winners are announced in November.
One student is selected from each of our three major program areas:
Learn about the nomination process.
Sign up for our e-newsletter
Get the latest about job-related events and workshops, employers looking to connect with you, co-op opportunities and more. You'll receive an e-newsletter most Mondays - it's the perfect way to stay connected!