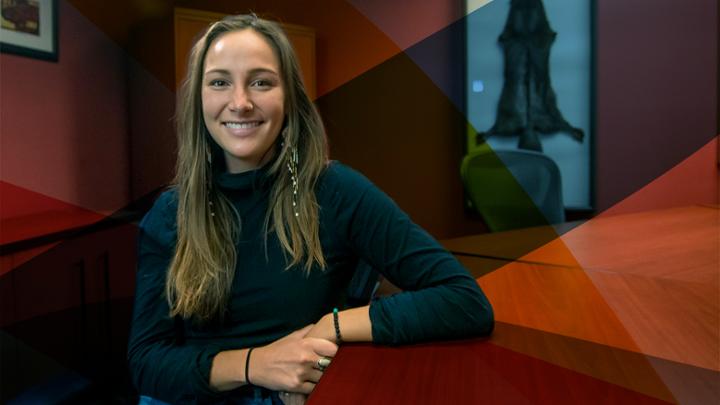 The lək̓ʷəŋən Elders of this area share with us teachings of "New'ews sn ɁeyɁ šweleqwǝns" ("bring in your good feelings") and "Nǝcǝ māt gwens čey'i" ("work together"). We invite you to consider these teachings as you explore your future at UVic.
Indigenous students are integral to the UVic community and a growing part of our graduate student body. Right now, nearly 150 Indigenous students are pursuing graduate studies here.
Programs
Many of our Indigenous-focused programs and courses are open to all students. They cover contemporary issues and historical contexts. We emphasize community-based dynamic learning.
Why self-identify?
We offer services, scholarships and bursaries for Indigenous students. Be sure to self-identify during the admission process so we can share news, services and upcoming events with you.
Academic & cultural programs
We offer services to Indigenous students at all points along their academic journey.
Indigenous research
For over 40 years, the UVic community has been deeply immersed in local and national Indigenous efforts. We work with Indigenous communities and organizations, Elders and educators. We offer the world's first Indigenous law degree and have many programs on Indigenous language revitalization.
Learn more about Indigenous research at UVic and in the community.
Co-op program
Join one of the largest graduate co-op programs in the country. UVic's Indigenous co-op program offers many opportunities for Indigenous students. You'll connect with employers and gain culturally-relevant work experience.
UVic is home to an award-winning Indigenous International Work-Integrated Learning exchange. You could travel to partner post-secondaries in Australia and New Zealand to complete co-op work terms with Indigenous communities.
Plus, there are funding opportunities to support Indigenous students and employers as they take part in co-op experiences.
We also offer career support for Indigenous students.
First Peoples House
The First Peoples House is a home-away-from-home for Indigenous students. Drop by to study, meet with an Elder, grab a snack or make new friends. It's a great place to grow in your culture and connect to the local land, learning about others through good discussion in a relaxing and calming space.
Indigenous housing
Each academic year, Residence Services offers on-campus housing to eligible Indigenous students. If you have questions about living on campus in dedicated housing, please contact Laurel Ternus at lternus@uvic.ca or 250-721-6048.
Financial aid
We offer scholarships and bursaries for Indigenous students. You must self-identify during the admission process to be eligible.
LE,NOṈET awards bursaries to qualifying students. These bursaries are issued in the form of top-up funding. They do not displace any existing funding for Indigenous students.
Indigenous nation funding
Some bands and nations have funding to support your education. We'll help you through this process.
Email our Indigenous recruiter for help.