Dayna Dobrowolski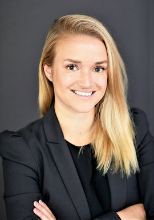 Position
Senior Director of Government Affairs
Canadian Beverage Association
Credentials
Political Science & Philosophy - BA (2015)
At the Canadian Beverage Association, Dayna is responsible for developing and executing government relations strategies at all levels – federal, territorial, provincial and municipal. Dayna's work takes her across Canada as she meets with key government officials and collaborates with beverage industry members. 
Dayna began her career in 2012 as a Research Officer at the BC Legislature. She went on to manage the BC Government Caucus Research Department, and work as a political aide to former BC Health Minister Terry Lake. Prior to joining the Canadian Beverage Association, Dayna was a Senior Consultant with Global Public Affairs, where she led their Health and Life Sciences team for British Columbia.
One of the key skills Dayna has acquired during her career so far is the ability to interact with decision-makers and stakeholders. She is grateful to UVic professors who fostered her passion for politics and encouraged her to get directly involved.
The one thing I would encourage students transitioning to their professional life to do, is take people out for coffee. Go for lots of coffees. With people you know and people you don't. Relationships can be just as valuable as your credentials.